Day 3: Day at Sea
Got up early and hit the buffet for some breakfast. I do love lox eggs benedict…yum! After that we went straight to the pool. We wanted to try the water slide ride Aqua Duck before it got too crowded. It's this giant tube that you ride through on a raft. Visually it's a must. When you walk out on the pool deck its impossible to miss. After riding it, I'd classify it as fun but not enough so that I'd be willing to wait more than the about 10 mins that we did. G really liked it though and says she wants to do it again. We spent the next couple hours watching G swim in the Mickey pool and go down the water slide about a kagillion times, sorta watching a Tinker Bell movie on Funnel Vison --the giant poolside movie screen which is awesome!—and catching some rays.
After a quick shower we were off to Georgie's Bibbity Bobbity Boutique appointment! We brought a Cinderella's Wedding Dress with us that I'd purchased from the Disney website. It was gorgeous and pretty uncommon. G was definitely the only kid on the ship with that dress today and that's saying something because you see a LOT of princess dresses :-) G looked awesome and very royal just in time for the Princess Gathering in the lobby. It's a pretty great meet and greet because you get 6 princesses but there is a time investment of about an hour. That's longer than I'm usually willing to wait but for 6 princesses I guess it's ok.
While we were in line G was being uncommonly grouchy and moody. Normally she's super happy go lucky and I was pretty surprised. After a bit it occurred to me… we had forgotten to feed her YIKES!!! Slacker mom (and dad but I'll take the blame here). I felt so bad. Bobby rushed and grabbed her a granola bar to hold her over from the princess thing to lunch and she happied up considerably. G is just not a kid who can miss a meal. After the princess palooza we headed straight to a very late lunch and her mood improved dramatically. Whoo!
Next stop was a matinee performance of the Aladdin stage show which was wonderful. We then hit a couple more characters before realizing that Bobby and I needed to get ready for formal night. We gussied ourselves up, G switched into yet another princess dress we brought along with us, and away we went. Per my request, our dining rotation placed us in the Royal Court restaurant which is the most formal of the dining options. The room itself is very nice but not nearly as pretty as the Enchanted Garden where we ate the night before. Again, the food was very good. All three of us chose beef medallions and shrimp as a main course and finished it off with dessert: Mickey bars for G and me and Bobby had a strawberry shortcake sundae :-)
By that time, G was chomping at the bit to hit the kids club again so after dropping her off we wandered the ship awhile… alone time! It always feels so strange.
Our FGIT (Fairy Godmother in Training) was very sweet. She loved G's dress and said she'd never seen one on the ship. G naturally pulls her dress out for pix. Its so funny!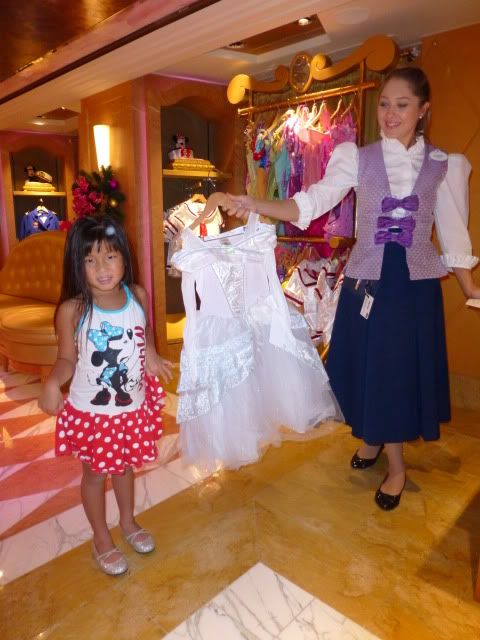 What is she thinking??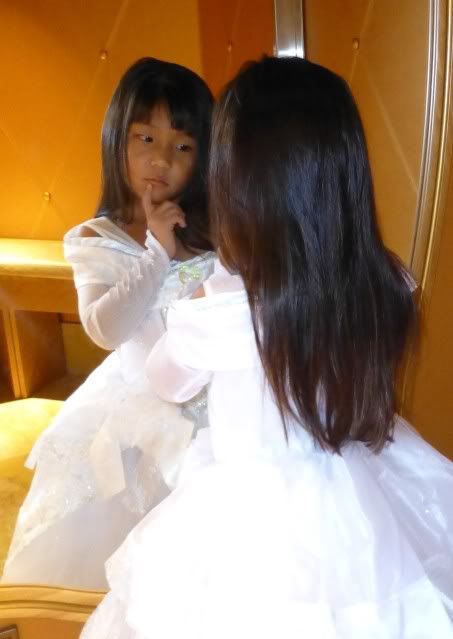 This is pretty much how happy G looks during the entire makeover process. She really likes it!
Ahhhh!
Aladdin in his Prince Ali costume. The line for the princesses was kind of long so he interacted with the kids during the wait. Disney is
very
prepared.
This is G's "I'm hungry and not enjoying myself face". I know right? she means business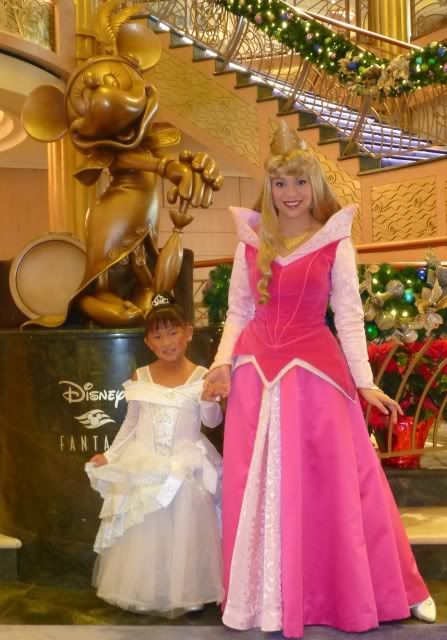 Is this not one of the most beautiful bathrooms you've ever seen? The ceiling is mirrored. Pretty to look at but I'm afraid I might get stage fright in there ;-)
Formal photo with Capt Mickey. I just loved G's Tiana dress... gorgeous but she complained about it itching so she ditched it right after dinner. Bummer because it was a custom. They're usually better but not this one apparantly.
The first of Minnie's two absolutely gorgeous formal dresses
The second later in the evening. I don't think you can tell from the pic but the dress is fully beaded. Gorgeous!