Day 2: All Aboard
G woke up around 8am after getting about 12 hrs sleep! Poor little thing was exhausted. We grabbed a quick and light continental breakfast in the lobby then shuttled it to the port. We ended up being second in line to check in :-) The Disney experience is obvious right away. The terminal is immaculately clean and well appointed with little couches parked in front of TVs playing a non-stop stream of Dumbo. Mickey and Minnie took turns doing meet and greets while we waited to board the ship. The boarding process was very smooth and quick and before we knew it we were stepping onto the boat and being announced "Introducing the Crowell Family!!!" to a round of applause.
Our room wasn't going to be ready for a few hours so we hit Cabanas--the ship's buffet-- for lunch. There were some pretty decent offerings. G was excited to see a HUGE pile of peel and eat shrimp :-) After that we walked the ship some to get acquainted with the layout. The Disney touches continued. The ship is only about 7 mos old and beautifully decorated. I was surprised and excited to see that the Christmas decorations were still up! With each turn of the corner G found something she wanted to do immediately. She didn't seem to really understand the concept of touring the ship. Eventually we headed toward the pool deck for the sail away party which G really enjoyed. We had just enough time to go back to the room and chill out on the veranda for bit before dinner.
Disney does things a bit differently than most other cruise lines. Instead of having a single main dining room, they have three and you rotate among them. Your servers follow you which is nice. I'd made two requests in advance: to have a private table (I really hate sharing with others… I go on vacation to spend time with my own family not to pretend I'm friends with someone for 7 days) and to be in whatever rotation would put us in the Royal Courtyard restaurant on formal night. When we arrived for dinner I was pleased to see that both my requests had been honored. Nice.
First night dining was in The Enchanted Garden. It's a very pretty place filled with soft colors and beautiful floral themed lighting. The servers wore mint green and pink. Super cute! I'd read that Disney had good food and so far I'd have to say I agree! Bobby and I each had a lobster ravioli starter (it was ok) and I had a second starter: ahi tuna and avocado tower. I'm just going to go ahead and say it… YUM!! I could have easily just eaten a couple of those for dinner. For the entrée, Bobby went with a pork tenderloin which he really enjoyed and I had carmelized scallops and pearl couscous. Fantastic! I was doubly impressed because scallops are not always that easy to pull off. They have to be cooked just right or they're tough. It would seem even more difficult to achieve in a mass production situation. They were perfect… mmmmm. G went with kid food and a finished it off with a Mickey shaped ice cream bar. Bobby got a chocolate torte he didn't care for and I got a banana sundae which was delish.
I talked G into taking a few minutes to visit with the characters before dropping her off at the kids club while Bobby snagged us some seats for the show. The show was ok, kind of corny. By that time it was pretty late and we headed back to spring G from kids club. She begged to stay for one more activity –G does love her some kids club—then it was back to the room. It was a huge and completely exhausting day. So much so that I'm having trouble staying awake to type this :-)
Minnie ears? check! Disney shirt?? check!
There she is, the beautiful Disney Fantasy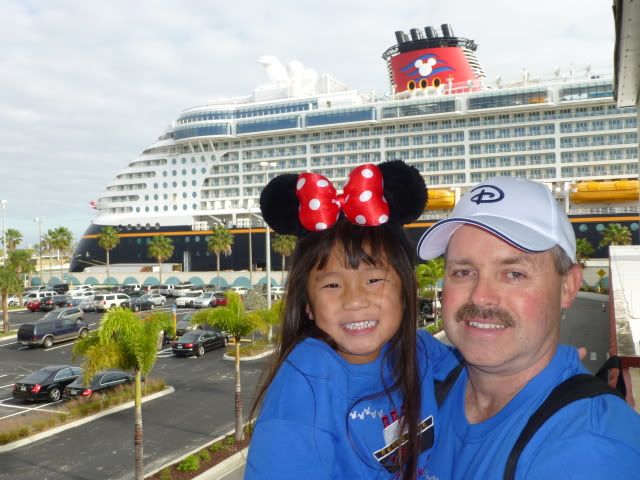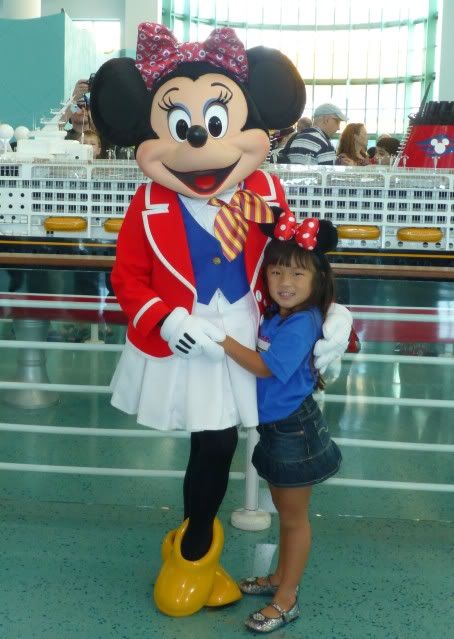 I found the Fantasy cabins to be very nice and roomy for a regular balcony room.
G spent a lot of time laying around in these porthole windows... everyone on the ship did... even adults sometimes :-)
G loved the hand washing machine in the kids club... she said it tickled and would giggle and giggle. So funny lol
In front of the stack on embarkation day. That's the only time I ever saw the Mickey pool empty
At the sail away party... G really cut loose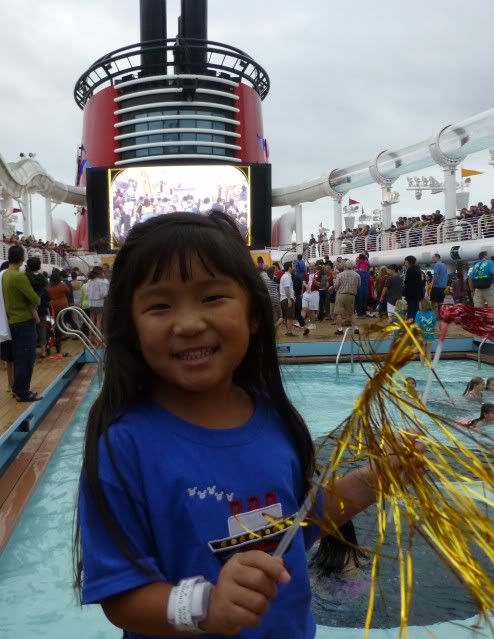 our traditional sail away photo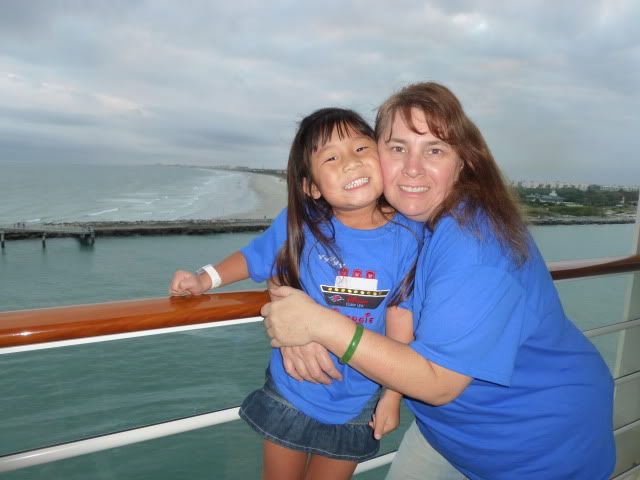 The entry of the Enchanted Garden restaurant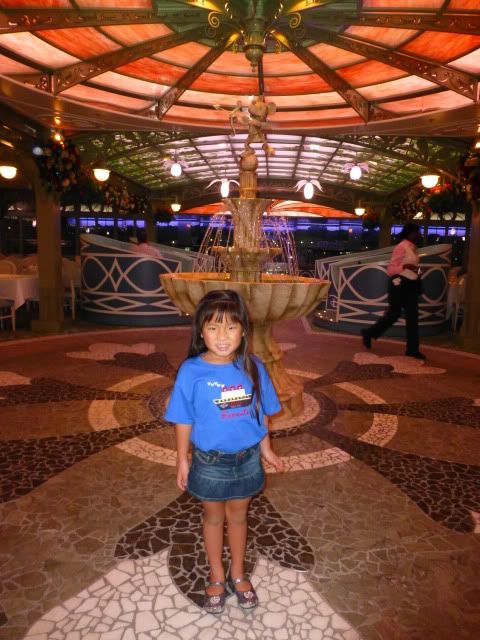 Characters are everywhere on the ship... visiting with them and admiring their different costumes was a daily activity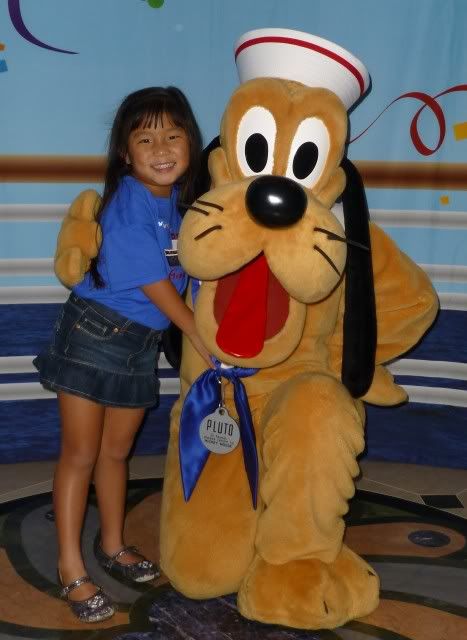 Next day would be a Sea Day...