More Zoo-ing!
We had to make a drive up the coast to pick Brett up from school this past weekend. He didn't have his last final until Saturday 4-7pm!!! Unbelievable! Anyway, since we couldn't pick him up early, we thought we'd make a day of it with Georgiana. I found they had a zoo there so we figured, what the heck!!!
Santa Barbara Zoo is a super cute little place. Very nicely kept and just the right amount of animals for a little kid. They had 2 each of gorillas, elephants, snow leopards, and lions plus some smaller animals like otters and a fairly large stand of flamingos (yes, a group of flamingos is called a stand, I just looked it up to confirm appropriate terminology :-)
The zoo was nice in that the animals were situated so that they could be viewed pretty easily. I find this is a problem for Georgiana in some of the larger zoos--she just can't tell what she's supposed to be looking at. Its kind of catch 22 in my book though because I always feel like when they're in those easier-to-see-displays they may not be given enough room to roam. I'm torn between my concern for the animals and my desire to enjoy viewing them.
Anyway, we timed it so that G would have her nap during the 2 hr drive up there but, ummm, yeah, she didn't actually cooperate. She fell asleep about 15 mins into the drive which lasted for about 45 mins then she was bright-eyed and bushy-tailed -as my mom always says-- for the rest of the afternoon!!! She started running on empty at about 3:30 or so and got crazy hyper and super silly. It was actually kind of cute. Then, she crashed BIG TIME falling asleep in her stroller which she has never before done no matter how tired she was.
After that, we drove up to Goleta to pick up Brett, hit the Chili's for dinner (I love Chili's!!) and were back home by 11pm. That started the week of Brett being home, which is great! G loves Brett to absolute distraction. He plays with her all the time which she loves. You'd think that she'd kind of forget him a little since he hasn't been home in about 2 mos but, no, her face just beamed when she saw him for the first time!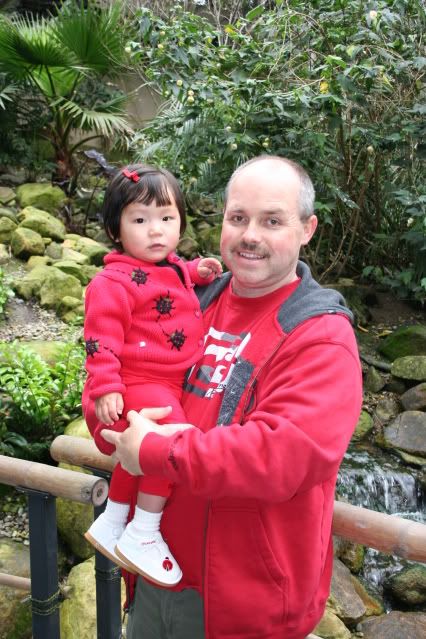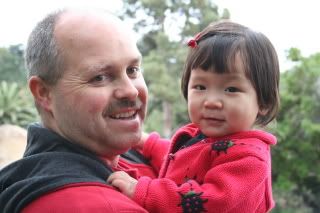 Ladybug girl from head to toe!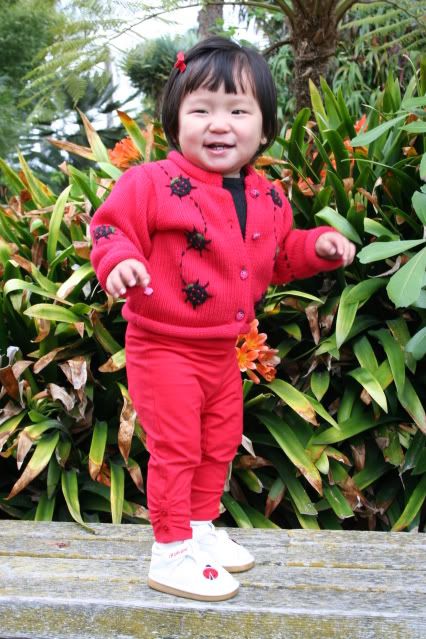 I love the look on Bobby's face in this pic!!
Zoo'ed out!