New friends
The internet is such a great thing! At some time during the wait, I became acquainted with another China adoption family that actually lives within a mile or so of me. Their little girl, Mia, came home about 2 yrs ago. Although we communicated a bit through RQ pms and email, we never met. A few weeks after we got home from China we finally had a chance to meet for lunch. Mia is even more beautiful in person than she looked in her blog pictures
http://www.tomiawithlove.blogspot.com/
and her mom, Christy, is really fun! We hit it off immediately. Its so great to have another China IA family so close to us. Also, lucky for me, Christy has a small group of other China IA moms and kids that she meets with to do fun things every so often. G and I were lucky enough to be included in their CNY celebration which included lunch at a Chinese restaraunt and then play time in the park. I didn't have my camera with me in the restarautnt --bummer because the kids were wearing Chinese silk outfits and looked really cute-- but did get some pix at the park.
G loved, loved, loved the see saw type toy: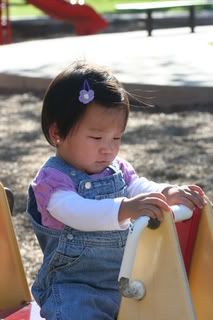 G and Ryan. Ryan is 2-1/2 and has been home for about a year. Very handsome little guy!!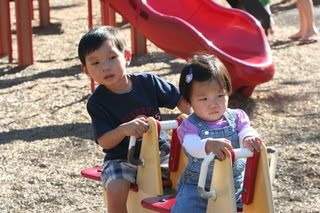 G playing in the wood chips. She kept trying to eat them --probably not healthy, right?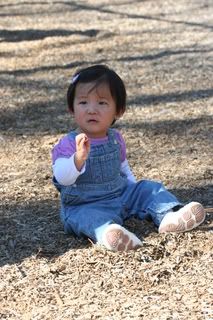 Kaelie (sp??) is 3 and just as sweet as can be!
Becky and her mom. Becky is almost 2 and has been home for about 7 or 8 mos. Such a pretty little girl.
And Mia!