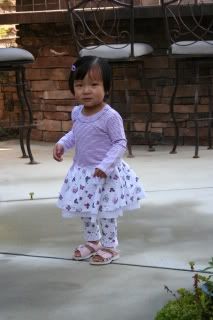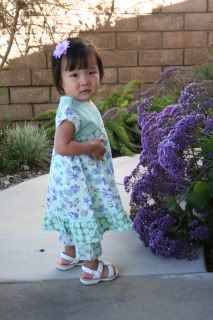 Three words in one day!!!
That's right. She said 3 brand new words today!!! Car, sit, and toes. G's receptive language is fantastic. She pretty much understands everything we say. Her speaking has been limited but coming along. Bobby and I were positive that once G started, her speaking would come flooding out. We were right. The last week or so, G's been saying a new word each day. It so much fun to hear her speak.
Here are G's stats at 15.5 mos:
Words G says regularly
Ball
Baby
Kitty-cat
Brother
Doggie
Pretty
Dirty
Yucky
No
Knee
Nose
Eye
Ear
Hi
Hello
Bye-bye
Night-night
Bottle
Mama
Dada
Banana
Stab --when she pierces food with her fork!
Uh-oh!
Birdie
Bite
Step
Light
Fish
Fan
New today or with less consistency: car, sit, toes, monkey, towel, here go (here you go), hand
Parts of body recognized and pointed to on herself and others:
Tummy
Hair
Nose
Ears
Eyes
Belly button
Tongue
Foot
Knee
Hand
Diaper --ok, not an official body part but close enough
Wrist, elbow, toes, and fingers are what we're working on now.
Favorite books:
Go Dogs Go! --Dr Seuss
Cat
The Tale of Peter Rabbit
Dad Mine
Favorite song:
Itsy Bitsy Spider
Favorite foods:
Gerber graduates raviolis, Mandarin oranges, String cheese, Animal crackers, American cheese slices, Craisins, Ice cream, Goldfish crackers., sliced canned carrots., chicken nuggets, and french fries. She pretty much eats whatever we do but still doesn't eat beef (except meatballs).
Favorite toys:
Melissa and Doug latches puzzle board, ball, My Pretty Purse, books, play phone.
Favorite activity: screeching!!!, singing songs, kicking a ball around the room, playing chase with Daddy around the kitchen island, pounding on the foot stool with her hands with Mommy, going down the slide at the park.
Tricks: giving five and getting five back, blowing kisses, giving kisses, making fish lips and my favorite… she's sometimes able to blow her nose!
About Georgiana:
~She prefers to eat with a fork and doesn't make much of a mess doing so.
~She loves music and will start dancing or bopping her head when she hears any.
~She likes to throw things in the trash can and then clap to congratulate herself
~She likes to say "hi" to everyone she walks past
~She can recognize images of dogs everywhere even if they're cartoon drawings wearing clothes and hats or silhouettes.
~She loves when people clap, even on TV, and will always start clapping too.
~She loves to talk to Mommy and Daddy on the phone.
~Georgiana is very energetic but still feminine:
When she sits or lays down she almost always crosses her feet at the ankles in a very girly way
She loves to put things on her wrists like they are bracelets and then say "pretty"
She likes to sit up on my dressing area when I get ready in the morning and "brush" her hair, put little dabs of lotion on her skin or even a spritz of perfume!
~With her increased food intake, she's down to about 1 full and 2 half bottles of formula per day. Otherwise, she's drinking water.
~Her hair grows about 1" per month!