GOBBLE, GOBBLE!!!
This was Georgie's first Thanksgiving!!! She had lots of fun playing with her brothers and eating snacks. She wasn't too interested in the actual dinner meal prefering instead to eat only biscuits. Whatever!!! Mommy didn't care too much. I was just very thankful to have her here with us.
She loved wearing her little turkey day outfit. Every once in awhile she'd point to her tummy and say "turkey, turkey" but mostly I think that she liked the fact that the skirt had pockets. G loves pockets!!!
I absolutely loved the turkey applique on the booty!!! Too funny!!
Reaching into her pocket
No turkey day outfit would be complete without a giant turkey bow :-)
and socks!!
Hanging out with Brett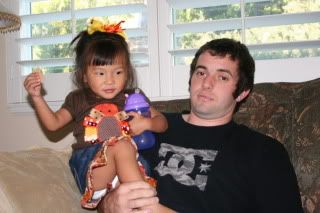 and grandma
Casey took the opportunity to chill out since he was planning on working a 12 hour shift on black friday and saturday
Silly goof
The star of the show!