Vacation Day 12: Epcot
Slept in late... nice. When we got around to it, we made our way over to Epcot. Epcot is huge and everything is very spread out. I've never been there when it felt full but, this week, it was incredibly empty. This was good news because I don't think I could have handled the day's humidity plus crowds.
G was bummed that on our last visit a few days before we didn't hit her favorite ride, Soarin', so we made sure to do so first thing. I truly think she could ride that thing all day. Its funny that we're all the way in Florida and we spend so much time on a ride that is EXACTLY like the one at Calif Adventure located only 45 mins from our home :-)
Next stop: lunch at Le Cellier. There's really just one word for the meal... YUM!!! We then spent the next many hours traveling around the world. We rode the little rides, visited with the characters, watched the "street" performers, and wandered.
G did the pick-a-pearl in Japan again and was thrilled to get a pretty large silver blue one. Its funny because when she first saw the pearl, she was disappointed. She wasn't blatant about it but I could tell from her expression that she thought something other than a white pearl was not good. It wasn't until the girls started doing their little spiel about how great it was that she happied up. Of course, in true G ultra competitive style, she watched with great interest as the next customer's oyster was opened. When it turned out that she also got a silver blue pearl G wanted absolute confirmation that hers was bigger and, therefore, better. The kid cracks me up! She's so competitive, so much more so than Bobby, Brett, Casey and me :-)
After many hours of sweating it out around the world, it was time for dinner!! This time a character meal at the Garden Grill. The food was ok. I thought it was interesting that Disney actually grows some of the vegetables served for the meal there on Epcot property. The characters were only ok: Chip & Dale (no costume special or otherwise), Pluto (with a plaid neckerchief--big whoop) and farmer Mickey who was actually quite cute. The restaurant is unique in that it very slowly turns as you dine. Because I'm on a quest to experience every attraction/eatery/show on WDW property at least once, I'm glad we ate there but there wasn't anything special enough to bring us back.
BTW, have I mentioned how much eating we did on this trip? We took advantage of the "free" dining plan promotion. It really wouldn't seem like one counter service, one table service and a snack per day would be that much food, but it was! I know some disagree but, overall, we find the portions to be large and the food decent to tasty. But wow, it was just a lot of food.
First stop of the day was Stitch! G couldn't have been cuter in her children of the world dress from
THIS SELLER
. Total bargain from another IA mom. The bow seems like it was made to match but it was a lucky find from
THIS SELLER
.
We've been to Epcot many times but have never seen Mexico Donald which is weird because he stands out there for about 5 hrs a day. Finally got him, yeah!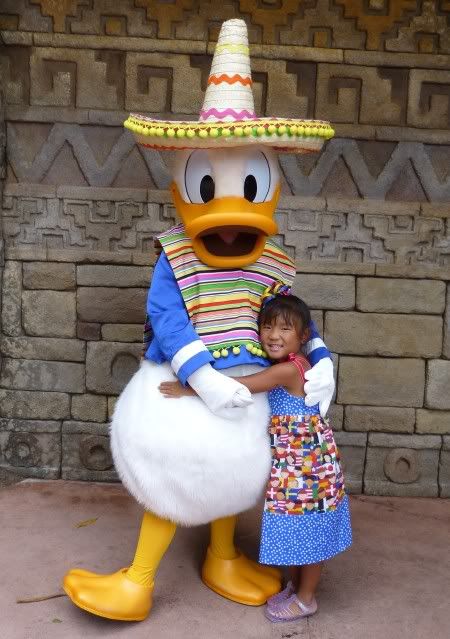 Chillin' in Mexico!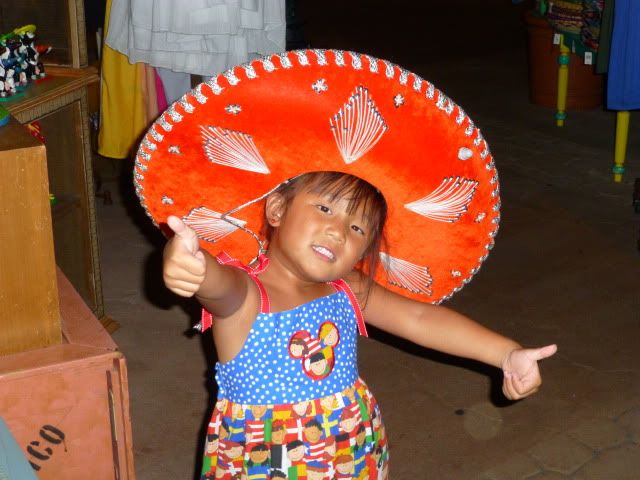 These special Mickey ears from each country are so cute!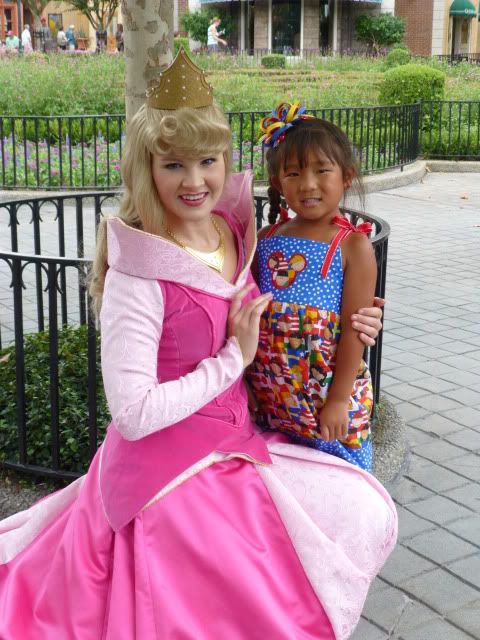 Random cuteness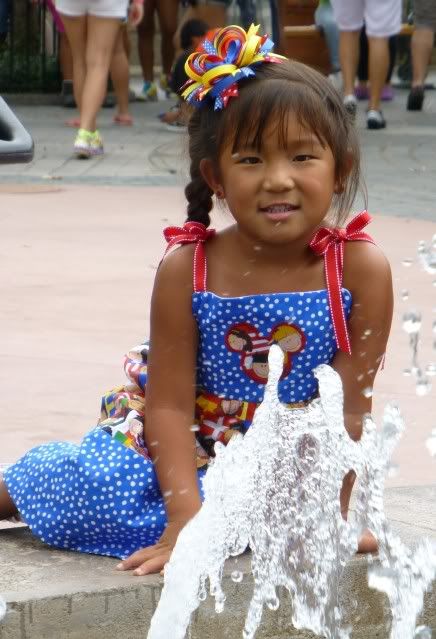 G can spend unlimited amounts of time coloring her Duffy bear on a stick in each country. This gave Bobby a perfect chance to snag a few minutes rest.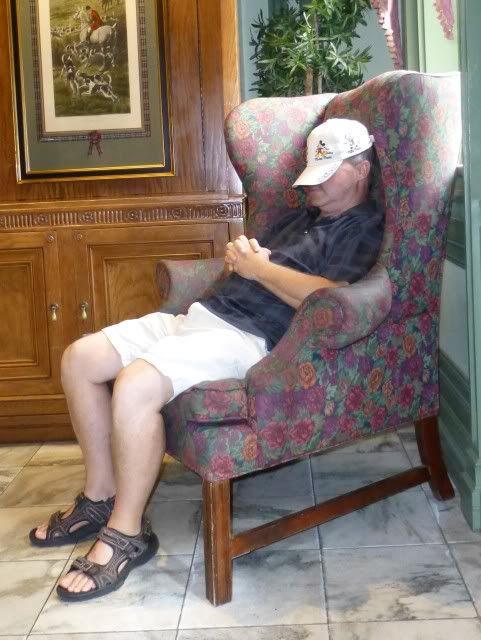 Our tour of Mickey ears continued in Great Britain
and then in Canada.
In this same store in Canada, G picked up her most cherished souvenier of the trip, a stuffed Duffy bear which hasn't really left her side since. We don't really do a lot of souveniers. I think they're unnecessary and I don't want G to get into the habit of always getting something wherever we go. With this in mind, we explained to Georgie that she was allowed to get one thing from each park. I told her she could choose them on our first visit to the park or she could wait until we'd been a couple times and she had time to look around and choose, but once she got something from that park, that was it. G showed no restraint whatsoever and chose something from each park within 30 mins :-) Obviously, by this point in the trip and this visit to Epcot she'd already gotten her souvenier. But then she latched on to this Duffy bear and she just loved it so much... I caved and made an exception to my rule. Hopefully it doesn't set some sort of bad precedent.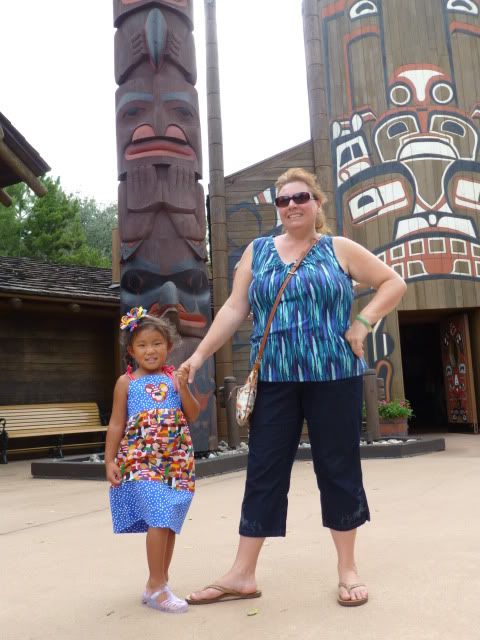 G introducing her little Duffy to the real Duffy.
At the Garden Grill, G had fun with Pluto...
the underdressed chipmunks...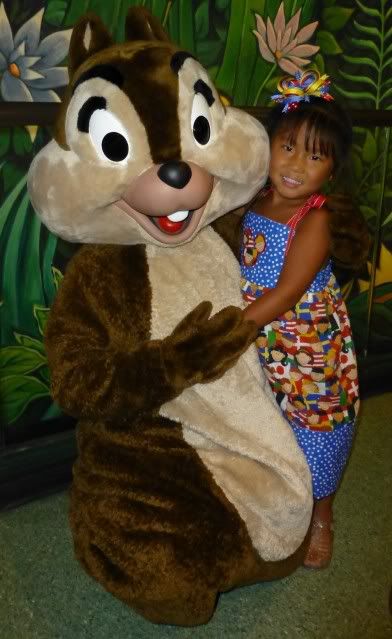 and Farmer Mickey.
Soarin' standby wait 5 mins at 5pm, woohoo!
Georgie was super excited to provide Duffy with his first ride on her favorite attraction, Soarin'. She told me that he told her that he really liked it :-)