Georgiana's day out with Thomas!
G loves trains. I mean really truly loves them. Somehow I came across the Day out with Thomas thing and bought the tix some time ago. Of course, G needed a super cute Thomas themed outfit to wear for the event :-) Do you have any idea how difficult it is to find a girly Thomas outfit?? I'll tell you, its tough. I was lucky to find someone on etsy to make it. Then I ran across the crown!! Yeah, so fun!
G was such a little trooper waiting patiently for the train to come. The Thomas thing is really cute but, honestly, once you get on the train and its starts moving, its kind of like being on a bus. G didn't care. She smiled for the entire 25 mins of the train ride while bopping her little head along to the Thomas music they had piped in. She was in heaven.
The train museum where they hold the event is very clever. When we got off the train we were forced to walk through the retail tent in order to get back to the stroller parking area. G was so funny. When she walked into the tent and saw the rows and rows of Thomas stuff she went a bit nuts. She started grabbing the stuff and shaking and hugging it and laughing and laughing. OMG I thought I was going to die it was so funny. I've never seen her respond to a retail experience in such a way!
I was also surprised that G was willing to stand by the character guy Mr. Topham Hat. He's pretty big and kindy creepy. But she liked him. We looked at him from a distance for awhile and I asked her if she'd like to shake his hand and she said "yes." She saw that painted on smile and proclaimed him to be "happy"
It was really a fun day. And, because I know you're wondering, the answer is yes, G wore the hat ALL day. She wouldn't take it off! My girl does love her accessories! So, so cute.
All decked out with in her Thomas gear and shades and ready to go!
They had this little fake train and G just loved sitting in it. I think even if we hadn't taken a ride on the real train she would have been just as happy.
Here she is holding hands with Mr. Topham Hat
Luckily we were well prepared and brought our own whistle with us. G pretty much blew that thing for the entire 25 min trip.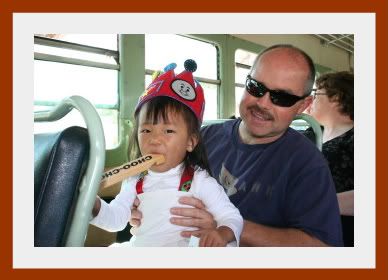 G inspecting the available wares. She's a very discriminating shopper apparantly :-)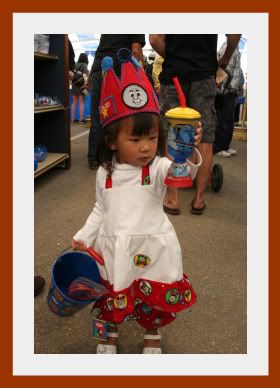 Waiting for pix with Thomas. She's such a little cutie!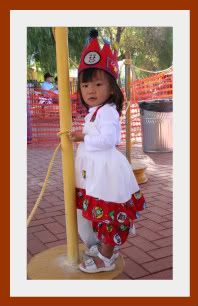 Daddy and G with Thomas
Mommy's turn!
G in front of a very old rust train something or other.
In the petting zoo. The tent top must have been red causing the pix to have this overall red tint. Before I print them I'll have to figure out if I can get rid of some of that. Hmmm, photo shop.
Ahhh, she had a tough day. Sweet little Thomas the Train princess.