Bumble BOO!!!
Georgie had a fantastic first Halloween! This was not without planning on our part. She hasn't been napping the greatest the last few weeks. I can attest that a no nap Georgie is not a happy Georgie by about 5 pm. Even with daylight savings time ending, it doesn't get dark until around 6. The last thing I wanted to do was have G whine her way around the block being a grouch. So the plan was to get her up and out and good and tired so she'd be ready for a nice long nap. And it worked!!!
We did an early morning trial play class at My Gym which is kind of like Gymboree, I guess. Even though is was parent participation, G was a little apprehensive being in a new place. She loved the trampoline and the ball pit which was a first for her. We got kind of a hard sell to sign up at the end. I'm still thinking about it but having to commit to every saturday morning is a little limiting.
Anyway, then we hit the local Chick-Fil-a which G calls "the play place." She played and played. Plus, they were having games and crafts for Halloween so she enjoyed that. By the time we left, she was bushed! We got lucky and she took a fantastic nap!!!
G loved trick or treating! We'd been practicing door knocking and "trick or treat" for a week or so and it seemed like she really had the hang of it. Each house we'd go to we'd say "knock on the door" and she'd say "nooooo" --mommy would knock. When people answered the door we'd say "say trick or treat" and G would just provide the homeowners a mute stare! She was really good at grabbing the candy out of the treat bowls and stuffing it into her bumble bee candy basket though! After she was forced to stop taking handfulls of candy we'd tell her "say thank you" --again mute stare. Mommy and daddy would say thank you, the door would close, we'd turn toward the sidewalk and G would say "trick or treat, thank you!" Cracked me up each and every time she did it!
We had to skip any houses that anything even remotely scary. G is a complete fraidy cat. If she saw something that didn't look right to her she'd say "scary, nooooo" and shake her little head back and forth as hard and fast as she could until we got past the scary house. She's truly a little chicken.
We just did our street so we were pretty much done in about an hour which was right about the time that the big groups of kids were really hitting the neighborhood. G then spent the next hour and a half or so helping to pass out candy which she LOVED!!! G wore her costume and every time the doorbell would ring she would get this HUGE look of surprise and excitement on her face and run to the door as fast as her little legs would carry her. So cute!!!
In between groups, G sat on the floor and rearranged the candy by taking it out of the bag and putting it into the bowl, then from the bowl to another container, then stacking it on the floor, etc. At the end of the evening she was so tired and so happy. Yeah, success!!!
Happy little bee
Getting ready to go out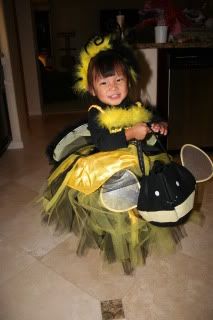 G loved wearing her costume
I loved the wings. The black maribou was so fun!
G playing with the candy
See the tongue?