So many animals, so many people
Bob
by and I both had Veteran's Day off work so we thought it would be fun to take G to the zoo, the LA Zoo, in fact. Apparantly, a LOT of other people had the exact same idea. Let's just say it was a bit crowded. Luckily, we got there early (so did a LOT of other people) and were in the zoo within 20 mins of it opening. The great thing about the zoo though is that it can be pretty crowded and its still fine. There are just a lot more people looking at the animals at the same time. Its been about 15 yrs since I've been to the LA Zoo and, to tell you the truth, I recalled it being somewhat shabby and old fashioned chain linky. But, I was pleasantly surprised to see that the majority of the animal habitats were fairly modern and pretty nice.
The good news was the weather was absolutely perfect for the zoo and the animals. It was cool and overcast so the animals were quite a bit more active than they often are. G loved looking at the hippo "hippo swimming!!" the snow leopards "big kitty" the giraffes "g'waf, loooong neck" and the monkeys "swinging, ooh, ooh, ee, ee." Super cute!!!
Even with the crowd, it was a really nice day and I think we got out just in time. When we were walking out, there were HUGE crowds of people walking in. G crashed as soon as we got in the car. I guess looking at animals is really hard work for a little girl.
Here are some pix of the day. G is her normal cutie patootie self wearing one of my all time favorite Naartjie outfits and tights. And, again, yes she wore her little beret all day. She's so funny.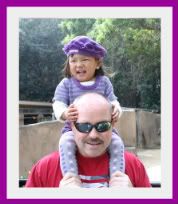 G was definitely happiest riding on Daddy's shoulders!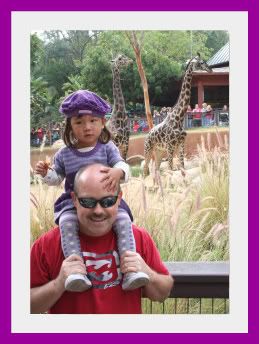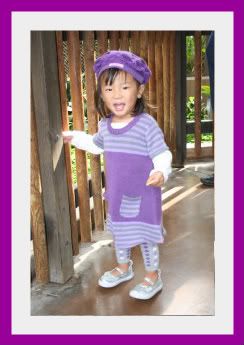 G loved this gorilla sculpture. I had to practically drag her away from it because there was quite a line of people forming who wanted to take pix by it also.