Wreck it Ralph opening
We'd been lucky enough to meet Ralph and Vanellope at Disneyland a week or so ago. But, like everyone else with a TV, we'd seen the trailers for the movie and Georgie was excited about it. Like they do for just about every opening they had a special event at El Capitan... yeah!
Bobby wasn't sure until the day before if he'd be able to join us so it was just G and me for the character breakfast with Vanellope. Friends Tanya, Jerry, Gracie and Kyle also joined us for the movie.
The movie itself was really cute! Truthfully, it was better than I thought it was going to be. There was lots of action, a cute and easy to follow story line, plenty of humor, and even a few tear jerker moments. Georgie really liked it! She munched her popcorn and giggled and had a good old time.
Later we headed over to what has become our favorite after-movie spot: Johnny Rockets for some greasy food and ice cream :-)
G made sure I remembered to take our traditional marquee photo. Finally the construction work they were doing is done. How cute is G in her Wreck it Ralph tshirt and Hello Kitty shoes??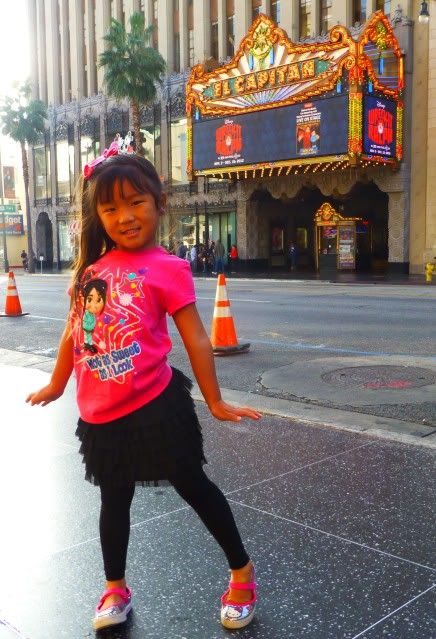 In the movie Vanellope is a character from a candy themed video game called Sugar Rush. Naturally the theming for the decor was candy! Perfect for Halloween time don't you think?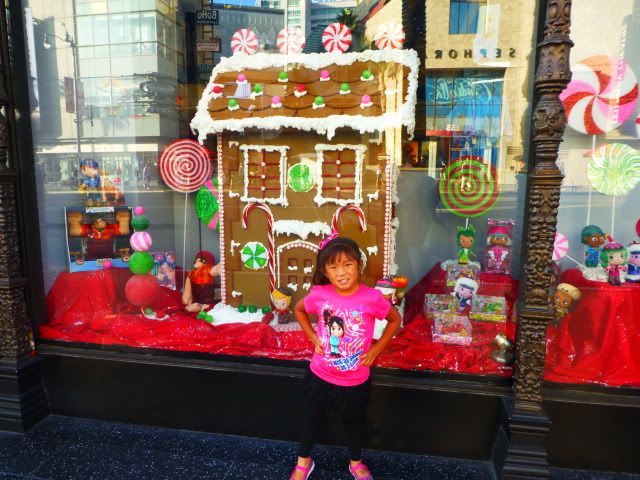 Finally, Mickey is back outside in front of the soda fountain where he belongs!!!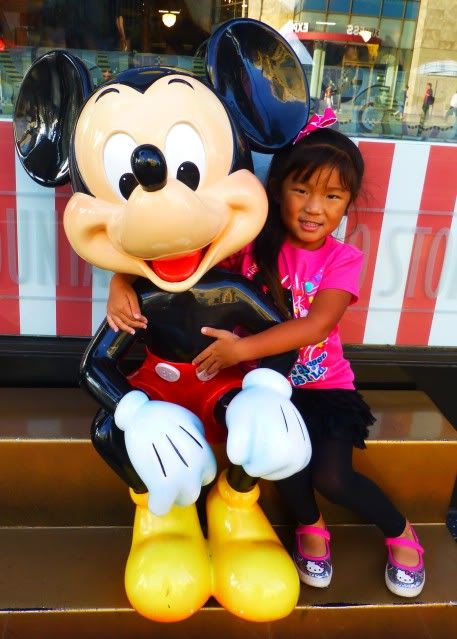 At breakfast G just could not understand why oh why she couldn't eat the candy from the centerpiece.
After a quick bite...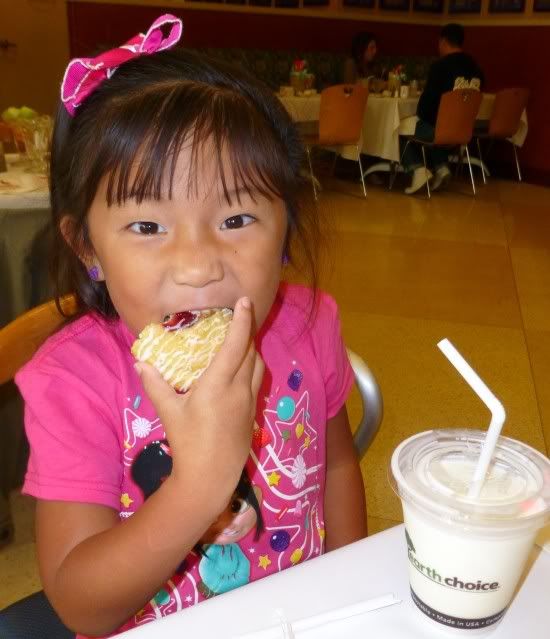 it was finally time to meet Vanellope (again). I hadn't noticed the last time but now that I look at her she's a bit scary in the face. Anyway, she dances and jumps around so G thought she was awesome!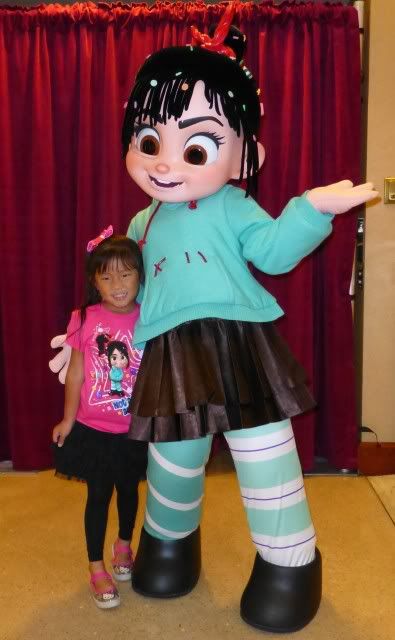 Girls!
This is G perusing the Ralph merchandise. She'd met an achievement on the way to the movie --well timed on my part so she could choose her reward at the movie. Score one for mom!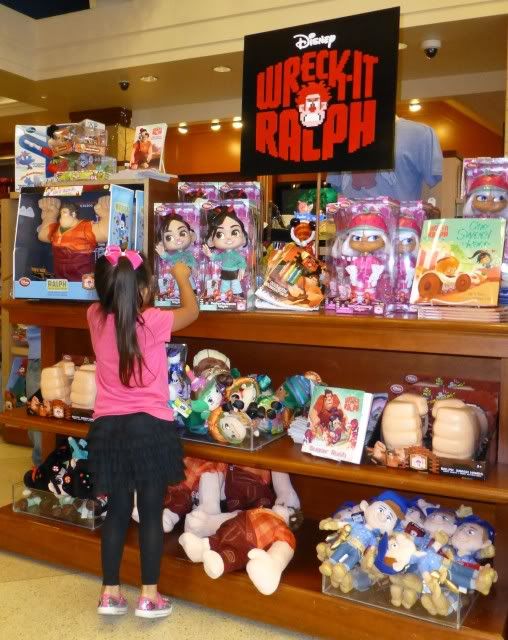 G with her prized Vanellope stuffy!
For some reason, and I have no idea why, these stilt walkers were in front of the theater. Eh, its Hollywood Blvd, who the heck knows what's going on half the time!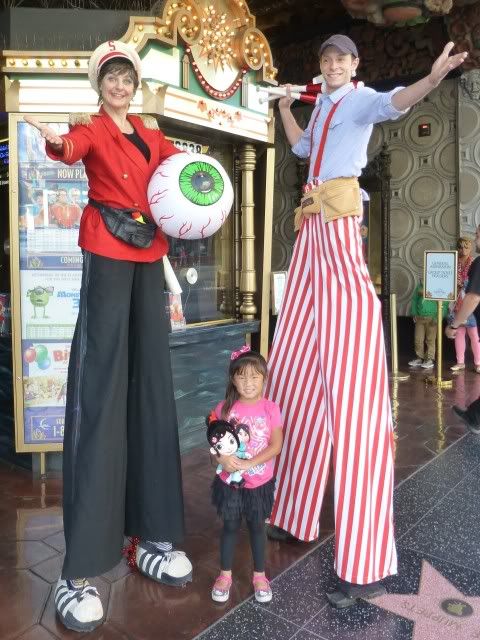 Before the movie they did a cute stage pre-show. They asked some of the kids to come up and participate but G was being "shy" that day.
With a pile of popcorn in her lap and her 3d glasses placed askew on her cute little face, G was ready to "wreck it!"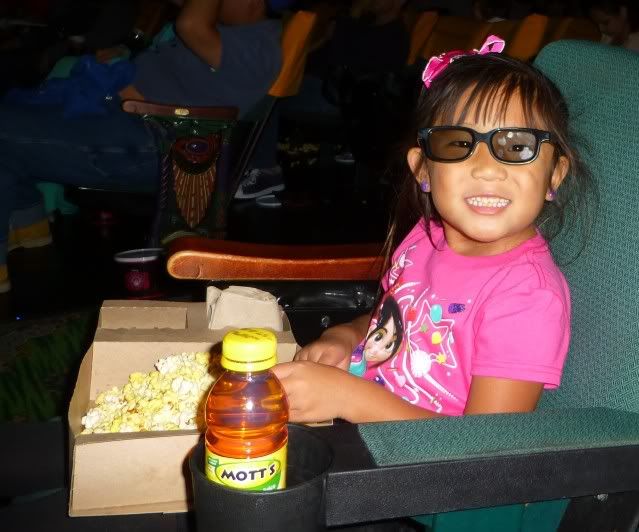 Gracie and Georgie spent a good bit of time after the movie playing this ball game they had set up in the basement. There was also a display of some of the props and models from the movie. Its really quite amazing the amount of work that goes into creating an animated film.
Haha!
Another fun day at El Capitan! I love that place :-)