Robin Hood
They were doing it at a small theater that's part of the Segerstrom complex. So cute! This was true children's theater. The kids were encouraged to yell out to help the characters and cheer for the good guys and boo the bad guys. Plus, the show was only 65 mins long and still included an intermission :-) Georgie absolutely loved it!
G's been to a lot of theater. And, she's a pretty mature kid for being just under 5 yrs old but sometimes something will happen or she'll say something that makes me realize how much of a little girl she is. At one point in the show, the Sheriff of Notthingham falls onto his knife and dies. I whispered to Georgie "oh, he died". G turned to me and with all sincerity and monumental concern whispered back "for real?"
Sweet baby.
With Robin. They're all wearing clown noses because the premise of the performance is that they were a group of traveling clowns who needed to present a show to make money to buy food. Sounds odd now but it made sense at the time :-)
G's attempt at a scary face with (the very much alive) Sheriff Nottingham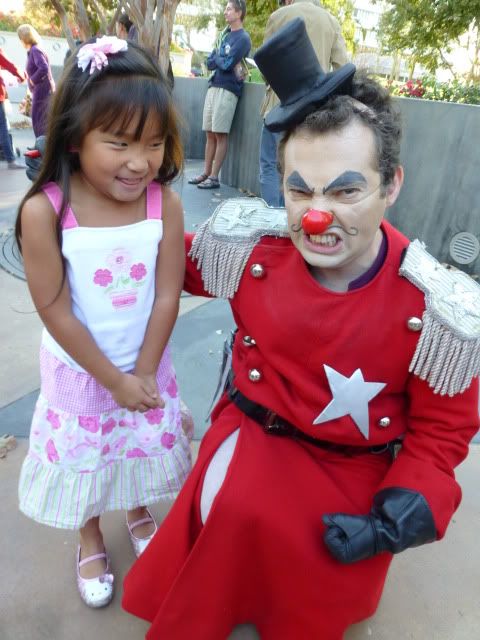 Georgie's favorite, Maid Marion!
We have another two shows. After this experience we're looking forward to them!