Vacation Day 9: Around the World again
Today was planned to be sort of a flex day. With such a long trip I really didn't want to over schedule. I have a general plan for each day and then left about 4 days as mostly open so we could see what struck our fancy and go with that. The only thing we
had
to do today was be at the Disney Beach Club Resort by 9:45 for breakfast.
I've really enjoyed having the opportunity to visit some of the Disney resorts and get more acquainted with "the World". Its so large --there are 33 separate resorts on the property-- it would take many, many trips to become an expert. But at this point we've at least gotten to the point where we can follow the signage and make our way around. The Beach Club seems like a really nice resort: beautiful Cape Cod (I'm guessing) styled exterior and lobby, cool pirate ship waterslide pool, and (as I would learn) its the closest resort to Epcot. Not surprisingly they offer a super cute beach-themed character breakfast. Again, you had us at character! Its just a little one with Minnie, Goofy and Donald but they're dressed super cute in what I can only assume would be there crabbing clothes. I'd read some so-so reviews on the food and experience but it doesn't take much for us to be happy. The food was pretty standard Disney buffet fare. G had a good time drawing on the white butcher paper they use to cover the tables. The characters came by a couple times and spent a goodly amount of time letting G hug on them. Overall, I give it a thumb's up!
After that we were off to Epcot. I knew that there were resorts that allowed you to enter Epcot by walking through the International Gateway located at the back of the park where the World Showcase is. But I didn't realize until we were walking back to the car and saw the giant Epcot "ball" (Spaceship Earth) that the Beach Club was so close. It was just a pleasant 10 minute or so walk along the water and we were there. Neat!
We spent the entire day going through the pavilions. There are a total of 11. Today we made it through 8. We were able to do several things we'd never had time or inclination for previously including the movies in France and China. Georgie was particularly interested in seeing the Reflections of China movie. She's very interested in being Chinese and learning more about all things China including food and language. The China pavilion is very pretty and has a nice terra cotta warriors exhibit that G really enjoys. Of course, no visit to China would be complete without a Mulan meet and greet!
It was an extremely pleasant day to be at Epcot. The weather was overcast all day. We had lots of dark clouds but no rain which made it relatively cool and the park was EMPTY! Seriously, there was no one there. The only time we had to wait for anything all day was, of all things, Duffy. It took about 15 mins which was a pain but totally worth it because, unlike at Calif Adventure where you just get a Duffy sticker, he does autographs at Epcot. That and the fact that he is uber huggable made my little character hunter super happy.
Even though I swore we were going to venture out on food, we found ourselves back at the Tangerine Cafe in Morocco for dinner. Its just so yummy!
We still have one more Epcot day planned and I'm hoping to check off some more to do's on my list. Its still a pretty long list though.
First stop was Cape May. I really do love their costumes!
They have these neat sand castles as part of the decor. G was very interested in them and kept asking me if they were real... hmmm, dunno, they looked kind of real to me :-)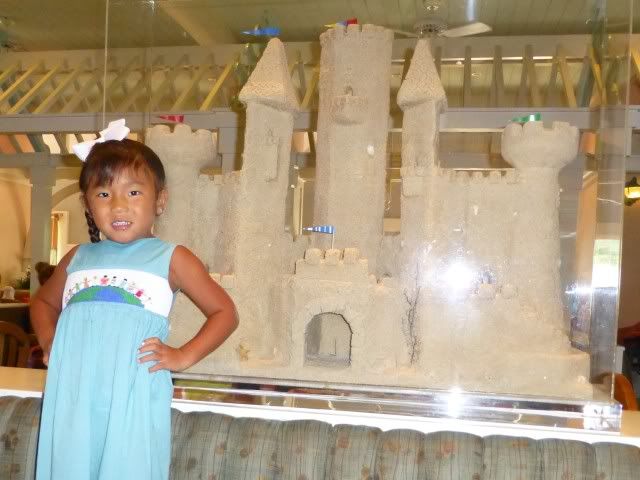 The "hang loose" sign is a big part of the experience.
Finally made it to Epcot. Here is G in France with Marie from the Aristocats. BTW, how cute is G's dress? I bought it about a year ago off Zulily. Its labeled a 4t but it ran HUGE and only fits her now that she's wearing a size 6. Anyway, because the smocking is of children of the world I thought it would be fun to wear for the World Showcase. It was subtle clothing theming. I was surprised to be stopped at least a dozen times that day asking where we'd gotten it and if it was available at the parks. I guess people pay more attention to clothing than I thought.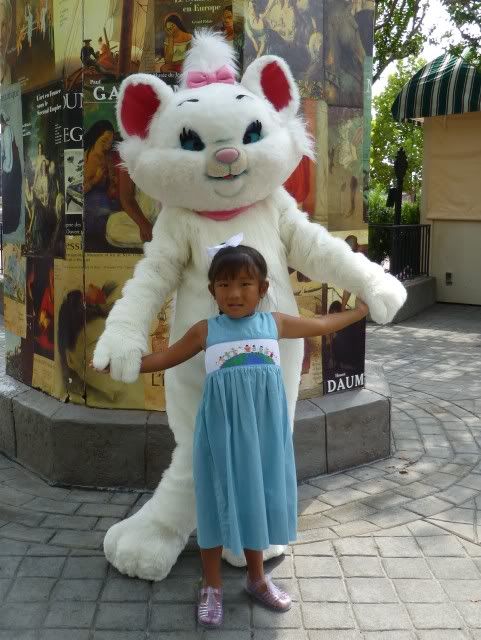 Princess hands with Aurora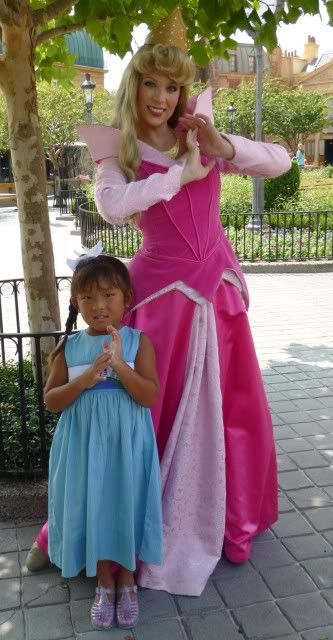 Georgie asked me to take her pic in front of this fountain in Morocco. She's such a goof!
We made our way to Japan and G talked me into (it didn't take much effort) doing the pick-a-pearl. She very quickly chose her oyster...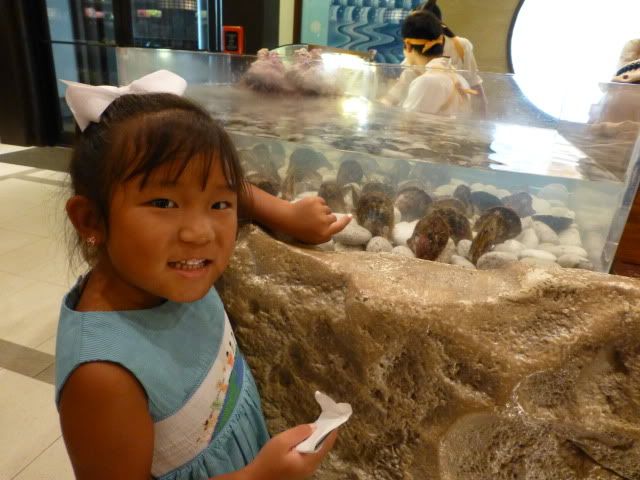 paid great attention to the fanfare of the opening...
and then anxiously waited to see what she'd gotten.
As it turned out it was a fairly large 7-3/4mm silver blue. At first, G looked disappointed because the pearl wasn't white. I think she's only ever seen white and thought the silver was defective in some way. But she quickly turned around when everyone seemed to excited for her.
Beaming with pride!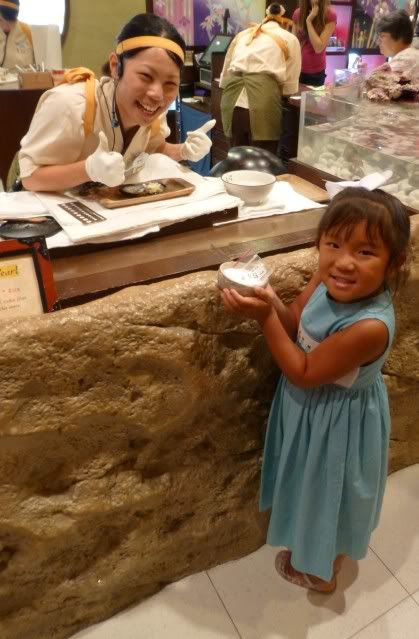 We bought this super cute heart shaped pearl cage.
Japan!!! Ta-duh!!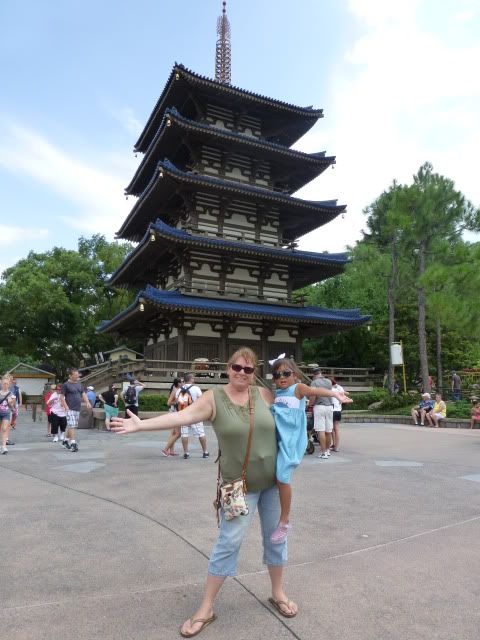 Being silly in Italy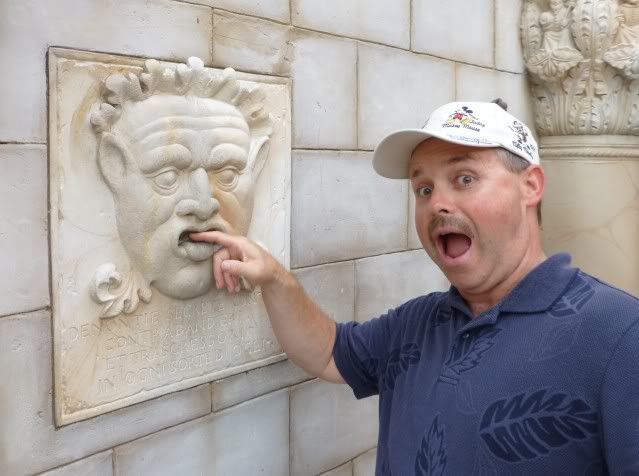 Again with our props in the stores. It started out so innocent...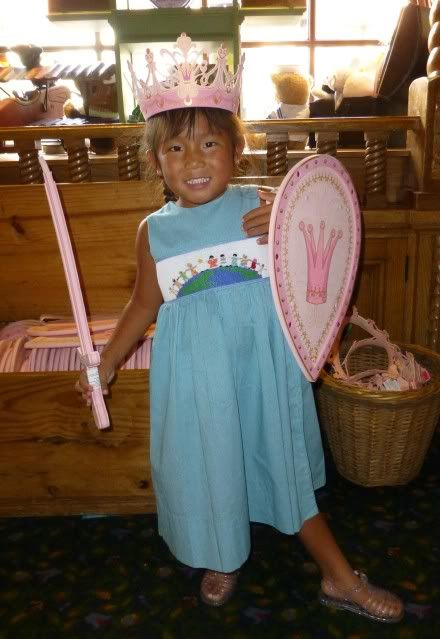 Then Daddy got involved...
Oh no!!! Don't kill Duffy!!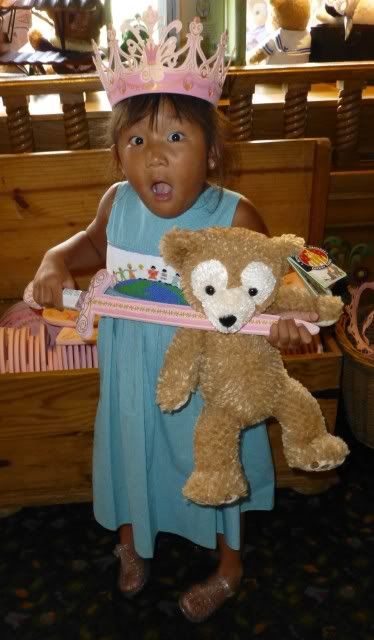 Too funny!