Vacation Day 8: MK again??
Today was supposed to be a waterpark day but the weather was looking pretty bad. It was very dark and cloudy and the forecast was saying "RAIN". Sure enough, it began to rain just about the time we started out for the day.
First stop was the Grand Floridian Resort for yet another character breakfast. This one is Alice and friends: Mary Poppins, Mad Hatter, Pooh, and Tigger. For the occasion G wore an "Alice inspired" dress which I love, love, love. It came with a lace key and a little hand made bottle of drink me potion. Adorable! As always, G was thrilled with the characters. I swear I think she could hug Pooh and bounce with Tigger all day long. She never seems to get bored with it :-)
With it still raining we decided to head to MK. For some reason it seemed like the easiest option since, being at the Grand Floridian, all we had to do was go one more monorail stop to get there. We were prepared with stroller cover and umbrellas and, although it was a bit inconvenient for a couple hours, it turned out to be not such a big deal. We tried to stick with indoor activities and after awhile it stopped raining. Thankfully the sun still did not shine so it stayed pretty cool. The park was about as empty as it could be. I don't think any of the rides had waits over 10 mins or so. We watched the Monsters Inc show and Bobby and G were chosen to participate. G always gets chosen for stuff. She's "that kid". You know, the one that always gets picked for stuff.
With nothing too much planned we called it quits pretty early. At this point in the trip, G's getting a bit tired. She's still super well behaved and happy but we can see it in her face. Its a lot of excitement.
In the lobby of the beautiful Grand Floridian
Georgie loved Alice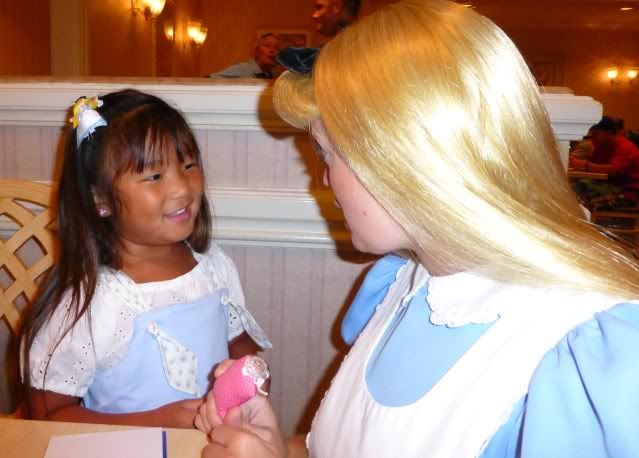 Making silly faces with the Hatter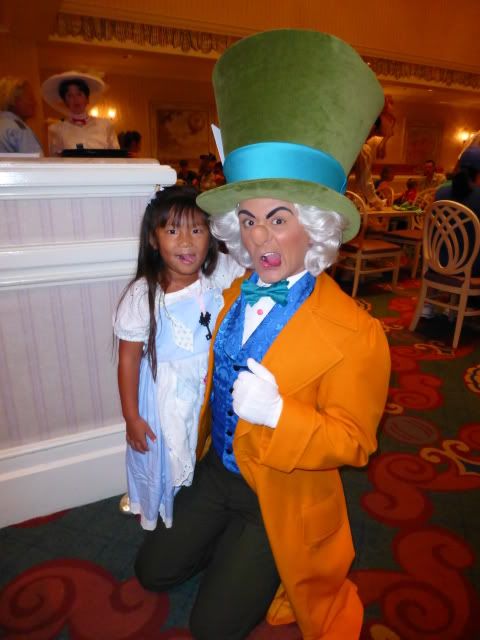 As promised, Tinkerbell wearing her winter wear to honor her new sister
We'd met Periwinkle the day prior to leaving for WDW but G was finally able to get her autograph. For some reason the characters that appear at El Capitan for their events are not allowed to sign.
In Tomorrowland we encountered Push the talking trashcan.
Push asked Bobby to open the gate for him. It makes sense that a talking trashcan could have problems with gates.
Chip & Dale in their space suits. Too funny! The annoything is that there are only like 5-10 people in line but it takes FOREVER!!!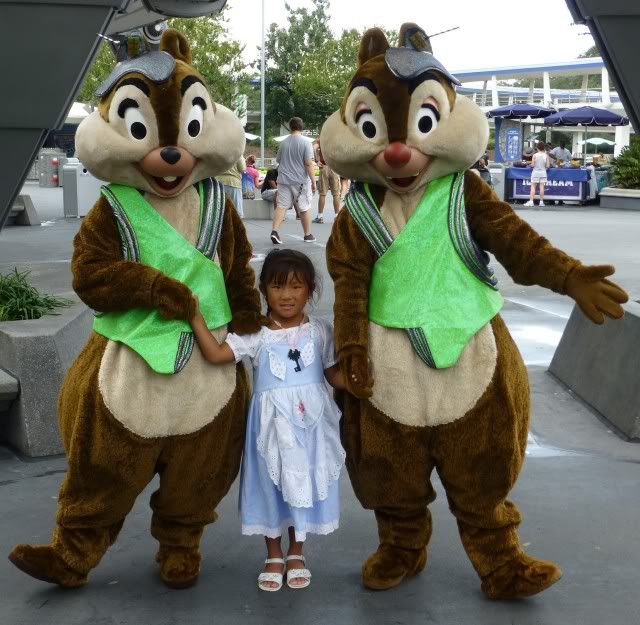 Its always fun to catch the princesses with their respective princes.... looking at this pic made me wonder, are Tiana and Naveen the first interracial Disney couple??
There was zero line for Merida so we figured what the heck!