Vacation Day 10: Will we ever tire of MK??
I think the answer for Georgie is no. For me? Yes. MK is a great park, it is, but compared to Disneyland there's not enough to do there. Maybe after the Fantasyland expansion is complete it will be better. Anyway, I still love MK and I love watching G enjoy the park.
Today started out kind of slow. MK was supposed to be very empty. For the most part, it was. I think we did almost every attraction in the park in which we had interest and had two meals in just about 8.5 hrs. Pretty good. G was bummed she couldn't ride Space Mountain. She's tall enough at home but too short in Florida which is weird. I can't figure out why there's a difference in the height requirement but there is.
The highlight of the day was definitely the Pirate Tutorial. G was chosen (the only girl of 4 kids) to go up on stage and be part of the show. Capt Jack and his "mate" teach the kids to sword fight. They start out by giving all the kids a sword which has a plastic handle but a very soft foam blade and then instructing them on sword play. They called G out first to "fight" the pirate and my sweet, gentle girl just kind of stood there. We prodded her a bit and she finally, ever so softly, batted her little sword at the pirate. She was then supposed to jab at him but was not going for it whatsoever. So funny!! The next 3 kids were all little boys and had no apprehension at all. One of two of them had to be called off because he attacked with such gusto. Hysterical. I asked G about it after and she said she didn't want to do it because she was afraid she'd hurt the man. But, she still said being involved was the best thing of the day!!! Sweet baby.
After a relaxed dinner at Casey's (chili cheese dogs and fries covered with squeeze cheese, sauteed onions and jalepenos... YUM!! seriously, I can't even tell you how much squeeze cheese we've eaten in the last week and a half :-) we headed out right at the 7pm closing. The park closed early for the halloween party that night. Ours will be in 3 days. I'm really excited about it!
In each park they have these people who stand outside the gift shops or at the souvenier kiosks blowing bubbles using these bubble guns... G was OBSESSED with them! She can chase bubbles for a really long time.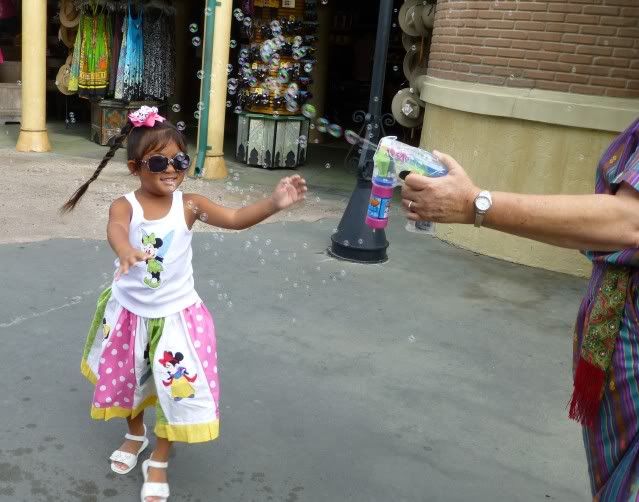 She's such a goof. She always gets really, really, really close the bubble gun so that they blow right into her face. Obsessed I tell you!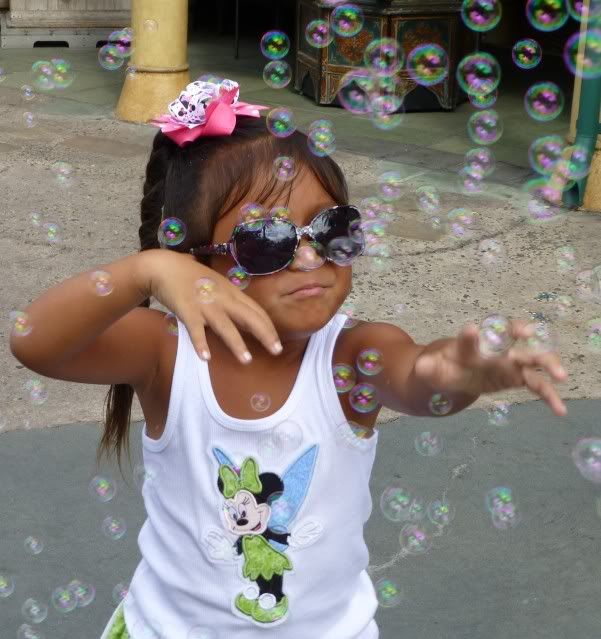 Yet another from the gift shop photo props series of photos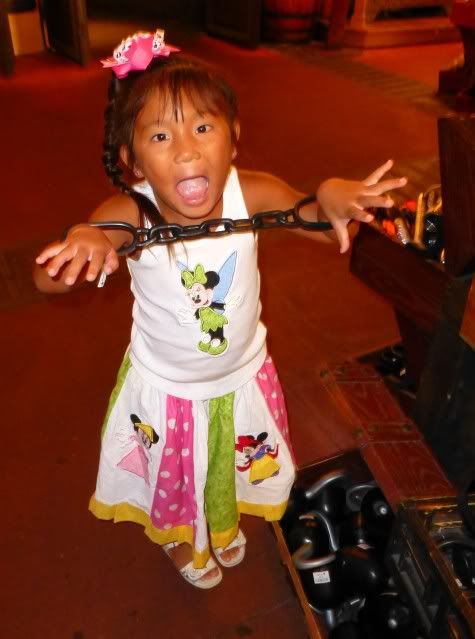 Moving on to the pirate tutorial
Thankfully, G's not afraid of Captain Jack any more
Finally, G tapped her sword against the other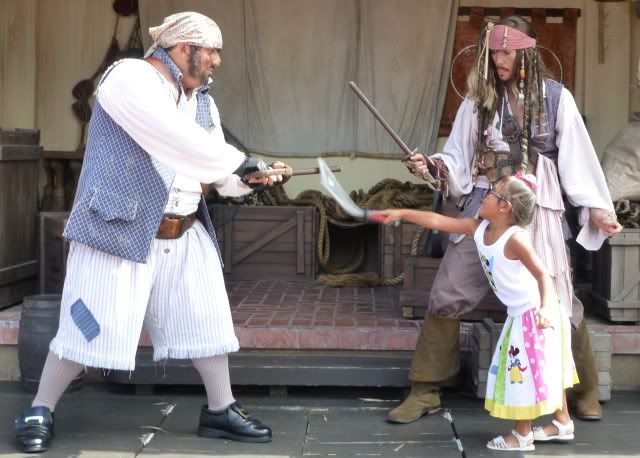 More very serious instruction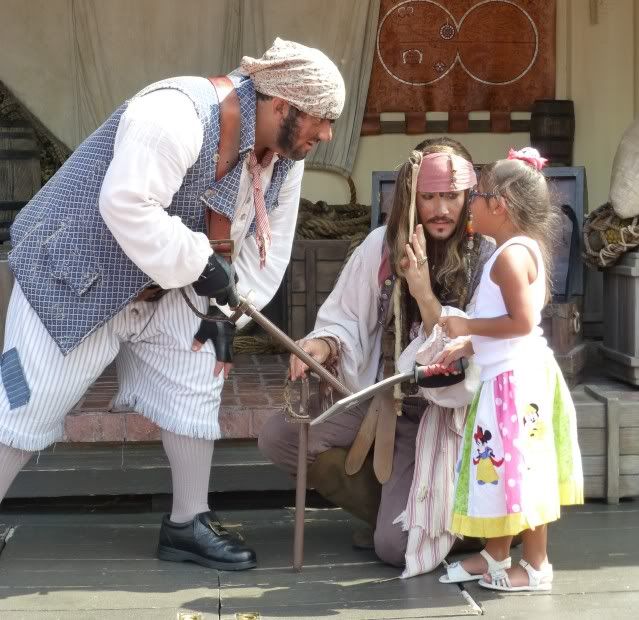 Georgie saw this pumpkin, stopped dead in her tracks and then informed me that she needed to have her picture taken with it. Um, ok. BTW how cute is the set she's wearing?? I loved all the appliques of Minnie dressed in princess and tink clothing. Adorable!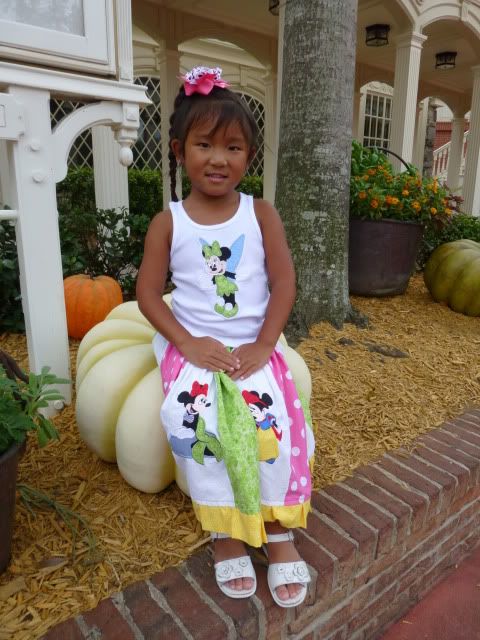 The rocket ride at MK is more fun than the DL version because it goes so much higher! What a view!
To infinity and beyond!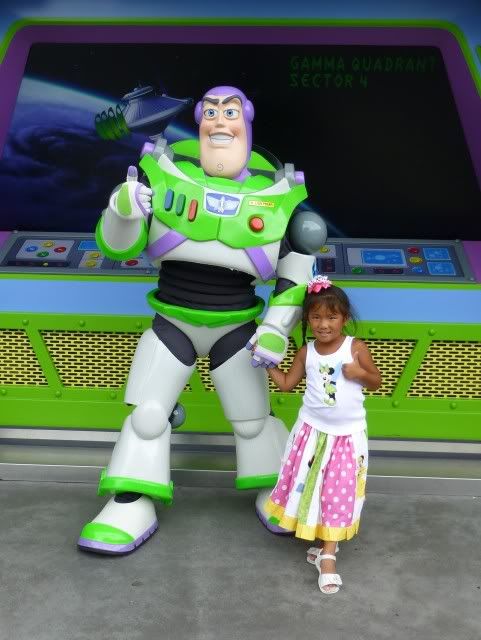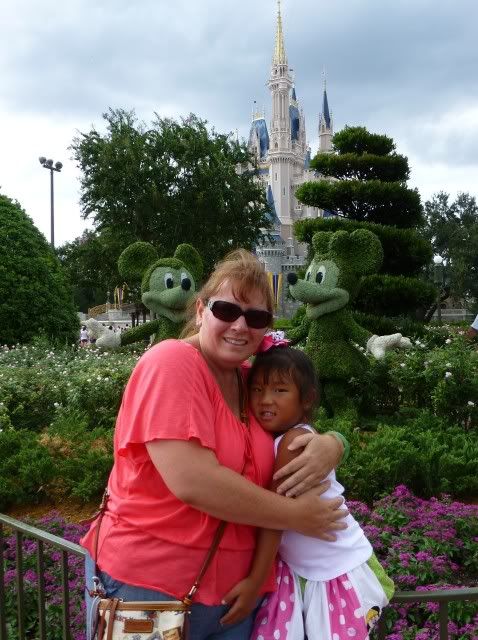 Winter wear Tink
More Peri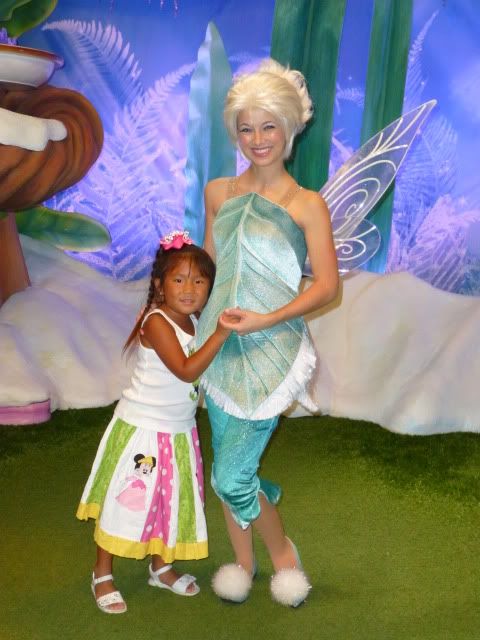 Georgie really wanted to show Minnie her skirt... Minnie loved it!