Vacation Day 5: Disney Hollywood Studios
We went to DHS in September 2010. I don't remember too much about it other than it was incredibly hot and humid that day and then it rained. On our last trip in February, we skipped it. I was actually looking forward to giving it another try.
Our day started bright and early with a character meal!!! We did the Play and Dine with the Disney Jr characters at Hollywood and Vine. I'd read some less than stellar reviews of this meal on the disboards but we thought we'd give it a try ourselves. I'm glad to say that we had a great experience!!! The food choices were somewhat limited but what was there was well presented and fresh. G had great fun dancing and playing with Jake (from the Neverland Pirates), June (from her favorite show The Einsteins) and Special Agent Oso. The restaurant wasn't too busy and the characters came around many times each and spent quite a bit of time interacting which was nice. G could hug and dance with them all day long!
After that we took advantage of the low crowds and hit the major rides and attractions including G's fav's Beauty and the Beast and The Little Mermaid. We were also able to ride Toy Story twice. The first time with only a 10 min wait the second time on fastpass. We collected a bunch more character pix and autographs too. That afternoon we encountered our first bit of rain. It was bound to happen eventually of course. We just took some cover and waited it out. It passed pretty quickly. The bad part of the rain is the hour or so before the drops when the humidity and heat increases what seems to be exponentially. It was almost overwhelming for a bit. Ick!
Near the end of the day Bobby rode the Rock and Roll coaster twice. I've never been on it but he loves it. We were going to do kid swap this time so I could give it a try but G was bummed that she's not tall enough to ride so I told her I'd take her to the Animation Bldg to mess around with some of the computer games and see if we could catch Character Palooza.
I'd read about Characterpalooza (or Fan Fest) many times. From what I could gather, on most days at 4:50 (so precise, right?), a bunch of characters just appear in the Animation bldg. No ones ever knows for sure who will be there and its not advertised in any way. You need to be in the know (from reading the disboards or something) or just get lucky and happen upon it. With this limited info we arrived at the animation building at about 4:45 and then waited for something to happen. Five minutes later, it happened... the characters appeared! Cool beans!!!
Once we were done with that we caught a quick dinner and we were outta there! It was a long, hot and exhausting day.
This is us pre opening of DHS about 7:30 in the morning. It was probably the last time we'd feel somewhat cool for the rest of the day.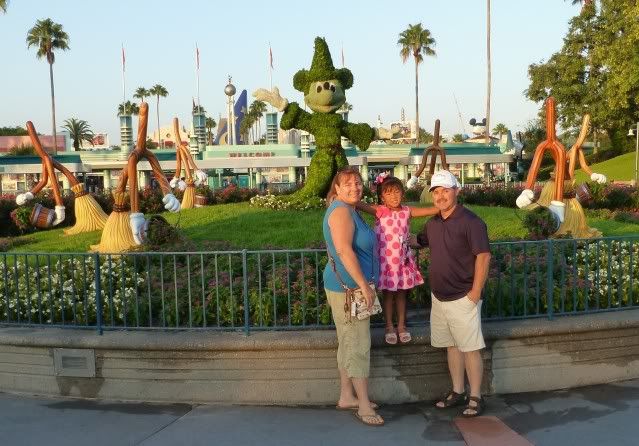 Georgie has Sorceror Mickey
Georgie loved meeting the Disney Jr characters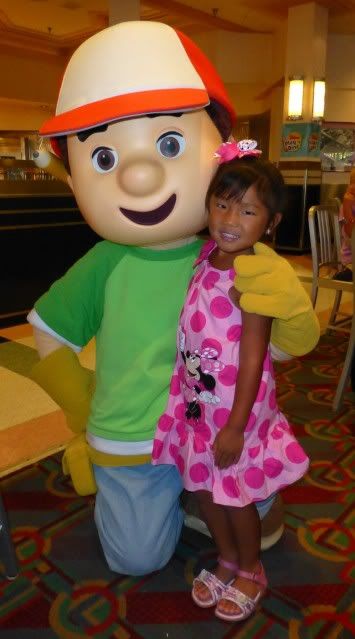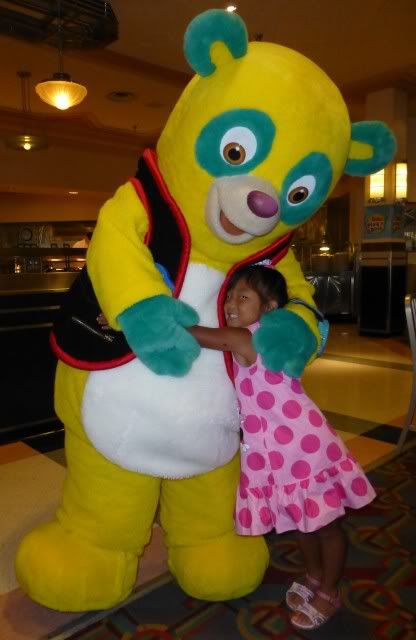 Working her ballet moves with June! G loves the Little Einsteins so hanging with June was big
I'm pretty sure Georgie didn't hit even one target but she thought she was doing great!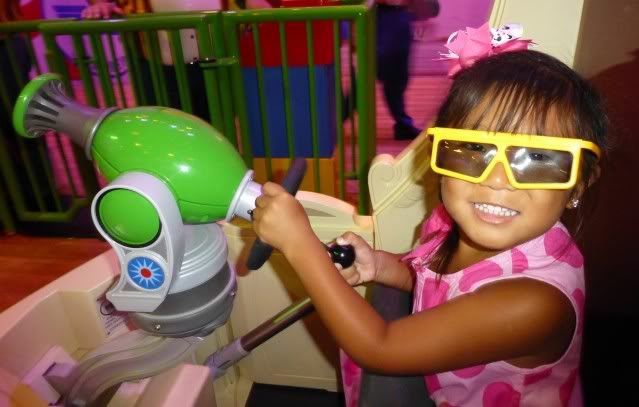 Matching guns with The Incredibles
Mr Incredible challenged Bobby to an arm wrestle...
Bobby won! then he joined in on the gun show :-)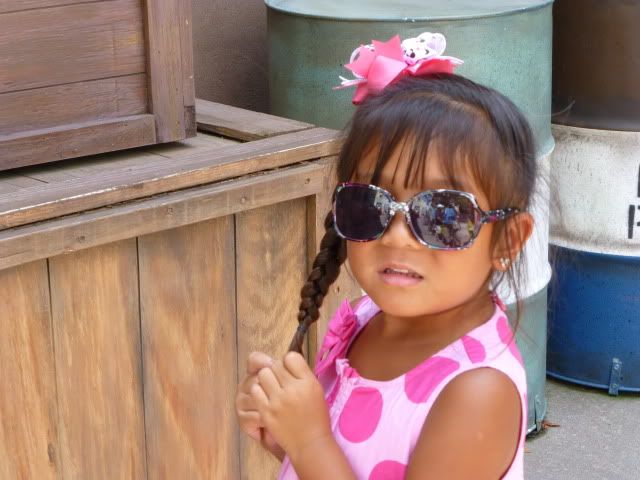 Playing air guitar with Phineas and Ferb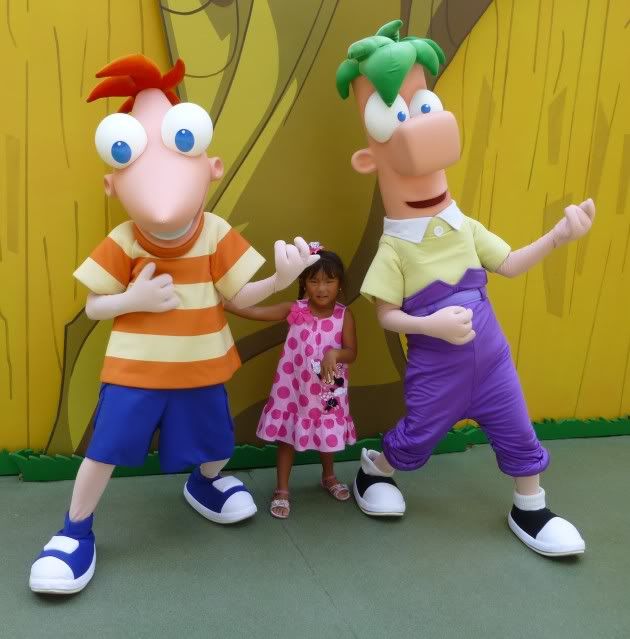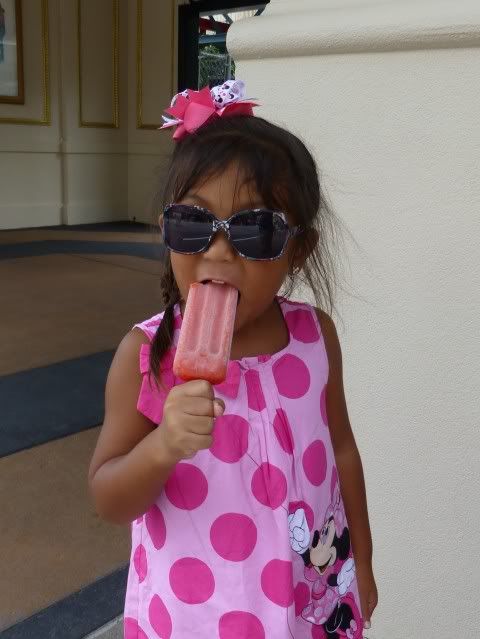 At Characterpalooza we found Max. I've never really been that clear on Max actually. He's Goofy's son but there doesn't seem to be any clear answer as to who his mother is... I think its a deep, dark Disney secret.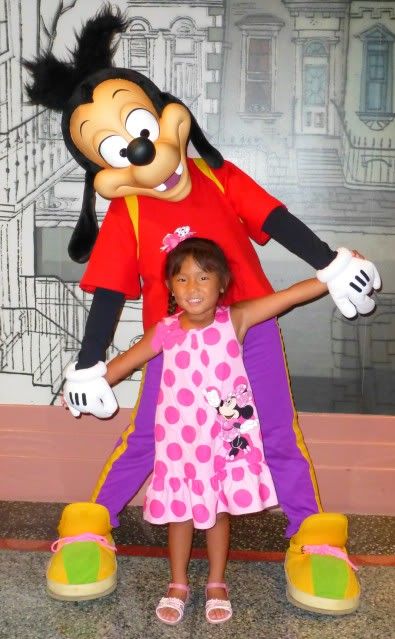 Georgie loves Mary Poppins and the Penguins even though she's never seen the movie. I'm not really sure why.
G's making a "hook" with her finger. She comes up with the funniest stuff!
We met Frozone who's hands are creepily cold and melty... ick!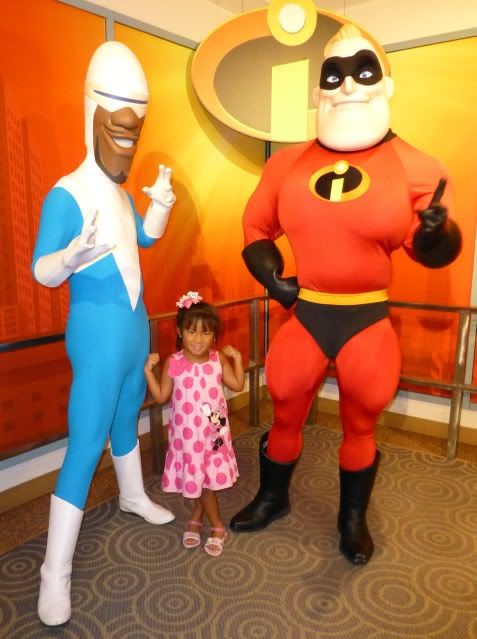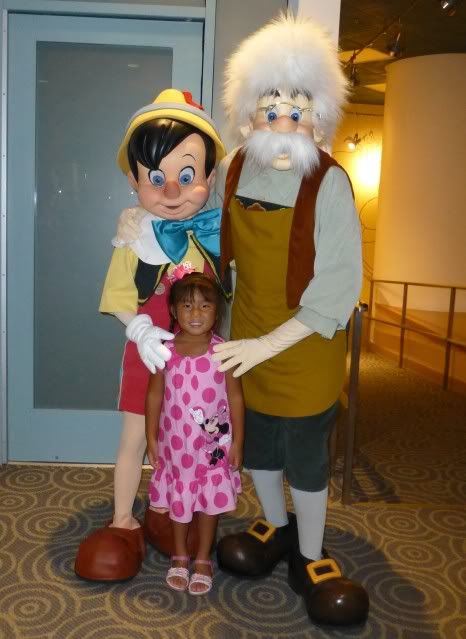 I think the Evil Queen has met her match in G
I asked G why she thought The Queen was so mean. G decided maybe she needed a hug! I asked The Queen if G could give her a hug and she said with much indifference "well, if she wants to hug me, I guess she could do that. So she did. As G walked away, The Queen looked at me, brushed the front of her dress or cloak or whatever and sighed, "I'll have to have this laundered now"... haha! Its not a wonder that the villains are my favorite. They're so funny!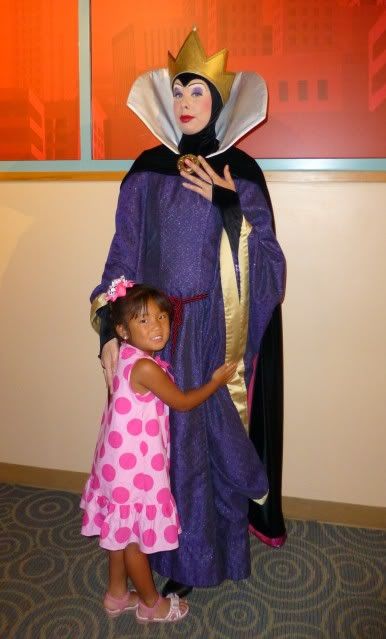 Fun, fun!