Vacation Day 4: Magic Kingdom
I've read suggestions on disney boards that, of the 4 parks, people should always plan to visit Magic Kingdom (MK) last. The reasoning is that MK is so amazing, sensory overloading and exciting that once you visit there the balance of the parks will be a let down. I used to think that was silly but I'm starting to believe there's some wisdom there.
G loves all the parks and has fun wherever we go but her favorite at WDW is definitely MK. In some ways MK is so much better than Disneyland --the queue theming for Haunted Mansion and Pooh are awesome and Cinderella's Castle is without compare. In some ways it pales --far fewer rides in Fantasyland and WDW's Pirates and Small World are almost embarrassing in comparison to their DL counterparts. I enjoy comparing DL and MK and do it constantly.
Anyway, we got to the park early this time and were able to see the little park opening show they do. Its very cute and G got a kick out of seeing all the characters come in on the train. After that we headed straight for Merida hoping to be first in line. Normally the first child in line gets walked back into the meet and greet area by Merida and spends a bit of extra time calling out the little bear brothers, etc. Very cute! Even though we moved pretty quickly through the entrance we ended up being second. Bummer. Oh well, G didn't seem to mind or even notice. The meet and greet was pretty typical but afterward (I think its supposed to be while you're waiting in line but we didn't have to wait) they have a archery thing set up where they help the kids shoot an arrow at a target. They only shoot it about 3 feet into a one foot round bullseye but G, and every other kid I saw who tried it, thought it was really great when they hit the target :-)
We moved on to more Fantasyland rides. No lines which was pretty great! Its super hot and humid in September but the trade off is no lines whatsoever for almost anything. In about 1hr15mins we rode Peter Pan twice, the tea cups, Pooh, the new Dumbo, and let G have tons of time checking out the Pooh queue area and Storybook Circus play park. It was great! After that it was time to check in for G's Bibbity Bobbity Boutique appointment. We brought our dress and shoes this time. I actually bought the dress several months ago from disney.com. It was the Limited Edition Tangled: Rapunzel's Wedding dress Before this I had no idea that disney dresses came in limited editions but apparantly they do. The dress is stunning, it really is. And, its not only super pretty but well made like a real wedding dress would be. We must have had 100 hundred people come up to us throughout the day asking where we'd gotten it, etc. G loved it!!! The shoes were pretty but I knew they'd be completely impractical for walking more than 10 feet. After taking pictures, G quickly switched to some comfy but really pretty sandals.
Once G had been hair gelled and pixie dusted to her little heart's content we wandered around trying to find fun things to do while staying cool. We visited Mickey and Minnie and the princesses. G actually saw them twice because their line, which is usually a constant 45 min wait, had a zero minute wait! Yay! We also fit in lunch, Mickey's Philharmagic, the carousel, a parade, Tiki Room, Aladdin's Magic Carpet, Small World, gobs of photopass photos, and a one hour stroller nap for G before checking in at the castle for our Cinderella's Royal Table (CRT) dinner. Dinner was tasty but not as good as I recall the lunch being last time we were there. But, what CRT lacked in food it made up for in experience. G loved it and got totally into the princess interaction and silly little wish ceremony they do.
By the time we were done with dinner G'd had enough of that dress and I changed her clothes. Final stop was one of G's fav's: Haunted Mansion including lots of play time in the queue. Again, wait time: zero mins!!
Waiting for the park to open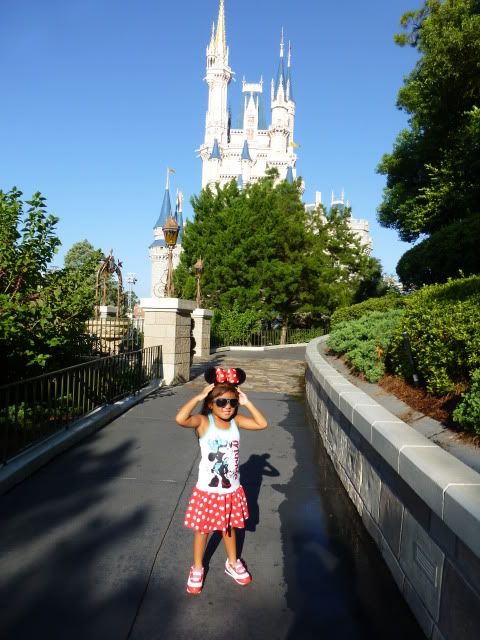 I didn't know it at the time or I would have paid better attention but I guess the three brother bears behind Merida were puppets that were being operated. The day we were there was one of their last before they were pulled...bummer.
Archery instruction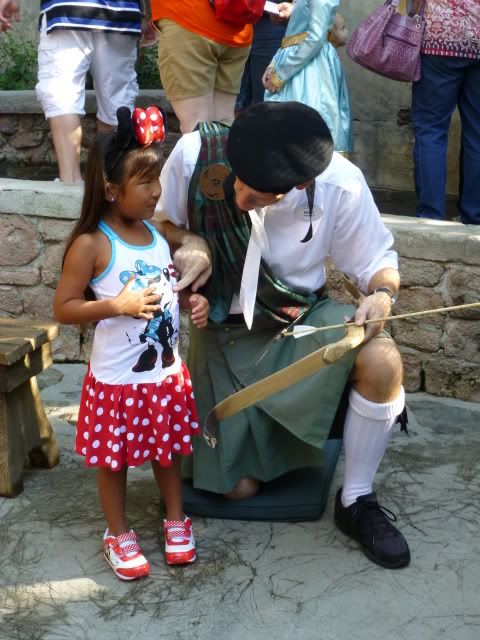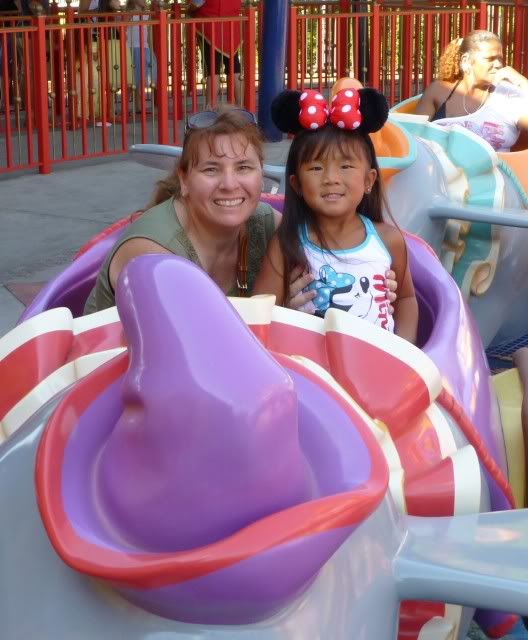 Pre BBB
G loved the shoes that matched the Rapunzel wedding dress. Not at all practical for walking over a few minutes though. G didn't last long before she switched them out for some others I brought.
The transformation begins!
G was very pleased with her reveal
Afterward we visited with the Tremaines. They were so funny! As soon as they saw G with her bouquet and veil they screeched "Ahhh, are you getting MARRIED??!!!!"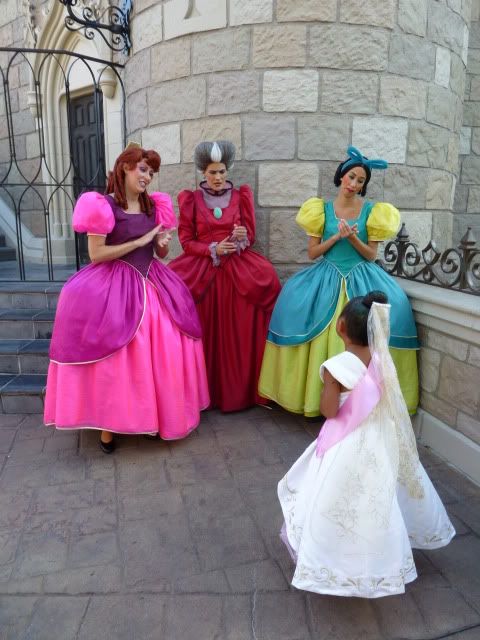 They immediately popped their own veils over their heads and started playing "wedding"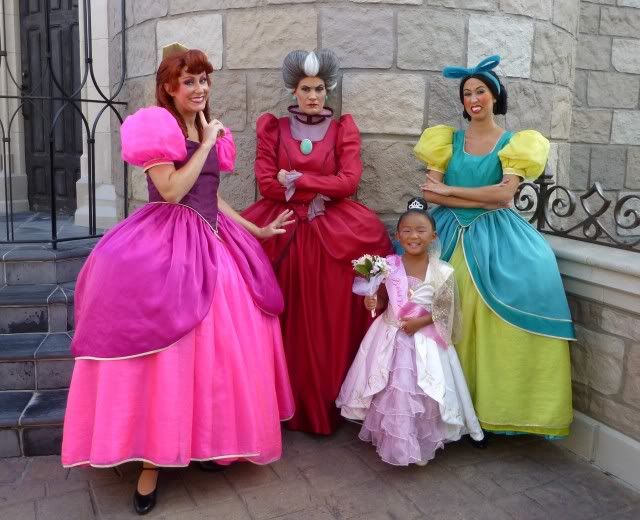 Finally CRT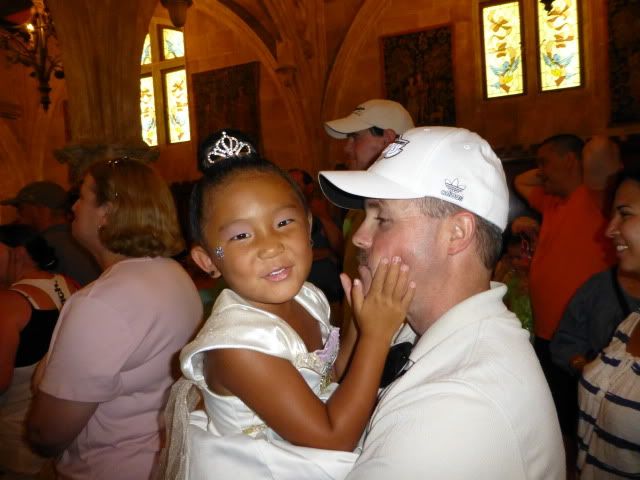 Later on in the evening. How neat does the castle look with that stormy sky??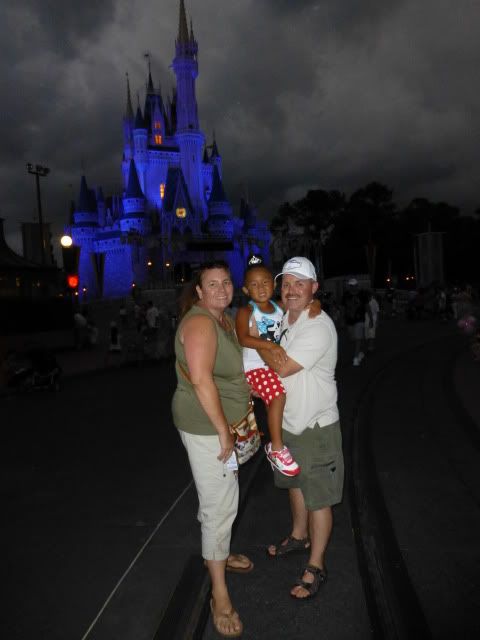 G really wanted one of these $10 balloons but was, fortunately, pacified by me taking a picture of her with them.