Vacation Day 6: Animal Kingdom
We got to sleep in this morning. Yay! We woke up to our "Georgie alarm clock" instead of the cell which is so much nicer. After a quick breakfast in the room we headed off to Animal Kingdom for the day. First stop The Boneyard which is a dinosaur themed playground. I can't figure out what G loves about this area so much. It thrills her though so we spent quite a bit of time watching her run around and get super sweaty. When she felt she'd had enough we moved on to the rides.
Our last visit to AK was in February. G rode on the Dinosaur ride that time but immediately vowed to never do so again. But then, later that same day she started asking to ride it again and became pretty insistent that she wanted to give it another try. Even though I was happy she was trying to overcome her fear the wait times were far too long and we couldn't give it another go.
This visit, wait times are not an issue. We merely walked on to Dinosaur. She did better this time and wasn't so terrified. At the end of the ride she was complimenting herself on her bravery and her realization that the dinosaurs weren't real. To celebrate she got a stuffed dinosaur from the gift shop that she immediately named "TT Rex Rex" haha!!
Hmmm, I'm trying to remember what we did the rest of the day. I guess it wasn't too much really. We went on the safari and G was thrilled we got to see her current favorite animal: the elephant. We caught the Nemo show (which is awesome!!!) and the Lion King show (which is even more awesome!!!) and hunted down several characters. I love the characters at AK cuz they're always wearing safari clothes, so cute!! At that point it was really late in the day, starting to look rainy, and getting to be time for dinner so off we went.
Next stop was the Polynesian Resort for the O'Hana dinner. The Poly is a beautiful resort, very lush and way out of our current vacation budget. Maybe another time. I'd read tons about the O'Hana dinner and really wanted to try it. No characters this time just lots and lots of really tasty food! Hint: if you're not super hungry and really into meat, don't go to this dinner. The amount of food they bring you is staggering. Bobby and I had a discussion about how amazing it was that there are starving people in the world and here we are waving away these enormous skewers of meat. G loved the food and they also had some activities for the kids including coconut races and some kind of limbo dance/maracas shaking thing. It was all very loud and chaotic but we had a good time.
Another day down. Shoot!! Tomorrow will be the halfway point.
First stop, the
Up
characters.
Up
is one of my favorite animated movies. I love this picture of G. It seems like it be in the Animal Kingdom catalog or something, you know, if one existed.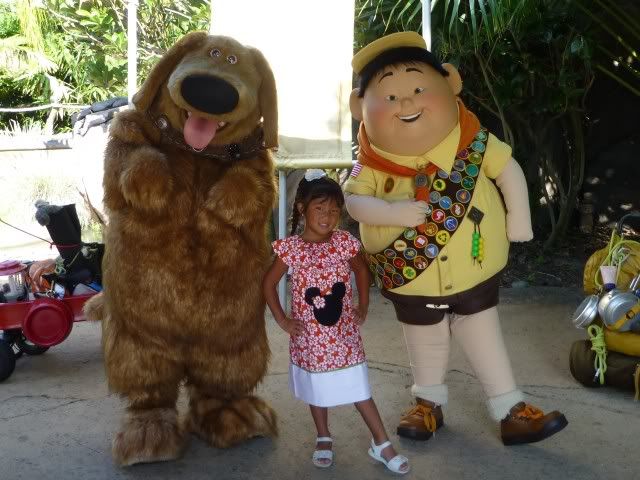 Just off the Dinosaur ride and in possession of her brand new dinosaur stuffed animal from the gift shop
During the entire safari ride G instructed me to get out my camera and take pix... slave driver.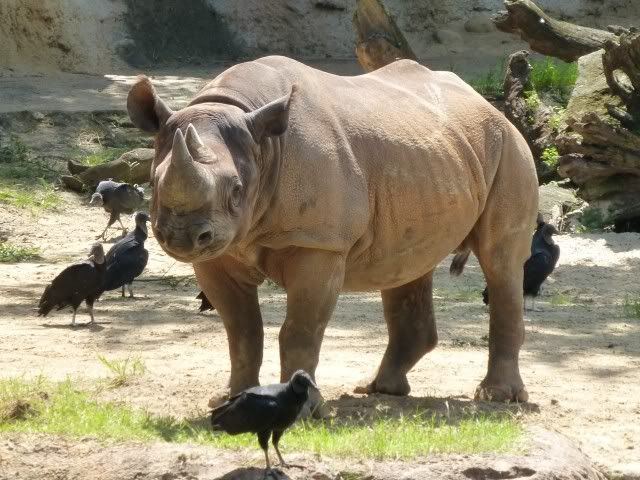 At the Lion King show (which I think is absolutely fabulous!!) we happened to sit in a good spot and G was chosen to participate in the show a little.
G's kind of a ham so this appealed to her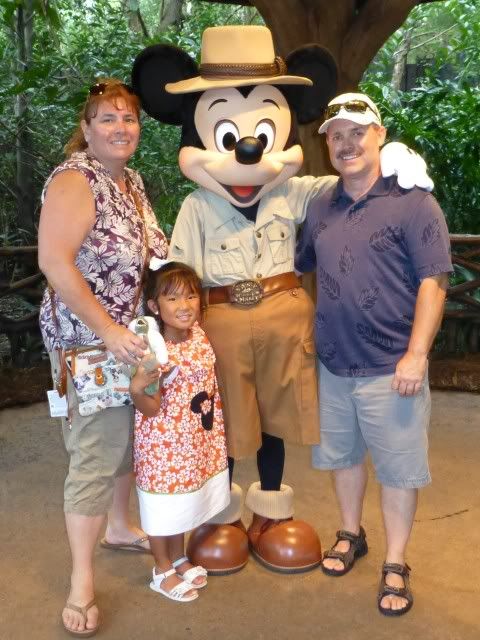 In front of the Tree of Life. I find this tree absolutely fascinating. On our next visit to AK I took some close up photos of the detail of the trunk. I can spend a lot of time looking at it. Not that AK is that big, but it also helps a lot when we're in the park. Its like the Matterhorn at DL, you can use it to figure out where you're going.
Dinner! Meat, meat, more meat, shrimp, salad, noodles... yum!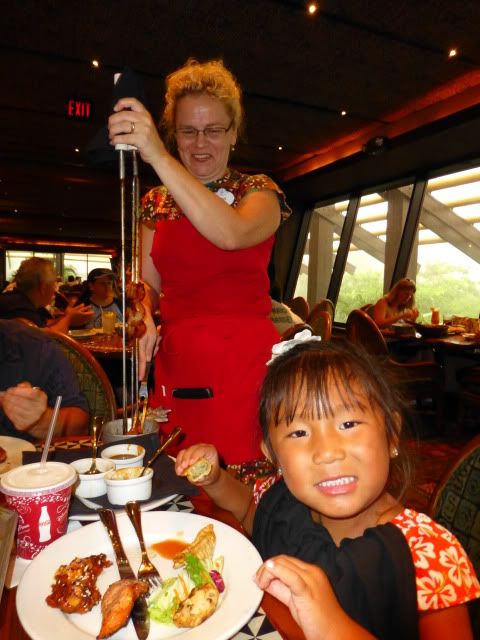 In between bites G participated in the kid activities. First there was the cocunut push. Its a good thing for G that a person's skill level on "cocunut push" is not relevant to success in life... she's not good at it all :-) After awhile I told her to just kick it. That was soooo much easier!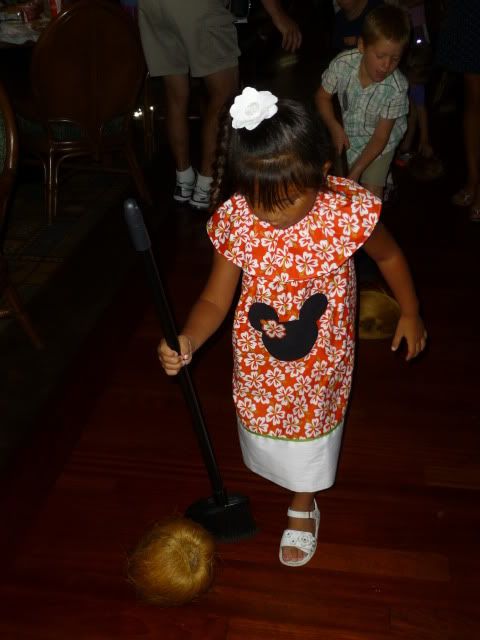 Maracas and limbo. This height level looks a bit too easy for G, don't you think??
We were all big fans of the O'Hana dinner. I'm pretty sure that by the time I took this pic G was in some sort of food coma.
Just doing a little hula in the lobby of the Polynesian.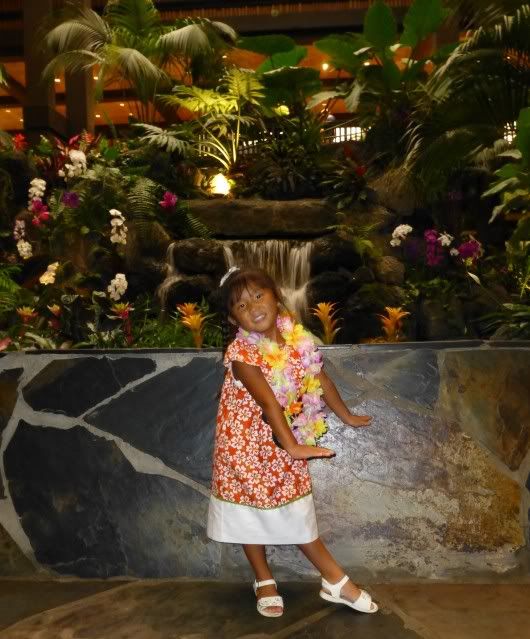 Great day!