Vacation Day 3: Chef M's and Blizzard Beach
The day started out bright and early with a quick drive over to the Contemporary Hotel for the Chef Mickey's breakfast. We actually did this in 2010 when we were here with the big kids and, to tell you honestly, I thought the food was pretty bad that time. But, we were planning on doing the water park today and really wanted to hit an outside the parks character meal so I figured we'd give it another shot. Plus, I found G the cutest Chef Mickey outfit to wear :-)
As it turned out, the food and service was so much better this time around and Georgie loved the characters. They all had lots of fun with her and, because of her little chef's hat, she got tons of attention from the staff. Super cute!
After that we moved on to Blizzard Beach. WDW has two water parks and this one is themed as a ski lodge. Odd actually but very cute. We started out at the wave pool, moved to "ski patrol" (the under age 13 area) for several hours, and eventually moved up to some of the more advanced slides. G loved the fast ones more than I thought she might. I was particularly worried about Snow Stormers which required that she go down a 350 foot twisty turney slide laying on a mat on her tummy by herself. Eeek! I was concerned that she wouldn't hold on or would be terrified but she wasn't in the slightest. She loved it and immediately asked to go on it again! She's getting really brave!
For some crazy reason I got the idea to give Summit Plummet, the park's most adventurous slide, a try. The Plummet is 120 feet high, has a 12 story drop, and results in travel between 50 and 60 mph! Seriously, what was I thinking??? What little of it I can recall --I had my eyes closed for the majority of the 10 secs or so of the ride-- was pretty thrilling. A huge sheer drop, darkness as I moved through a tunnel, a bit of pain on my back from the friction, a huge whoosh of water and then, all at once, I was no longer moving. Criminey!! When I stood up I found Bobby waiting for me with G (which I felt terrible about. The posted wait time was 15 mins but I'm pretty sure it ended up being like 45 or more). He immediately took a pic of me which will never be posted on this blog or anywhere else. My swim shorts had come unsnapped, my top was pulled up and quite askew, and I had a look of shock on my face. I look a bit like one of those "People of Walmart" photos you see only soaking wet... not pretty whatsoever. BTDT never to be repeated... well maybe, I dunno, it might be nice to try it again with my eyes open :-)
After the water park we were POOPED! We had lots of fun but we were so tired and my feet, from walking around barefoot on sandy concrete all day, were achey and thrashed. Back to the hotel we went for quick showers and a bite to eat at the resort food court. After that it was pretty much lights out. To think, I'd imagined water park day to be calmer and more restful than park days... uh NOPE!
Minnie smooching on Bobby --ooh la la!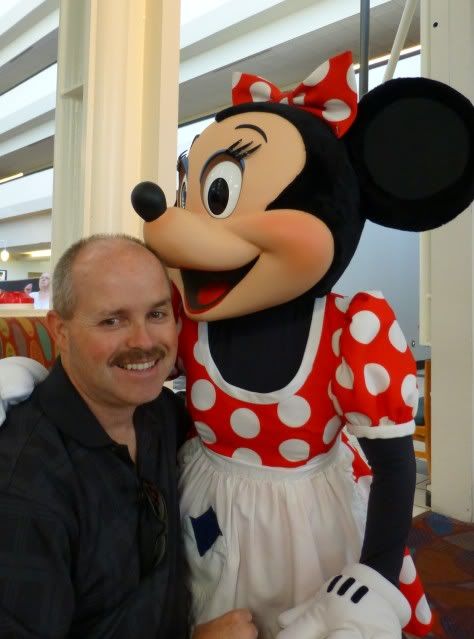 Georgie loved the serve yourself cereal thing and that she was able to get fruit loops. I'm not sure G has ever had them but hey! we're at disney! almost anything goes!
How funny is this expression?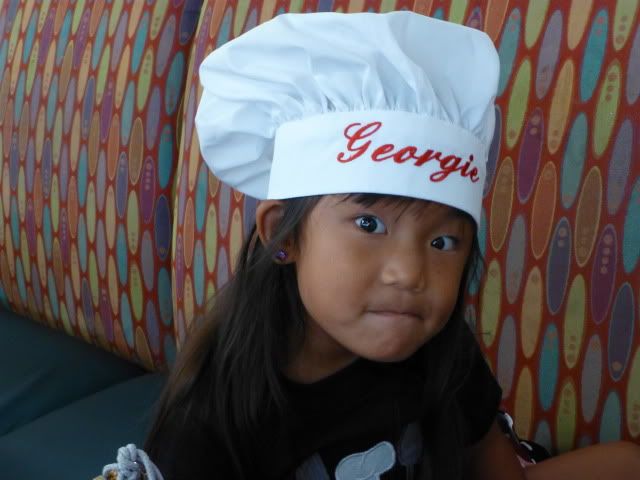 The theme of the water park as as ski resort is pretty funny. Its like 90 degrees and 90% humidity and you're surrounded by plastic snow. Cute!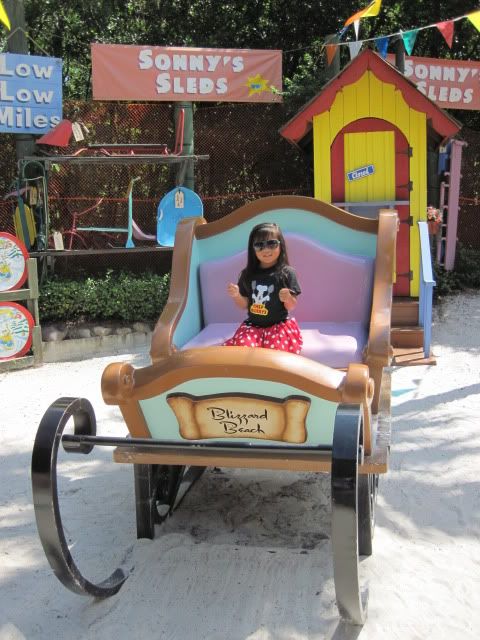 Self portrait of family on the ski lift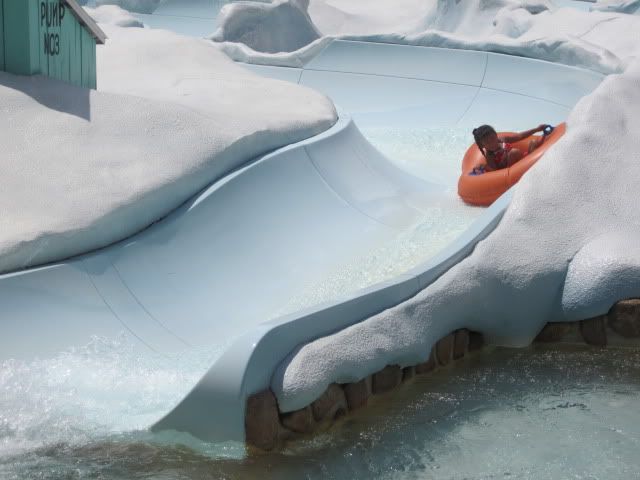 G waited in line for about 20 mins to try this jumpting from "iceberg to iceberg" activity. She was really too small for it and Bobby had to jump in the water and help her.
Fun day! We never did make it to the other water park maybe next trip!