Vacation Day 2: Epcot
We slept in a bit, had a quick bite to eat in the room, and headed off to Epcot. First stop, Soarin' fastpasses. The ride in Florida is the exact same ride that is in California Adventure: Soarin' over California. I don't understand why they don't have a Soarin' over Florida. I think that would be so great! But they don't. It doesn't matter too much. G loves that ride.
While we waited for our fastpass time to come around we checked out The Seas. G loves the little playground area and the Nemo ride. Another fave is the Turtle Talk with Crush. This is also offered at Calif Adventure. The only difference that I can see is that the CA location offers much comfier seating for the adults. There's a portion of the show where they have the kids (who sit on the floor in front) raise their hands and ask Crush questions. I was surprised to see that G's little hand shot up and, surprisingly, out of the 3 dozen kids who were there, she was chosen! When asked, she confidently gave her name but when it came to asking Crush a question, she couldn't think of one :-) I'm sure it happens all the time because Crush then told her he would ask her a question and showed her a Buzz Lightyear toy and asked what it was. Luckily, providing answers about Disney toys was much easier than making up a question to ask an animated turtle :-) Afterward, she felt really happy to have participated. I was glad it was a positive experience. I think little things like that can have an overall big impact on a child's confidence level. Last stop in The Seas was the aquariums which are huge and have a lot of fish as well as some sharks and rays. We'd never taken the time to venture up to the second floor to look at the fish so I'm glad we did. It was a big hit with Georgie.
After cashing in on our fastpass for Soarin' we were off to the World Showcase to find some lunch. New to us this time is the Disney Dining Plan (DDP). Our vacation package includes "free dining". They should really call it "included" rather than "free" because you're paying for it one way or another but that's a discussion for another time. When you're doing DDP, a big consideration is making sure that you get a good value out of all your food purchases. It definitely requires a lot more thought and planning than it would if we just waited til we were hungry then ate. But, I like thinking about and planning our vacations so for me that's not a negative :-) We ended up having Shawarma plates in Morocco. Totally tasty and a great value! We were able to get two and split it among the three of us which is really saying something because usually G eats like a truck driver!
The next many hours were spent wandering around the pavillions of the World Showcase, seeing characters (Mary Poppins, Snow White, Jasmine/Alladin, Mulan, Belle/Beast) and trying to make sure that we located at least a few new-to-us things in each country. Some people really don't like Epcot. They just don't get the appeal of it. I have to say that it continues to grow on me but I do believe it can be an acquired taste.
Finally dinner arrived! Tonight that meant Akershus in Norway which is a princess meal. We've done this one before for breakfast and for lunch but never for dinner. Sadly, we both ordered the same wrong thing. It was some kind of tri tip and it really wasn't that good. Even G's pizza was kind of yuck. The two saving graces were the "cold bar" which is kind of a like a salad bar with some very upgraded choices including all you care to eat lox... YUM! and the dessert which was absolutely to die for. Of course, you don't really go to a princess meal for good food. You go for the princesses. As always, G loved the princesses. She had great fun, and they made a big deal about, finding their pix on G's skirt.
It had been a long day already but we decided to stay for the fireworks show. We had just enough time to go on Spaceship Earth (or as G calls it "the ball ride"), the two boat rides (Maelstrom- kind of a Norwegian Pirates and The Three Caballeros - kind of a Mexican Small World and hit the character spot for some one on one with the fab 5 (Mickey, Minnie, Donald, Goofy and Pluto) before scoping out a viewing location for fireworks.
Finally, Illuminations. Although its done nightly, we'd never seen it. Why? One simple reason: it doesn't start until 9pm. G's sleeping schedule tends to be pretty regimented. Sleep is very important to her. I think its one of the reasons she tends to be in generally good spirits. If she misses her nap or has the odd late night, she doesn't get grouchy or anything but she always seems really, really tired. I feel sorry for her. Anyway, she's getting a little older and the girl LOVES fireworks so we went for it. Boy am I glad we did! What a great show! and, although G was really, really tired, she seemed ok.
After that we were DONE! It had been a long hot day of fun but it was definitely time to go. Can't wait til tomorrow
From the area between The Seas and The Land with the "big ball" in the background. Its one of my favorite views in Epcot.
from inside the shark's mouth. This is a photo must. I'm pretty sure that every single person who visits Epcot has one of these pix.
G loves the "fish are friends not food" shark from Nemo
G checking out the aquariums. In this particular shot she's pretending she's a fish. You can't see her face, of course, but be assured she's making fishy lips. What a goof!
First stop, the very proper Miss Poppins
I think Morocco is my favorite of the showcase pavillions. The tile work is beautiful there.
With Belle and the Beast. The beast bowed...
and then in response Belle and Georgie curtsied. None of them seemed to plan it, it just sort of happened :-)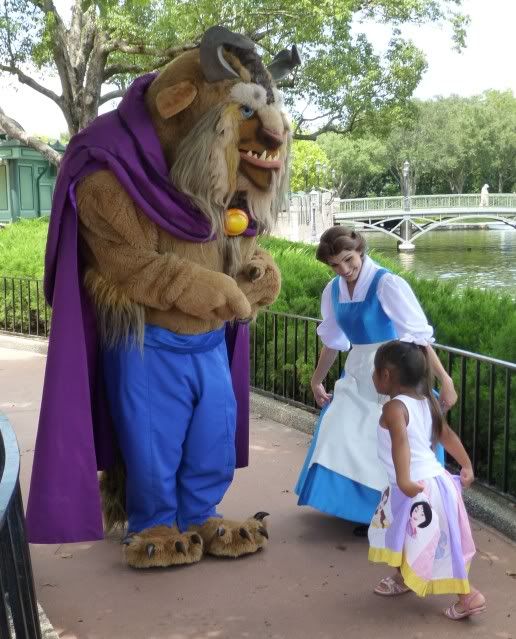 The official snap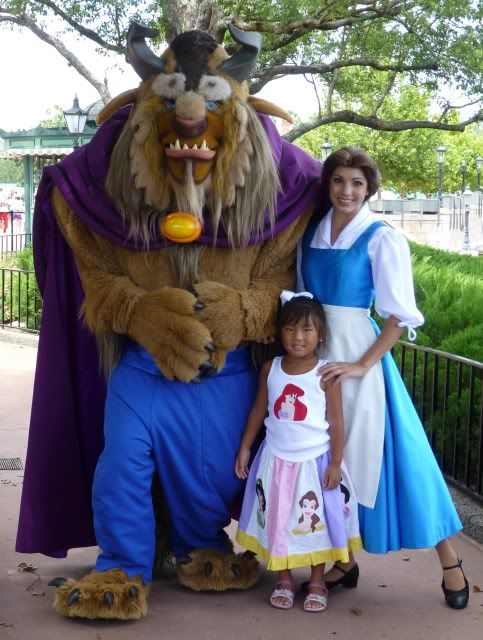 My cutie
G really wanted to see Jasmine with Aladdin. They appear separately more often than together so we waited and were first in line for the combined meet. While we were waiting the photopass guy came over and asked Georgie if she'd do him a favor then had her go and knock on the door. She had to knock a couple times and really hard. She seemed really surprised when...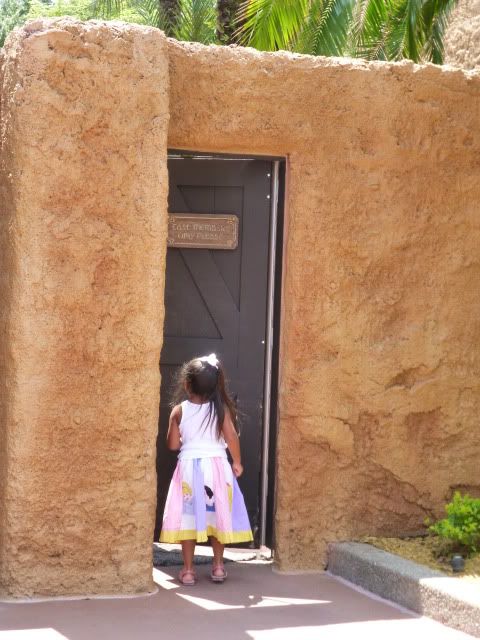 the door was answered by none other than Jasmine and Aladdin themselves!!!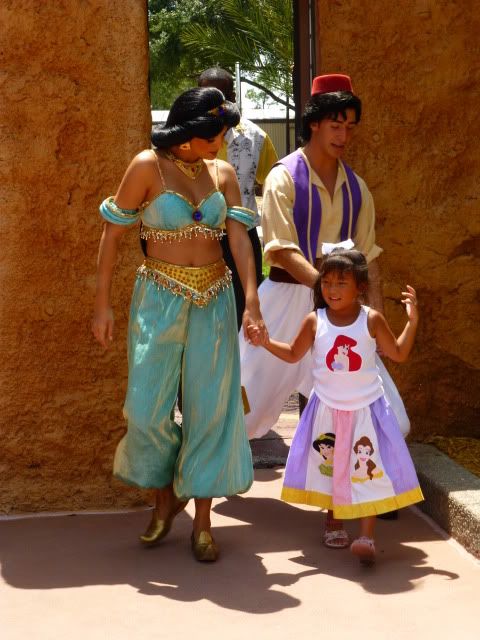 Aladdin suggested a game of tag to see who could reach Jasmine (who had walked ahead) first... G's pretty sure she won!
G was so excited about the whole exchange. Its just one of those neat things that happen sometimes.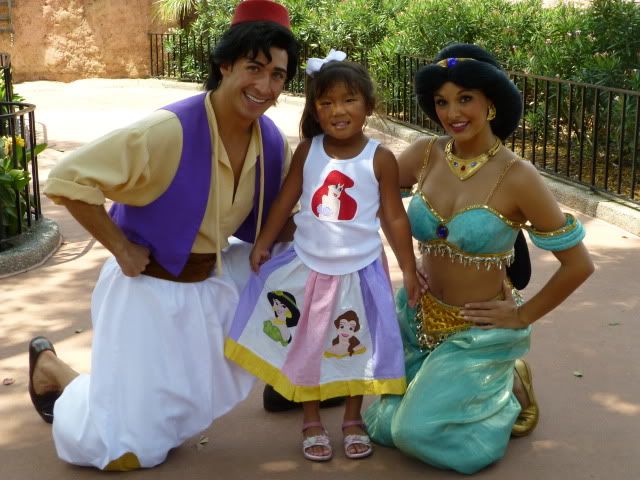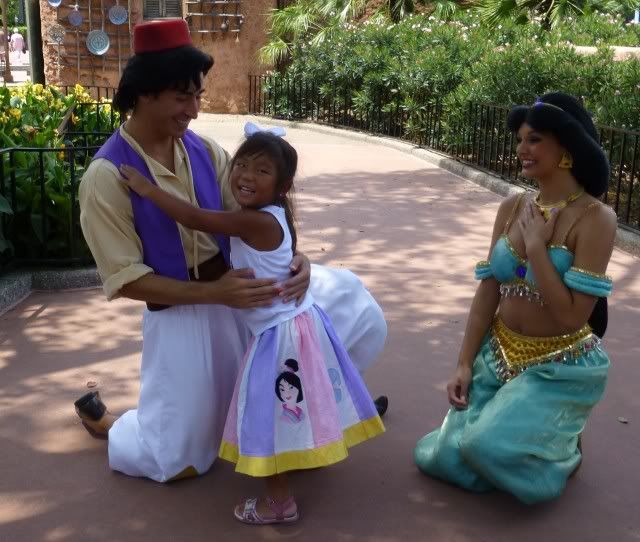 G's never been able to pass a drum without whacking on it for awhile. During the 10 mins or so that we stood here I watched and it seems that there are many, many adults who feel the same way.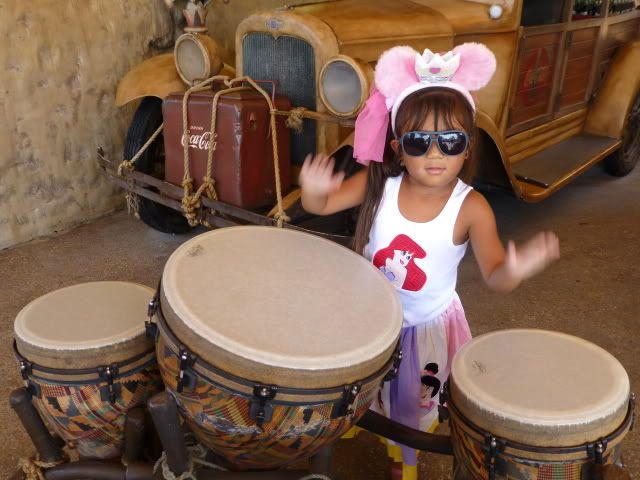 I knew it was going to be hot and humid for our trip so instead of doing traditional princess dresses I opted for something princessy but still as cool and comfy as possible. This skirt and tank combo from the facebook seller
Scraps of Heaven
was perfect and a big hit with the characters. We'd twist it around so that the correct princess was in front while we were visiting. Super fun and a good conversation piece to stretch out the visit a bit.
See? there's Snowy right in front!
With Mulan practicing her warrior pose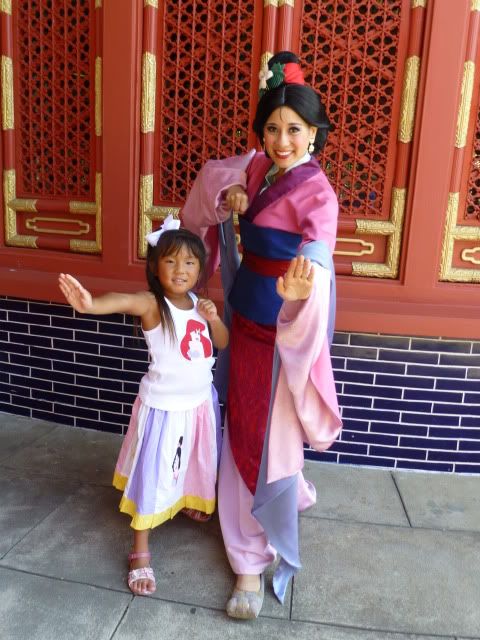 Unsurprisingly Georgie loves Mulan
Finally, dinner at Akershus the Royal Banquet Hall! For the event the hair went up and G donned a tiara!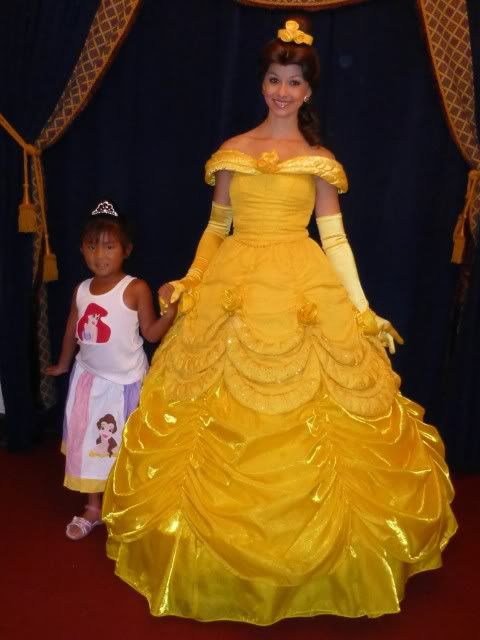 Its amazing to me how much joy G gets out of parading around the restaurant behind the princesses.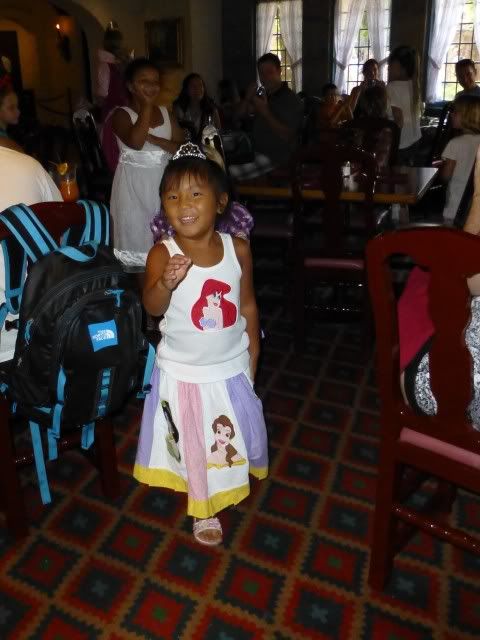 twist the skirt
twist the skirt
no twisting necessary for Ariel who, as G's favorite princess, held the place of importance on G's top!
I'm pretty sure G was afraid of this guy last time. Not anymore! We always grab props from inside the stores to add fun to our photos :-)
On our way out we grabbed one last photo of the "big ball"