Vacation Day 1: Travel day
For me, 4:00am came super early. For Bobby, who normally gets up at 2am for work, it meant sleeping in a few hours ;-) and don't think he didn't mention that to me at least a couple of times.
We were at the airport a little after 5am for our 6:35 flight. Initially I felt good about our timing but when we checked in, I learned that our flight was actually scheduled for 6am. I truly have no idea when that changed... aren't they supposed to email you or something? Anyway, it worked out for the best because we were there and ready to go and all but still... geez.
The balance of the day was pleasantly uneventful... flights were on time, planes were uncrowded, all luggage arrived at destination, no troubles picking up rental car... yay!
Once in Orlando, we made a quick stop at the Super Walmart for supplies (Seriously, that thing really is "super" its freaking HUGE!!) and drove through McD's for dinner. I know, I know, crappy food but I must admit that I love, love, love their fries :-) Finally, we checked into our home-away-from-home for the next 13 nights, the All Star Movies Resort. We're really trying to do this trip as inexpensively as possible so we went with an budget resort. We've never stayed at a Disney property. In the past we've always done condos through VRBO so this is our first foray into the "full Disney experience". The hotel is fine. Its budget for sure: two double beds in a Motel 6 style building. If it wasn't for the giant Buzz and Woody outside, it woudn't be too fun. But, there
is
a giant Buzz and Woody outside so G is thrilled! I'll let you know in about 14 days if I think staying in a cheap Disney resort and getting "the Disney experience" is better or worse than staying at a really nice 3 bd, 2 bath fully equipped condo off property.
On the plane:
we always bring crafts on the plane. G completed this sequin art thing on the first leg. I'm sure that someone loved cleaning up the hundreds of little tiny pieces of paper sticker backing we left on the floor ;-)
G is a great traveler. She's flown many, many times and is actually quite helpful getting through security and handling our carry ons during lay overs. She moves through the airport with a confidence I'm not sure I have looking for the next gate and baggage claim. Its really cute!
Finally in our room and greeted by a mickey head towel!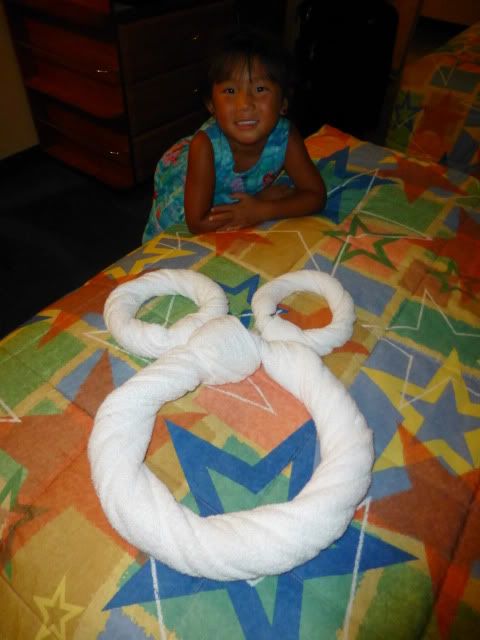 The theming in the public areas of the hotel were super fun!