Impromptu fun
In an effort to promote G's reading skills, we've been doing these flashcards:
Fry's 1000 Instant Words
. We work on 100 at a time and G earns a prize when she knows all in that group. Previous prizes have been a stuffed animal and a barbie. G is one of those kids who LOVES flashcards! I think I would have been that kid too actually. Anyway, G and I had to run an errand in Orange County and G asked if we could do her "test" on her 4th set of 100 on the way. She wanted her prize!!! I said sure, G passed her test and as a prize I asked her if she'd like to go to a character meal at one of the disney hotels. Ummmm, that was a stupid question, of course she wanted to go!!!
I called from the car to make a reservation and 1 hr later, errand complete, we were doing a meet and greet with the mouse man himself. Super fun! This was the Surf's Up with Mickey at the Paradise Pier hotel. We actually did this one before and G had so much fun I figured we'd try it again. There's one more we haven't been to but I was hesitant to try an unknown for something that was supposed to be a reward. I wanted guaranteed fun! Turned out it was a great decision. G loved it! She danced and giggled and had an all together rip roaring good time. She ate a bit too :-)
We initially missed Minnie and had to wait forever for her to return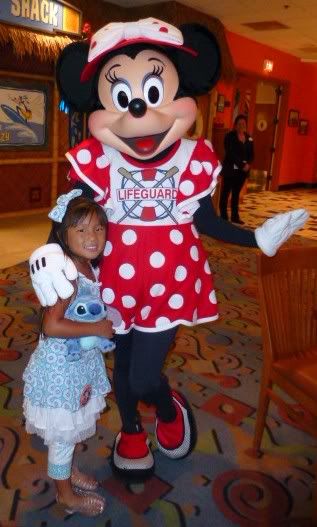 Dancing with Stitch give G great joy!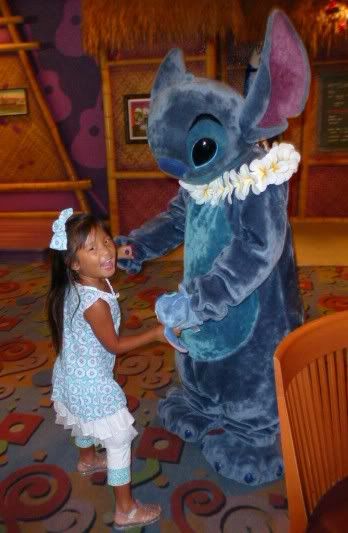 I accidentally called Pluto Goofy and he gave me as much of an offended look as he could while wearing a giant stuffed head :-)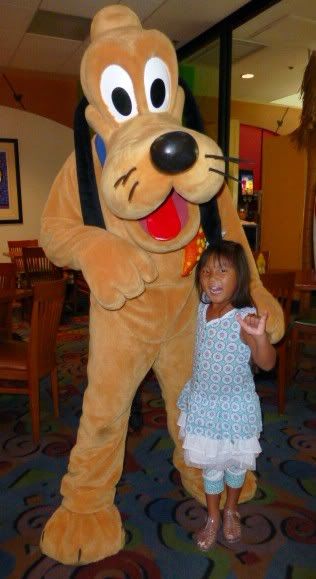 They do this dancing thing every 20 mins or so where the kids can go up and play with the characters. G got really into it.
I guess a few years ago it used to be Surf's Up with Lilo and Stitch but then they changed it dropping Lilo and adding Mickey or something. I was super surprised to see that Lilo was there. G was excited because, as you know, she's a character hunter and we've never encountered Lilo. I asked the hostess on the way out when they brought Lilo back and she said that they didn't. She was there for the first time that day and they had no idea if she'd be back the following day or ever!! Good timing on our part I guess!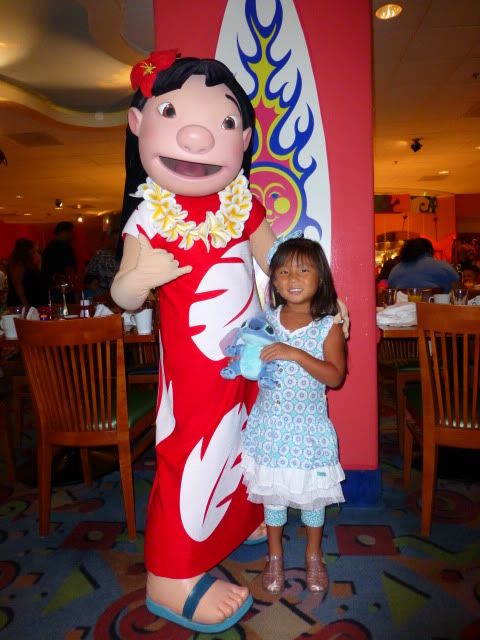 When we first walked in, Mickey had just gone on break so I got G something to eat. A few minutes later he'd returned and was standing up at the front area all by himself. I pointed him out to G and asked if she wanted to go see him. She told me no, she was busy eating right then and she'd go visit with him later. It cracked me up! She might be the first 4 yr old in history who turned down Mickey Mouse for watermelon and scrambled eggs. My girl does love her food :-)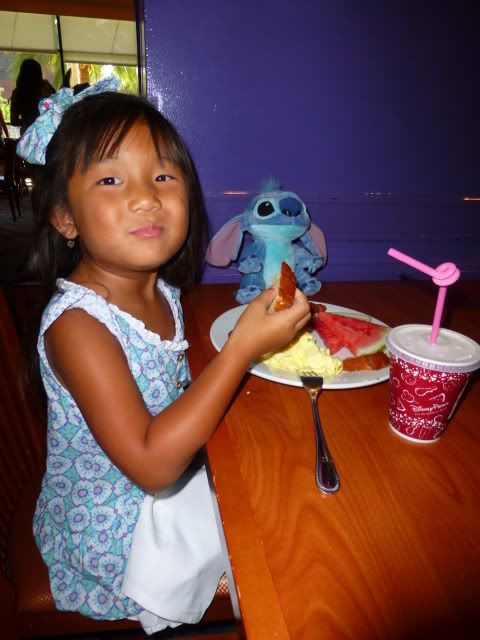 With Stitch and her baby Stitch from the gift shop... another prize :-)
And finally, after she was done eating of course, with the Mouse himself!
I have no idea what the prize will be for the 5th set of 100 sight words but I think the bar has now been set rather high... oops. In our defense, this 5th set is pretty challenging so it will probably take a while to learn them all. Hmmm, we shall see ;-)