La Cage aux Folles
I've seen
The Birdcage
movie many times but never the play on which it was based. Our pre-dinner show this time was another of my Groupons (or maybe Living Social I forget) for a 50s diner themed place called Cafe 50's near LA City College. The area was ummmmm, interesting to say the least. Let's just say that I saw all types of people walking down the street as we ate that afternnon but it was all good :-)
My mom was excited by the fact that they made their own shakes and ice cream sodas. For some reason she's constantly trying to relive the sweets of her youth and is, sadly, constantly shocked that the shakes at McD's etc don't live up to her standards. When she found out that they actually "make" the shakes and sodas here she had HIGH hopes. She liked it but had to admit that it still wasn't as good as the ones she had when she was in teens. So funny!
Here's mom mostly enjoying her strawberry ice cream soda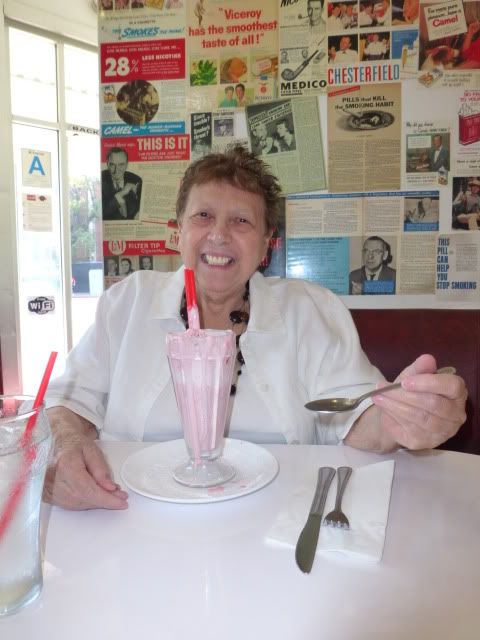 Even though the area is pretty crappy I'd likely return to Cafe 50s for a preshow dinner. The food was good and its nice to find some different spots in LA.
Full of french fries and club sandwiches, we were off to the show! Things started out great. They had a very tall and thin cross dresser in front of the theater yakking with the patrons. "She" called herself Lily McWhiteass and was quite funny. She was such a hoot I wish I would have gotten a pic with her but I didn't think of it at the time. The show itself was pretty good. The lead of "George" (played by Robin Williams in the movie) was played by George Hamilton who I guess is best know for being super tan?? Anyway George Hamilton, who is probably a fine enough actor, is NOT a singer. Not by any stretch of the imagination. It did make a few of the songs a bit painful. On the other hand, the actor who played George's romantic partner Albin (Nathan Lane in the movie) did a great job portraying a sensitive and over the top drag queen. He had a very nice voice too.
Overall I enjoyed dinner (B+) and the show (B-) and especially the evening with my mom (A+)