Brave
The trailer asks, "If you could change your fate, would you?" Fair question. But then, Merida's attempts to change her fate involve her knowingly drugging her mother with a magic cake that turns her into a bear. They make a big point out of Merida being an accomplished archer but Merida is no warrior princess. Merida does not engage in any heroic actions whatsoever. Also, the fight scenes between Merida and her mother are really over the top and much too angry for a children's movie in my opinion. Let's just say I had a lot of issues with the movie and its "message" or lack thereof.
Having said that, its still an enjoyable movie. Lots of action (maybe too much/too scary for many little ones) and the 3d animation is really well done.
I was really looking forward to the film and bought tix to see it at El Capitain. Seeing a movie there always an event. We did breakfast with Merida then met friends for the actual movie which included a 10 minute or so live stage show featuring Goofy, Mickey and Minnie (each in multiple costumes), several princesses and their respective princes, Buzz and Woody doing a salute to America, Scottish dancers and of course Merida. Seriously, the stage show was awesome! It was practically worth the price of admission on its own. After the movie, which G enjoyed tremendously because she's no where as critical as I am, we headed over to Hollywood and Highland and hit the Johnny Rockets for some ice cream. G was in heaven!
You know the great thing about being on Hollywood Blvd at 8:15am??? There's no one there :-) I've always kind of wanted to get a pic of G on these stairs. Every time we go I see the tour groups lining up to snap their pix but its always super, super crowded. Not so at a quarter after the crack of dawn.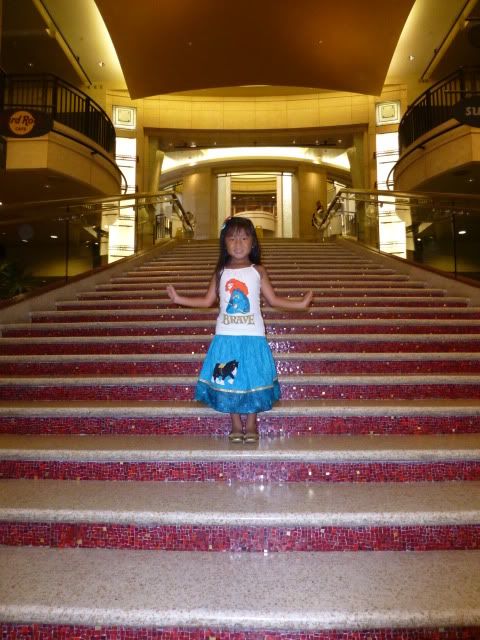 We always try to get a picture in front of the El Capitan marquee. Sadly, the building is under construction so this ones not quite as fun as most.
Breakfast was tasty! They had these really good blueberry cakes/scones. G didn't really like hers so I kind of helped her out ;-)
Finally, the big moment... Merida!!! That's a LOT of red hair, just sayin'. She played the part well, very spunky, and spoke with a cute Scottish accent too!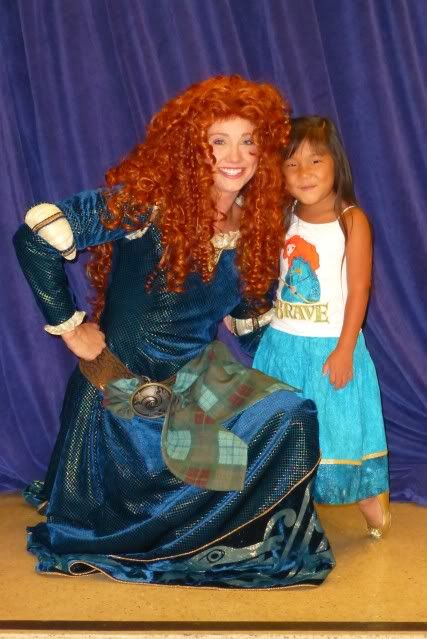 How neat is this ribbon sculptured hair clip? I'm not sure it shows in the pic but the string of the bow is made from thread. Very detailed. Seriously, some people are so clever. Thank you etsy! G really liked the set she wore. We got it in a tank so we can reuse at WDW in a few mos. The appliques of Merida and her horse Angus are really well done.
This Mickey thing used to sit out on the sidewalk in front of the soda fountain. A few visits ago, it disappeared. When we asked the manager about it he assured G it would be returning after some planned construction. G was
super
excited (not exaggerating this point whatsoever by the way) to encounter it in the hallway near the bathrooms so we got or traditional pic. I can't wait til its back out in front where it belongs.
They had this photo op set up in the lobby. I'm not sure if this is something that's available at other theaters or just something special for El Capitan but its pretty neat!
Later at Johnny Rockets with Gracie. They had a good time giggling and playing little games together.
Overall, I'd give the movie a B- but the experience an A+!!