I Don't Cook
Really at all if I can avoid it. I know how to cook (not gourmet or anything but, you know, I can get something tasty on the table if required) but I hate to cook. I was the family cook for years and years. But then, probably 10 years ago, when our schedules changed and Bobby was getting home from work so much earlier than me, he started cooking. I clean up.
The whole point of this story is that, because I don't cook, I've never really cooked anything with G. We've "made" cookies. You know, the ones that come already made and in little squares and you just have to pop them onto a cookie sheet??? But pretty much that's about it. My mother thinks its a travesty, of course, because she's always been a really great cook and gets great pleasure in making stuff with lots and lots of ingredients and steps and stuff. But, yeah, that's not me ;-)
So the day before July 4th (July 3rd for those who don't want to do the math ;-) G asked me something about how a cake is made. This brought immediate guilt as I realized that the reason she has no idea how a cake is made is because I've never baked one with her. This prompted me to immediately promise that we'd bake a cake the next day. G was super excited! Off to the store I went to buy a cake mix and frosting... you didn't think I was going to do it from scratch did you??
First, G used her constantly improving reading skills to read the directions to me.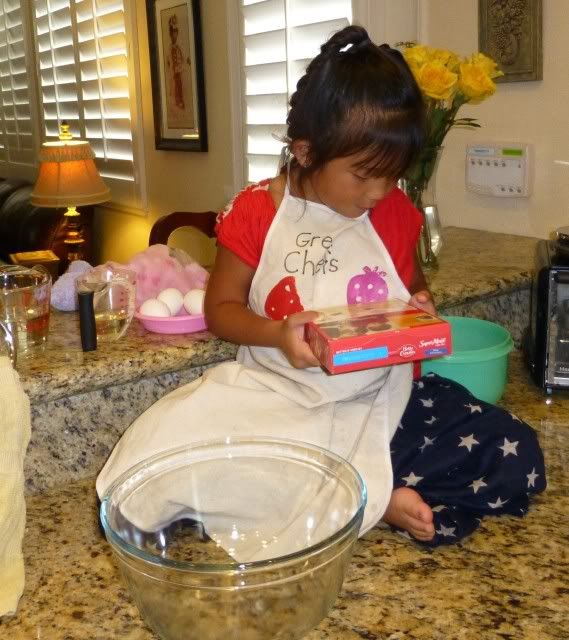 This box promised a "super moist" cake. Eh, not so much but that's ok.
She carefully cracked the eggs into the bowl...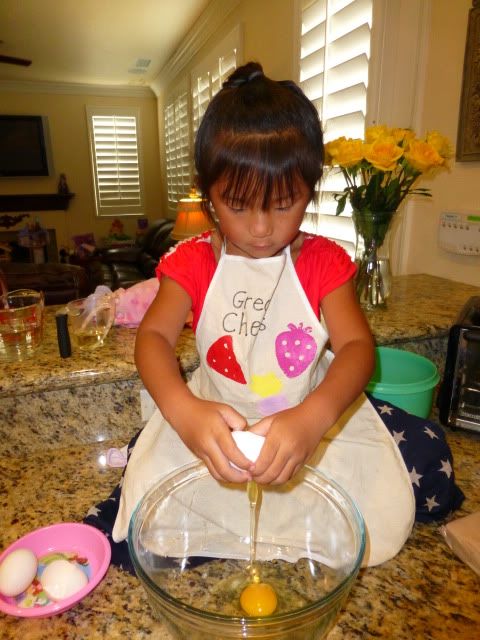 Poured in the mix, oil and water...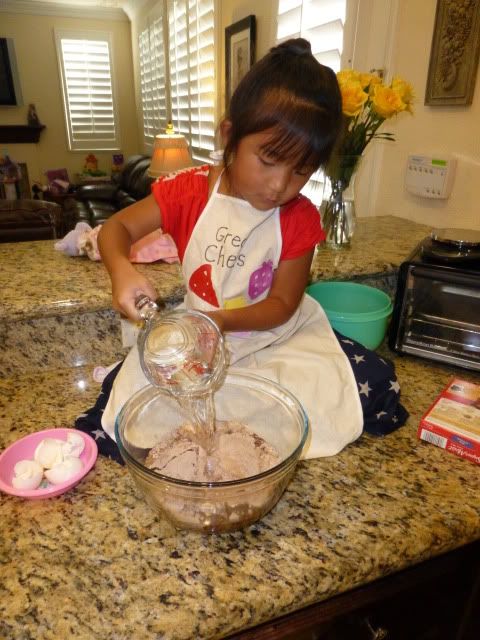 We used the mixer which G thought was AWESOME!!! and then I explained the first rule of baking... all spoons and beaters must be licked before washing! G liked this rule.
Ready for the oven!
Then the hard part, waiting for it to bake. G was not patient with this part at all. She spent a lot of time standing in front of the oven asking if it was done.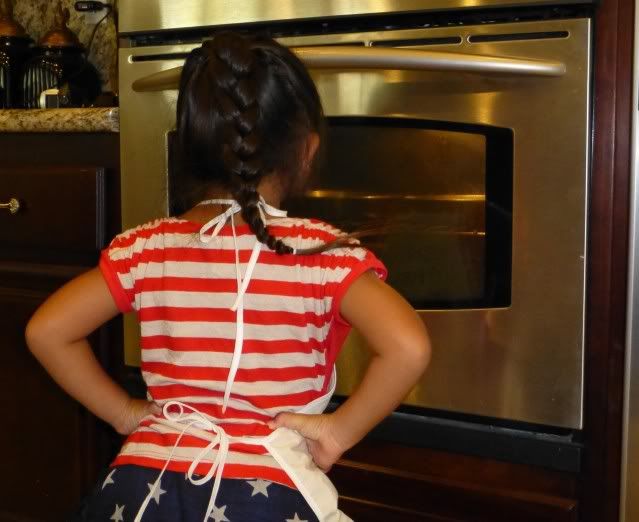 Finally, it was done! and cool enough (barely) for frosting. G was really good at that part too and had no trouble remembering the "lick the spoon" rule when we were done with the spatula.
I manaaged to hunt down some sprinkles I had in the cupboard. Sprinkles don't go bad, right??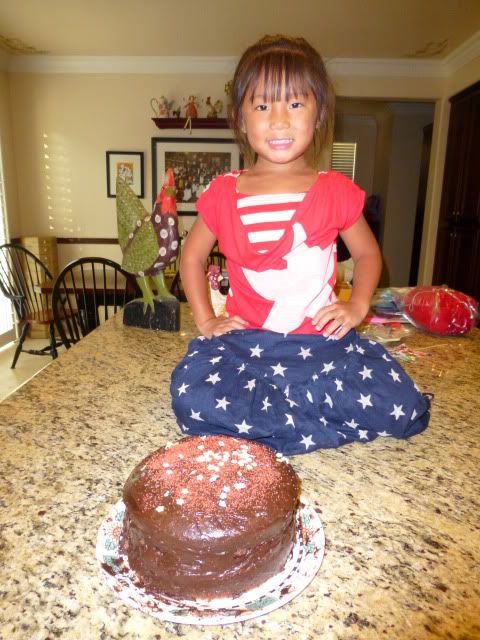 And then, the very best part... eating! Georgie proclaimed it "the best cake ever" and wolfed it down.
G liked baking so much that we ended up making another cake just a few days later. I must say that cooking with G is lots more fun than just regular old cooking. Maybe I'll try to work it into our schedule every once in awhile.
Of course it was still 4th of July: Swimming and BBQ at home came later. We'd planned to go to a fireworks show. G's never been before because I think they start too late for her. A wee bit more mommy guilt. But because July 4th was on a Wednesday this year and Bobby and I had work and G had school the next day, we skipped it. G was happy enough with the couple dozen poppers and sparklers we picked up for her to enjoy in the backyard.
After that... bed. It was a long day.