Why is it that...
even the "easy" birthday parties are still exhausting?? Bobby and I really wanted to have a little party for G but, truthfully, time was kind of getting away from me so.... I thought, hey, Chuck E Cheese (CEC) is a nice easy party. Its pretty cool because I was able to book it online one night at 10pm while wearing my jammies. Party, food, favors, invites, pretty much all ordered and sent out within 30 mins! I think it daily, don't you just love the internet??
G had been talking about going to CEC for a whole week. All about how she was going to ride the horsey and play the games. She was really psyched! The day finally arrived, CEC day!! My plan for the party to be early before it was crazy busy totally worked! We were the only ones doing a party at that time. The place would later be a mad house but for the majority of our time, the place was pretty empty!
G wore her super cute birthday outfit I got her. She looked so adorable and she loved it!!! She twirled and twirled and she loved her little crown. So, so cute! She looked like a human cupcake!
G had a great time playing all the games, riding the little rides, rolling the skee balls, trying to throw the basketballs and just generally running around taking it all in. I think she most enjoyed putting the tokens into the machines. That was definitely an activity unto itself. Sometimes she wouldn't even wait for the machine to do what it was supposed to do, she just wanted to plug the tokens in and run off. Goofy girl.
Then it was time for the birthday song. Chuck E (who she is not afraid of at all) came out and shook her hand and we all sang to her. She danced a little, clapped her hands at the appropriate parts of the song, and stomped her sweet little feet to the music. At one point they threw game tickets up in the air like confetti. G couldn't care less that they were tickets but they did land on her skirt --which was so full it acted like a circular shelf around her body --and she very carefully grabbed each one and flicked them to the ground. She definitely did not want those to ruin her look! It was so funny. No worries, one of our friends Josh, who is older and wiser, quickly realized they were tickets and did a good job of cleaning them up for us!
And then it was time to blow the candles out on her Tinker Belle cake. She did an awesome job and got all two of them :-) out on the first try! G wolfed down her "choc-wit" cupcake and then she was off like flash again.
It was a super day filled with friends, fun, pizza and more game tokens than the kids could use over a 3 hour period. G conked out in the car on the way home. I felt like I could too! Whoo, throwing a party is hard work even when all you have to do is show up, enjoy and pay.
G with the "fake" Chuck
With her favorite people in the whole world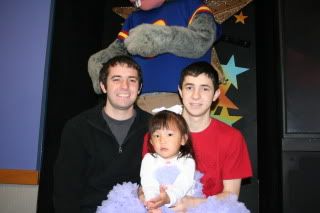 G with Grandma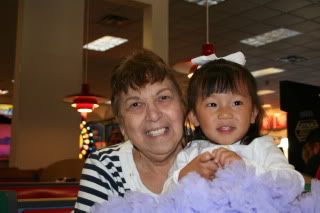 On the horsey that she couldn't wait for. I'm not really sure why this ride appeals to her as it does. Its very, very gentle which is nice but to me it looks a bit boring. I'm not two I guess.
G quickly figured out that spinning the wheel made her go up! yeah!
Wendi, Jake and his super cute niece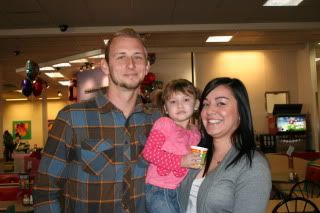 Little Alexis who is only 3 weeks younger than G. We will be at another CEC in a few weeks for his party. G can't wait!
We got Tressy for just a few minutes
Josh cruising on one of the motorcycle games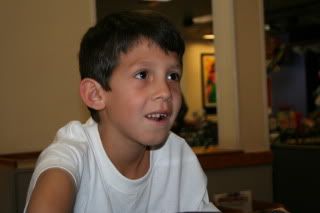 G "playing" skee ball. She just runs up there and tosses them in which voids the game and earns her no tickets but she doesn't care a bit
G's Tink cake. She really loved this cake. I thought it was neat cuz its made up of cupcakes so seemingly easier to deal with. They have such clever stuff for little kids now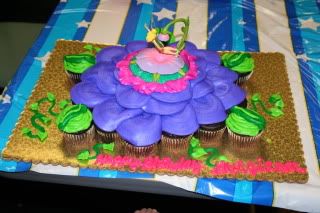 G enjoying her birthday song and blowing out her candles
Mommy's beautiful birthday girl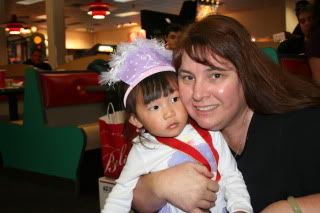 Hanging with Chuck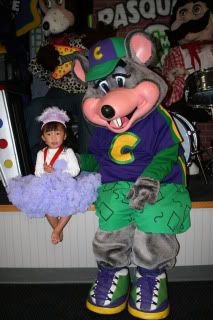 John John likes Chuck too!
My little princess loves her sweets!
With our friend Charlene
Alexis cruising on the tractor ride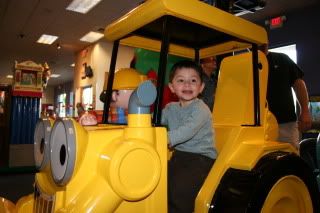 Aunt Collette and Zac
Friend Candy celebrating her ticket haul!
Maria, baby Damian, Joaquin and Daniella. Yes, she made it to the party with her 3 kids --including a 17 day old--by herself. Maria is my hero!
Somewhere along the way, a game of quarters, sans alcohol, broke out. Apparantly, my mom was the winner!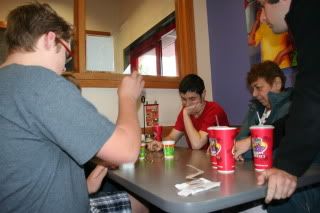 More rides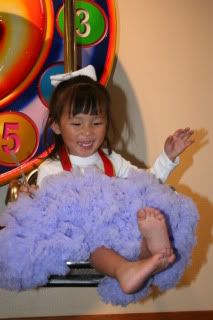 Coming down the slide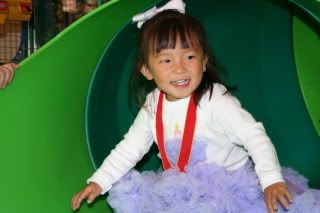 Connor on the little kid ride. We thought he was too big, he is 6'1" tall, but the staff said it was fine for him to ride but he needed to put his feet up on the foot stand.
With Brett
Connor and Carrie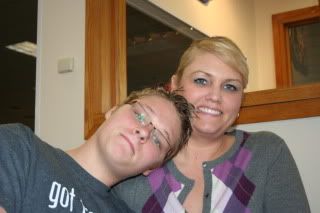 Can you believe it??? Not a single picture of Bobby with G which is super weird cuz usually there are tons and he hung out with her for most of the party. Oh well.
G crashed the moment we got into the car. We were able to pop her in bed for a nap when we got home but the moment she woke up she said "presents??" G loves opening up presents and, even though she needs nothing else, she did receive some lovely gifts from friends. Its so cute cuz she's still at the age where she opens the gift, plays with it, then opens another and plays with that one. It makes opening up gifts take a really long time but its fun!
Notice that once the minnie mouse costume goes on it doesn't come off. She actually wore it for the rest of the night right up to bathtime. I think she would have worn it to bed if I would have let her!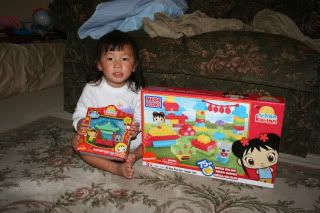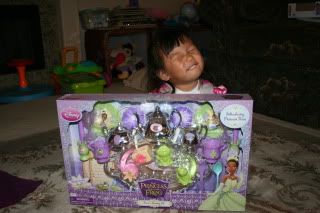 Playing with her tea set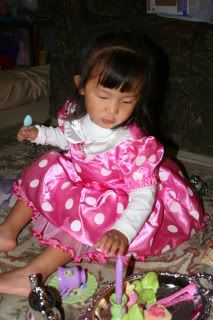 G loved these little sesame street board books. After she "read" them all, she stacked them like blocks and then gave them a karate chop with a might "Hi-yah!"
What a great day!!