The Princess and the Frog
Georgie had never been to a movie. I thought it would be fun to make her first visit somewhat of an event so when I saw a commercial a few mos ago for a special showing of the new Disney movie I thought that seemed like a lot of fun!! and of course we had to get an outfit to go along with the theme. Lots of the girls were wearing various princess outfits but I decided it would be fun to play up the frog theme--G loves frogs!!! The hairbow is awesome! Its huge and has a frog, princess and a little castle in it! G really liked it.
The movie was at the Disney studio lot in Burbank. I guess they did another event in New York somewhere also. It was raining... hard!!! But, it was so fun!!! We watched the movie which was pretty good I thought. Truthfully, I probably spent half the movie watching G watch the movie. She was so darn cute. When the lights first went down she was really surprised and said "dark. what happened?" She watched the movie for the most part but did start to get a bit wiggly near the end. Nothing a little popcorn couldn't handle. I'm not sure G had ever had popcorn before but boy did she like it!!!!
Then after the movie they directed us to a studio where the princesses --all 9 of them, advertised as being the only event where all 9 princesses have been featured--were available for photos!!! Except for the new princess, Tiana, whose line was pretty long --think 15 mins-- the lines were usually only a few kids long and sometimes there was no line at all. G visited with each princess for at least a minute or so where they sweetly talked to her about the movie, who was her favorite princess and how cute her outfit was and then she gave each princess a hug. Surprisingly, G is not at all frightened by the characters. Instead she really likes them!!
Near the end of the event, families had begun to clear out and the princesses were pretty much just standing alone on their pretty individual stages and the few girls left would go up and talk to them. G spent a few minutes dancing with The Beauty and the Beast's Belle who seemed to be her favorite. Unfortunately, G still pretty much refused to smile for pix, she smiles after. Ugh.
They also had some activities set up including a little playground/obstacle course area filled with foam blocks and a couple frog themed carnival games. Again, G loved it!!
It was a super fun day.
G with Mickey before the movie: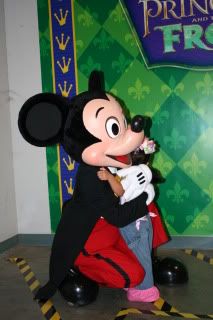 Waiting for the movie to begin: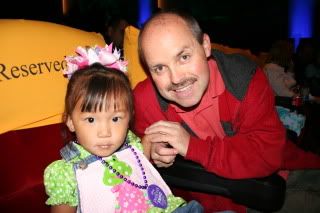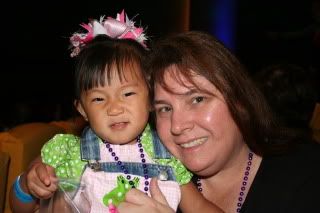 G's expression in this pic just cracks me up!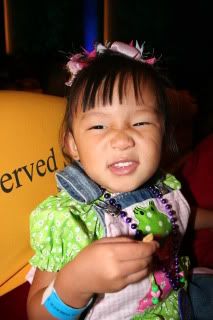 Popcorn used as silencer!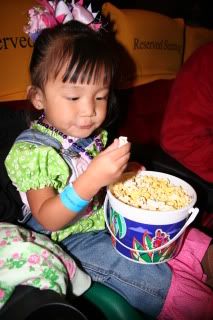 With the princesses: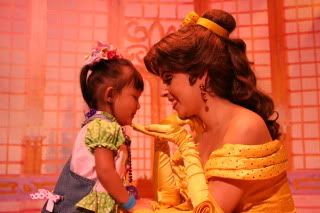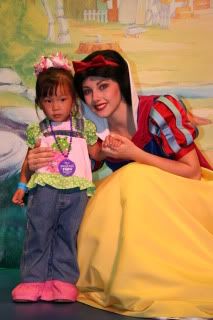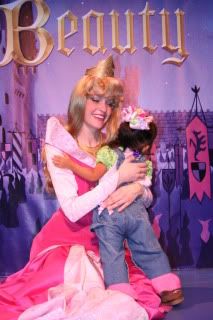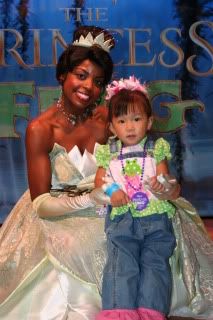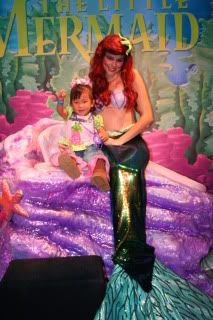 The hair bow. This thing is huge. I've never seen a more ridiculous and fantastic hairbow, ever!