All the world's a fair!
I've been going to the LA County Fair since I was in the 6th grade. Not every year. I've missed some but I definitely made up for it some other years by going many times. When Brett and Casey were in elementary school, they entered lots of contests and competitions at the fair and we'd go sometimes 10-12 times during the month it ran. But it had been a long time since I'd been at the fair with a little kid and I was really looking forward to it!
Even though it was the first day of the fair --which I figured pretty much guaranteed a pretty big crowd --and its been about 100+ degrees every day for a couple weeks --which I figured pretty much guaranteed it would be hotter than the hinges of hell --we decided to forge ahead. I have to admit that the fact that they were having a special admission price of $1 per person really helped with the decision! I can't believe the price has gone up to $17 pp now. Trust me, only paying $2 for us to get in made me feel quite a bit better about paying $10 to park, $6 for a hot dog, and $4 for a bottle of coke. But hey, what can you do?
Anyway, G had a blast!!! She saw and petted horses, chickens, donkeys, llamas, bunnies, goats, sheep, pigs, and cows. She rode a pony, milked a goat and had so much fun. It was HOT! I mean sweat running down the sides of your face hot in some of the barns where the animals were kept. But we made the best of it and ended up having a great time. G was so tired she actually fell asleep in her stroller for only the second time that I can recall.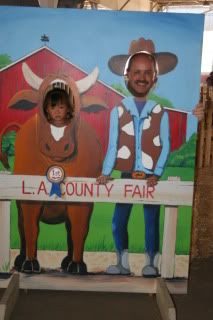 You know how the goats and sheep they have in petting zoos are always so docile they seem dead? Yeah, not a problem on the very first day of the fair. The animals were so hyped up, nervous and active that I had to rescue G a few times because they were running around so fast they almost knocked her down. Some of them were leaping into the air higher than her head to get to the $5 per dixie cup full of food. Yikes.
G and mommy in the barn. I cannot even begin to express to you how hot I was when this photo was taken. Seriously, the aluminum roof on this building must have magnified the heat or something, it was almost dizzying. Thankfully, we did this first thing and it wasn't very crowded yet.
G milking the goat. She was so good at it she actually squirted goat milk onto my foot once or twice, yuck!
Feeding the cow some hay with daddy.
Showing off her pony ride token!
On the pony ride! As usual, G didn't look very excited during the ride but didn't stop talking about it for the rest of the day!