Bad night, great day!
OK, so last night was not G's best. She's cutting a tooth and it was really bothering her. I tried anbesol and motrin which helped but mostly, she just wasn't a happy camper. We did do the group dinner which was kind of a bust because G was so unhappy I had to hold her the whole time and was able to do little in the way of eating. Oh well, return to the world of parenting an infant, right?
She slept last night, somewhat fitfully, between us on the bed and every hour or so would cry. So, we didn't get too much sleep.
Woke up bright and early to a smiley Georgie this morning to do our orphanage city visit. We were able to join the group of 3 other families who adopted from the swi using a different agency. We were the only ones to bring our daughter along as the others felt it might be upsetting to their babies. Bobby and I both wanted to go and G is a fairly easy going kid so we thought it would be ok. The toughest part of the trip was definitely the drive in the van which was REALLY bumpy. Imagine being on a bumper car style roller coaster while holding an infant and inhaling car exhaust for an hour and a half each way. Do you have a visual? It was really kind of unpleasant but totally and completely worth it.
Zhangshu SWI is in an extremely poor area. Its a rural area where they mostly farm rice. Our guide for the day, also named Mary, said that most of the families farm and rice and receive subsidies from the government. They do things the old-fashioned way including plowing of the fields using water buffalo! The rice was harvested in November so the fields were brown. We arrived at the SWI and were guided in by the director. The buildings older but there is a large grassy area in the middle of the compound. The SWI houses not only children but also many elderly people. Mary said that it costs about 500 yuan per month for each elderly resident.
On the way back, Mary asked us if we would be interested in seeing the home of a local person to see what type of environment our child had likely been born to. We all agreed we would like to see. So, we stopped by a run down building and she spoke to the person who lived in the home. We were invited in to see her home. It didn't seem as though the woman who lived in the home had been expecting us but maybe they've had families stop there before?? I just kept picturing myself in her shoes: I'm home and all of a sudden there's a knock at the door. A person with a group of tourists with cameras ask to enter my home so they can look around, take pictures and see how "americans" live. Uh, I really don't think so. I'd probably call 911.
The home was a very poor one with a little tiny kitchen with stove, a main room with an eating table and chair and a small room in the back for sleeping. The back room was very dark and I couldn't see but apparantly the woman had electricity and a television. The home had a single bulb hanging for lighting. The woman was cooking some green vegetables on the stove which, honestly, smelled delicious. Above the door to the home was a mirror and a pair of opened scissors which Mary told us had been placed there to ward off evil spirits. The home had a few small windows, at least one had broken glass. There was no private bath and these families used public facilities. The women offered us hot water and soup which I politely refused. The family had a small scraggly dog which was chained up.
Bobby asked what the woman did for a living. We were told that she does some "odd jobs in town" and that she also grew some food in the garden area in front of her home. About the time we were leaving the school children were getting out of school and many of them rode their bicycles past us. There was one very cute little girl who later told us she was 4 yrs old who was walking by herself home from school. Outside the home our group, 4 camcorder wielding american men and one american woman carrying a chinese baby, created quite a spectacle. I was even chastised a little by some of the ladies for not having G's legs covered. Many of the older kids stopped on their bikes, I could here them saying "meiguo ren" (american people).
Finally, we got back in the van and made the trip back to Nanchang. The pollution and smog of the city is unbelievable. It is much, much worse than in BJ. The smog is thick and grey making buildings impossible to see in the distance. There is so much car exhaust that it burns my throat and nose after a fairly short period of exposure. The river that runs through the city looks filthy.
As I said, although it was a difficult day both physically and emotionally, I will be forever glad that we went. It was very important to me to be able to have an understanding of G's life before we met her.
After our visit we returned to the hotel and vegged out a little. I then decided to join some of the members of my travel group to get a foot massage. Wow! what a great thing. For only 58 yuan (about $8) I got an 80 minute massage that included the feet and legs as well as some the back and neck. They kind of beat you up a really but it feels great. Then they take this bag filled with hot pebbles and lay it on your skin. OMG, I was in heaven.
For dinner, we joined the majority of our travel group for another yummy meal of chinese food. G was fussy because it was her nap time which seem to be at odd times that we haven't really gotten a handle on yet. Once we got back to the room, G was crashed out. Only two more nights in Nanchang then we're off to Guangzhou on Saturday. Tomorrow we're going to visit the TengWang Pavillion and maybe go to a porcelain place. Nanchang is known for its fine porcelain so we'll be looking for something for her as a keepsake.
Kitchen in local family's home: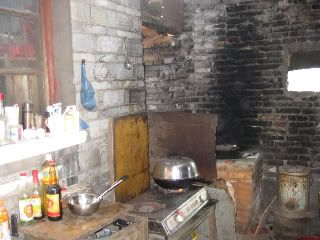 Eating area in local family's house:
Georgiana does not enjoy her baths. Her favorite part is when she gets taken out and wrapped up: