The Day After
Last night (monday, 12/8) we went for a walk to the local grocery store for some more Diet Coke and snacks. We get a lot of looks there but, usually I just smile and occasionally say "hello" or "ni hao" and then they smile back.
We decided to do an easy dinner in the hotel restaraunt. Our group was going to someplace else but Bobby was starving and we weren't exactly sure when our guide would be back. She's been taking one family to the hospital each day for their baby to receive IV antibiotics. When they received her she was incredibly congested and obviously ill. At the hospital she was diagnosed with pneumonia so she's been undergoing treatment. Luckily, her condition seems to be improving dramatically.
We stopped by Tiffanie's on the way back to the hotel and ordered Georgiana a custom-made chinese outfit, hat and matching shoes--too cute! We're going to pick it up tonight. Hopefully it fits her correctly!
Today (tuesday, 12/9) was kind of an open day. After breakfast in the hotel we decided to walk to the local "pedestrian street" --its just a street with shops on both sides like an outdoor mall but cars are blocked from entering so its safer. There is still the occasional moped to deal with but overall, safe. Bobby and I ventured off onto one of the side streets and came across dozens of school children being walked home by their parents/grandparents. Let me tell you, we get a lot of looks in Nanchang in general, on the side streets it became much more so! One man almost ran into a pole while riding his bicycle he was so distracted by staring at us!!!
We also decided to try out the playroom the hotel has. I get a little stir crazy in the room and walking the city streets is interesting but challenging due to the traffic and the hit and miss sidewalks. In the room, G's confined to pretty much the bed. The floor is dirty and more importantly pretty dangerous because of all the sharp corners on the furniture, etc. G liked sitting on the floor and getting to cruise around a little. I tried putting her in the ball bin but the sound of the balls frightened her--honestly, it was pretty loud.
After that we came back to the room. G's feeling kind of crappy. She's cutting a tooth and spends a lot of time chewing on her fingers, my fingers and anything else the little drool monkey can find. She had a really hard time falling asleep for her nap and wanted nothing to do with her crib. Pretty much she needed Bobby or I holding her the whole time or she was miserable. Some people from my travel group were going to get massages but I decided to pass rather than leave Bobby in the room alone with a sad baby.
In a few hours, our group is going to dinner and then tomorrow Bobby, Georgie and I are going to visit her orphanage. We're going with the people we met yesterday who have babie adopted from the same swi so we can share expnese. I'm really hoping that it will be a positive experience overall. I've heard that some babies react poorly but, so far, Georgie has seemed pretty ok with everything so we'll see.
Finally with a girlie bow in her hair. She actually didn't seem to mind it too much!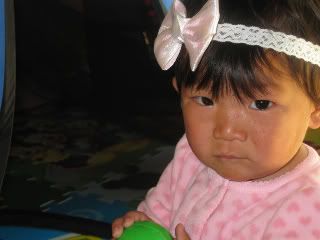 With Daddy in the playroom at the hotel:
This man asked me not to take his picture but by the time I understood what he was saying, I'd already snapped it. Its too bad too because he has a fascinating face.
A family on the pedestrian road in Nanchang: