Vacation Log
Day 1: Travel
We were up at 4:20 and in the car by 5am. Casey was home so he was able to drop us off at the airport, yay! Check in was quick and easy. The first leg of our Southwest flight (Ontario to Phoenix) the plane was only half full. For the second leg there was not an empty seat. Overall, travel day was long but pleasantly uneventful.
The only unfortunate thing about doing a Disney cruise out of Port Canaveral is that you have to get from the Orlando Airport to PC which is about 45 min drive. This requires taking a shuttle, hiring a private car or renting a car. Each option has its pros and cons but we eventually decided that arranging for a town car to pick us up was the right choice for us. It wasn't the least expensive option but it was convenient. We ended up booking a hotel for the night pre-cruise but made a bit of a mistake with location. We ended up being about 10 mins from the port in Cocoa Beach. Overall not a huge deal but if we ever do another cruise out of PC I'll be better informed.
The weather is in the low 60s but there's kind of a chilly wind. That could be because we're close to the coast (though from our cheapie motel I can't tell how close). I'm hoping things are a bit balmier at WDW when we're there next week.
Dinner was at a Thai/sushi place next door to motel. The food was pretty tasty! Pad See Ew and Tom Kha soup… oh yeah! The motel is a La Quinta. It's what I'd call "serviceable": no frills but gets the job done. The good news is it only ended up costing us about $30 because we had a credit from Expedia! By 6pm Florida time which is only 3pm CA time, G was toast so it was shower, jammies, story and sleep.
We have a reserved boarding time of 1pm which was the earliest available by the time I looked into doing it. But, other than what is probably a pretty dismal included "continental breakfast" in the lobby there's really nothing much to do around here. So, we decided to take our chances and get to the Port as early as possible to see if we can board early. It couldn't be any more boring than hanging out here –plus, check out time is 10am --and I have a feeling we'll get lucky. Wishing us luck!
Bags checked, fast food breakfast purchased, now we just need to get on the plane!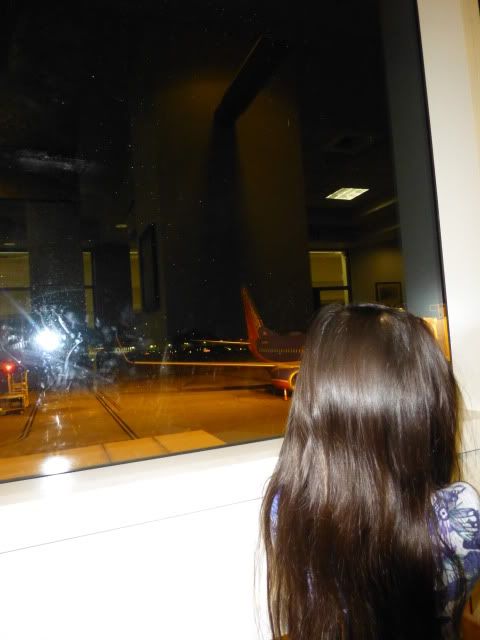 I've said it before and I'll say it again, Georgie is a great traveler... much better than me. I sometimes feel like I'm going to go cuckoo crazy on the plane but G always seems happy and excited to be going somewhere!