Preschool Holiday Party and Sing
The holiday sing at G's school is one of the cutest things they do. All the kids in their holiday wear, up on the stage, singing their little hearts out. Adorable!!! Yes, I get there super early and grab a dead center front row spot... I'm totally THAT mom :-) I can't help it. They're all so cute and G is really into it. Just like last year, after each song she'd look directly at Bobby and me with this HUGE smile plastered to her face. Sweet girl.
The other great thing is that after a quick holiday-themed snack and about a dozen mixed holiday (Christmas, Hanukkah, etc) songs, vacation would officially begin. Yippee!!!
I just love Gs teacher this year. Mrs Martino has been awesome!
How cute is that enormous bow on Gs head?? I gave her a choice of that one or something much more reasonably sized and she chose the huge one without a second's hesitation.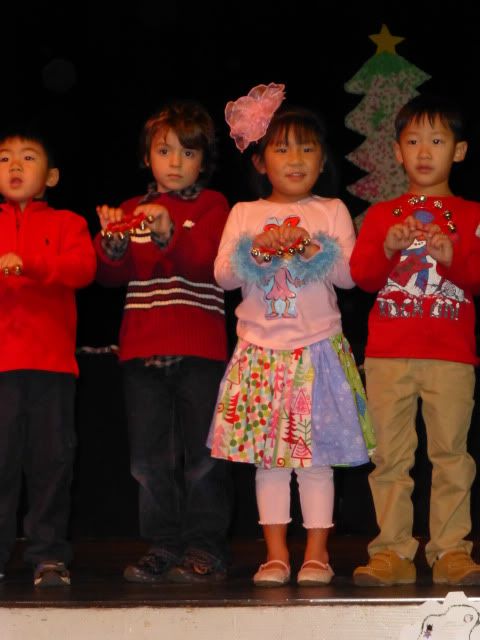 There are about 50 or so kids in Gs school every single one of whom was wearing red, green, and black/grey except G. No worries! She was very easy to spot in her pink Cindy Lou Who set.
G was thrilled that we won one of the raffle baskets. I was hoping for the "Spa" basket but G was happy we ended up with "movie night" instead. Yes, that entire basket was filled with candy, popcorn and DVDs of kids movies.
This was our last preschool holiday program. Next year G will be going to kindergarten which means an entirely different experience. I have mixed emotions. Sigh, can't she just stay little forever??