"DL Work trip/Finally" cont'd...
5:30am came around pretty early but we were anxious to give the magic morning hour at DL a try. Yes, once again, we found ourselves standing at the gate waiting for the park to open at 6:45. We headed straight to Fantasyland and hopped into the Peter Pan line only to find that they were still testing the ride. Annoying. Finally got on then hit a couple of the other rides. We then headed over to Nemo (not my fav but Bobby's never ridden it) and stood in line for awhile before we told it was also down. Ugh. Kind of frustrating but what can you do? Anyway, even with the delays we still got lots of stuff done before we headed back to the hotel to eat breakfast at Storytellers. This one was on my list because it was the ONLY character meal in any of Disney's 6 parks (Disneyland, Calif Adventure, Magic Kingdom, Hollywood Studios, Epcot, and Animal Kingdom including breakfast, lunch and dinner if available) that we hadn't done! I know, I'm a complete dork but I wanted to scratch it off our list :-)
We arrived early for our ressie, checked in and were told it would be just a few mins. Somewhere along the way they lost our ticket and we were never called. By the time we cleared that up and were seated it was really late which is bad because the characters leave at a certain time and I'd already booked the latest reservation possible so we'd have the most early morning park time. We enjoyed the food and the characters but got skipped by one of the Brother Bears. I politely advised the handler we'd been skipped and she told me sorry but there was nothing to be done. The characters were "in for the day". Bummer. However, as a consolation they provided us with a single front of the line pass to be used at the ride of our choice! OK, now you're talking! Actually they told us there was only one ride it couldn't be used for RSR. Uh, ok.
Armed with our "front of the line pass" which, btw, says nothing about excluding certain rides, we headed straight to RSR. Posted stand by wait time: 180 minutes!!! Yes, you read that right, 3 hours!! We handed the little slip to the CM at the front of the line and he said "ok, enjoy your ride!" Yay!! I'll gladly skip a pic with one of the Brother Bears for a front of the line pass any day. BTW, I asked someone who was just getting on the ride with us how long they'd been in line (mostly because I wondered if that 3 hr wait time could be even remotely accurate) and they confirmed they'd been in line for 2:45 mins! Yikes. Its a great ride, it really is, but 3 hrs?? That is some determined Disney folk.
Because it was a Saturday the park was really crowded. We did what we could including two visits to G's all time fav ride Soarin'. At that point our little girl was exhausted and it was time to call it a day. Last stop on the way to the car was a visit with Santa in the lobby of the GC. Georgiana was asleep before we pulled out of the parking lot.
This has become one of G's favorite faces to make... goof!
It was pretty chilly. The princesses were in their winter wear
I guess G didn't want her picture taken :-)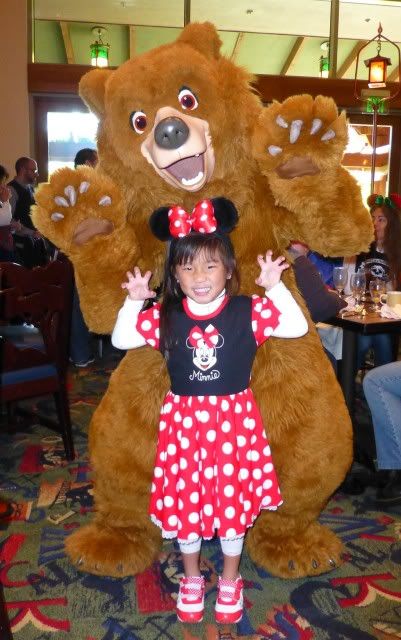 G loves the bubble people. I'm always trying to get a picture that captures her joy she expresses while playing in them. This one comes closer than most.
We spent some more time in the Jingle Jangle Jamboree. Where there had been no line to see Santa a few weeks earlier, it had now increased to over an hour! I told G that I'd wait in line for her while she colored and enjoyed the other activities but she passed. Luckily there was no wait for Mrs Claus!
From this Santa visit we learned that each of the elves makes thousands and thousands of toys each year. G was wondering about that :-)
What a great little trip it turned out to be!