Wreck it Ralph
It ended up being a HOT, DRY Santa Ana windy weather day. It was as dry as the Sahara but we still had fun!
We usually have a goal when we go to Disney --don't worry, its never lofty --usually to visit some area of the park we've never gotten to, a new restaurant or even just to try a new to us food. Sometimes, its a touring strategy we've never tried... something along the lines of "this time, let's start in the back by Pooh and work our way forward". Otherwise, and I know this might sound silly to some, you can get yourself into a bit of a Disney rut. There was a string of visits there where we did the rides in the exact same order each time. It was very efficient because we only did G's favorites and it avoided lines like crazy but it was a bit predictable and, dare I say, boring.
Anyway, my favorite park goals are when we plan to visit a new addition to the park! This time it was to catch the brand new characters Ralph and Vanellope von Schweetz from the soon to be released
Wreck it Ralph
movie! The movie's official opening isn't until next week but the characters are being introduced in the parks this weekend in preparation. We actually have tix for the movie next Saturday at El Capitan --which I thought would be our first look at Ralph and V --but when I heard they'd be in the parks early, uh yeah, we were all over that :-)
Their location in the Starcade --the arcade located just past the bathrooms at the exit of the Space Mountain ride --is very logical because Ralph is an arcade game character. Interestingly, I'm pretty sure I've never ventured into that arcade before in my life. Probably never would have and likely never will again :-)
We ended up waiting in line a very long time to see them. I was originally told they'd be out at 10am so we hopped in line at 9:30, we were probably the 7th or 8th family in line. I know for sure the person at the front of the line was there by at least 9am when I walked by to see where they'd be doing the meet and greet. THAT is committment! I figured I'd give G a snack then we'd only have to wait about another 10 mins or so for them to show up. It wasn't until just a few minutes before 10:00 that I learned they wouldn't be out until 10:30. Ugh. I hate to wait in line. But, by that time, I felt committed and the line was starting to grow behind us so we stuck it out. G happily passed the time playing a math game on my phone. As it turned out I was kind of glad we waited because, by 10:30 when they finally made it out, the line was about 80 people long or so.
First thoughts re: Ralph?? He is HUGE!!!! Seriously freaking HUGE!! I'd read that he was as big as Sully from Monster's Inc but I don't think Sully is anywhere close. Ralph's sheer size will definitely make him intimidating to some kids. Also, because of his immense size he's not really able to interact with guests. He's like a giant balloon. Truthfully, he reminded me of one of those massive character floats they have in the Macy's Thanksgiving Day Parade. Having said that, he is pretty fun and he looks just like he does on the movie trailers.
Vanellope is super cute, fun, and very animated in her actions and movements. She reminds me of Jessie from Toy Story.
When we got there, we took our traditional photo with Walt and Mickey in the hub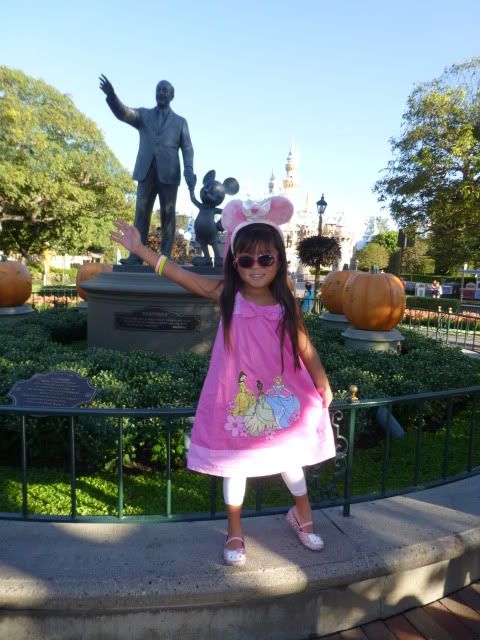 The Autopia. G's finally gotten to the point where she can steer a little better so its not quite so painful to be in the car with her.
Finally Ralph!
Seriously, look at the size of those feet!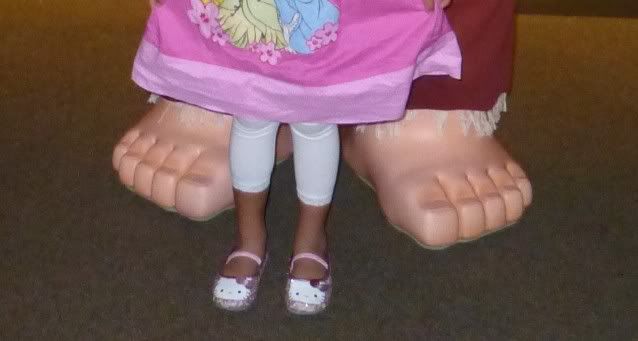 At the end of the day I asked G what her favorite part of the day was. I was surprised that she picked "meeting Vanellope".
There was only one family waiting to visit with Woody otherwise we wouldn't have this picture. Woody is not a character G is willing to invest any time in. I'm not sure why because I think he's funny.
At the Halloween Carnival G spend a good bit of her time coloring her mask. It was a cute event with roaming characters, music and other little activities. G loves that kind of thing.
I like this picture because it looks like that rope circle is heading straight for the witch's hat. Amazing how deceptive a photo can be. She missed it by a mile :-)
All the characters were in their Halloween costumes: Dale as policeman
Mickey as sorcerer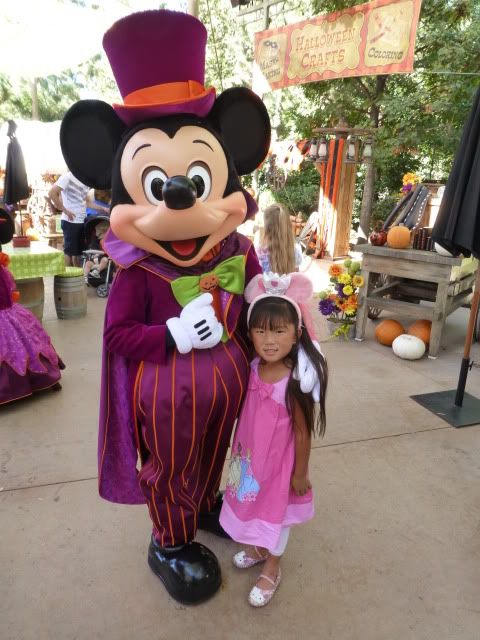 Chip as policeman
Goofy and G doing the zombie walk
We came upon Jessie and Woody in the little building across from the petting zoo with absolutely no one there to visit them. G spent a some dancing with them and then she was done. When we walked away there was no one else waiting to visit. It always surprises me when such a thing happens. We were at WDW 2 yrs ago and there was an hour long wait to see Woody!
Riding the carousel is a trip requirement.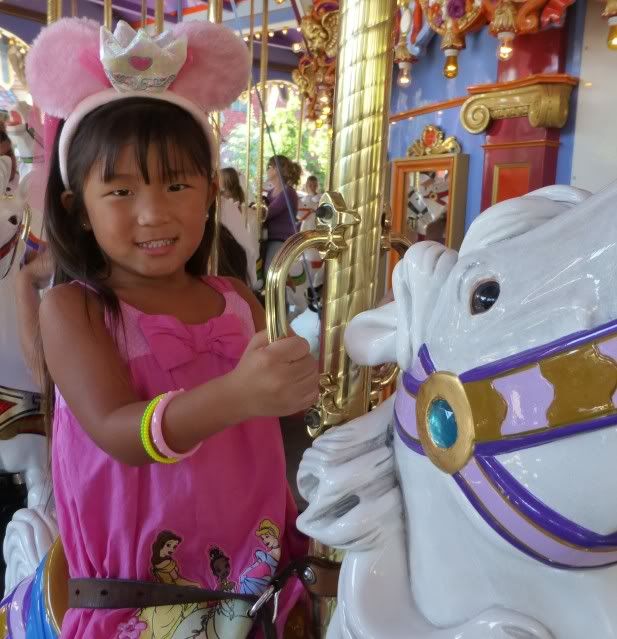 And finally the Fairy Godmother
Time for home!