Vacation Day 13: MNSSHP!!!
MNSSHP stands for Mickey's Not So Scary Halloween Party. After we booked our trip I realized that the first of the halloween parties would be going on during our visit. I've never been to the ones at DL. I've been wanting to go but G's not normally a night person and they don't start until 7pm. Usually G is pretty much toast by 8pm so it never seemed worth it. But, she's getting older and I really wanted to go so we thought we'd give it a try. We slept in that day, got a bit of breakfast at the hotel food court, then packed... what??? Packed??? Yes... packed. Waaaaaaaa!! Somewhere along the way they days had managed to slip by and we were facing our last evening of vacation. Bummer. Anyway, we packed up everything we possibly could and then all took a nap. My goal was to keep my 8pm kid up until midnight... I had high hopes but tried to keep my expectations low :-)
Several months before our trip I made reservations for G and I to do Pirates League makeovers just before the halloween party. I wanted Bobby to do it too but he didn't express much interest. A few weeks before we left he said he was ok with it. I was excited because I thought it would be fun for the three of us to do together. Problem was, getting a pirate makeover for the parties is pretty popular. I called almost every day but was unable to get an appointment for him. We were lucky that when we arrived they were able to squeeze him in! Yay! Pirates League is really cute. Its similar to the Bibbity Bobbity Boutique except, you know, piratey.
The parties officially start at 7pm and end at midnight. That's right, only 5 hours to do as many of the special things offered and manage to squeeze in about 10 potty breaks for G :-) We caught the fireworks which were amazing and saw the Villains show which was also pretty great. We hit some speed bumps on our character hunt but did manage to see several villains: Gaston, Lotso, Frollo, Dr Facilier and my personal fav Maleficent!! (I'm not sure why I like her so much. Maybe because she's the creepiest fairy I've ever seen?) In addition to the baddies we caught: Tarzen/Jane/Terk, Alladin and Abu, Rapunzel/Flynn, Snow White/Prince, Cinderella/Prince Charming, Jack Sparrow (the longest and most frutrating line of the evening but I guess a requirement since we were dressed as pirates), Pirate Goofy, Mickey & Minnie in their halloween wear, and the Seven Dwarfs. Anyway, Bobby helped G and I hunt characters until she just became too exhausted and finally crashed in the stroller. Poor little thing. She made it to about 11pm and then she stuck her lower lip out and I knew she was done. Sweet baby.
Bobby and I spent our last hour in the park getting a final Dole Whip, cashing in our 11 unused snack credits for chocolate covered Mickey shaped rice crispy treats to bring home, and partaking in a bit of whining about our vacation coming to an end :-) After joining the throngs of people on the monorail to get out of the park we made it back to our hotel, finished up final packing and fell into bed about 2am.
Here we are, ready and psyched about our impending pirate-hood.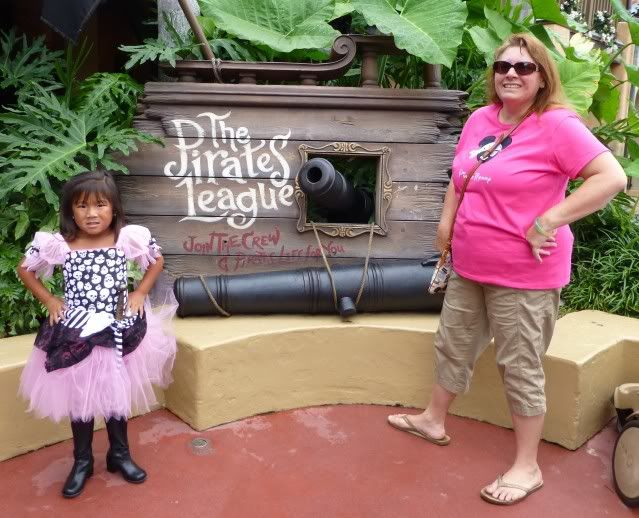 Sassy!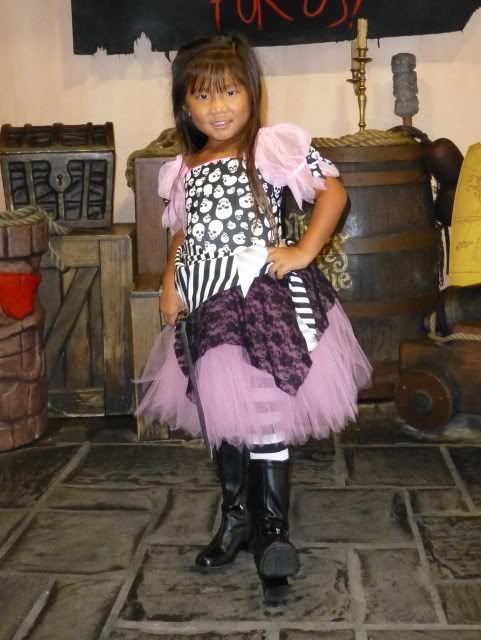 I thought they did a really good job on G's make up. The girl really took her time which was nice. G loved the experience possibly even more than BBB but I'm not sure.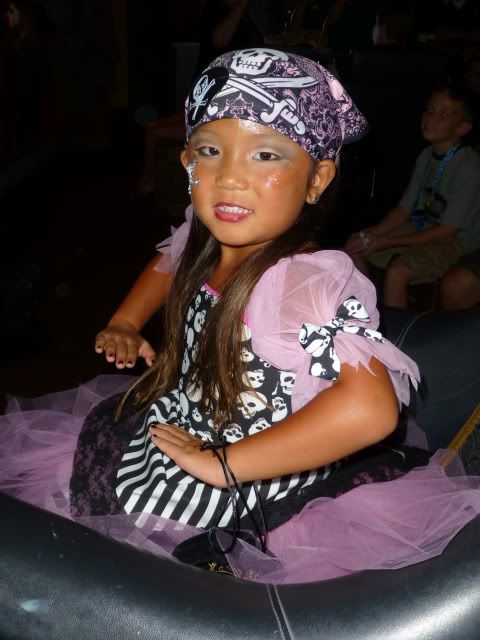 Taking her pirate oath
Proof of our acceptance into the dishonorable society of pirates :-)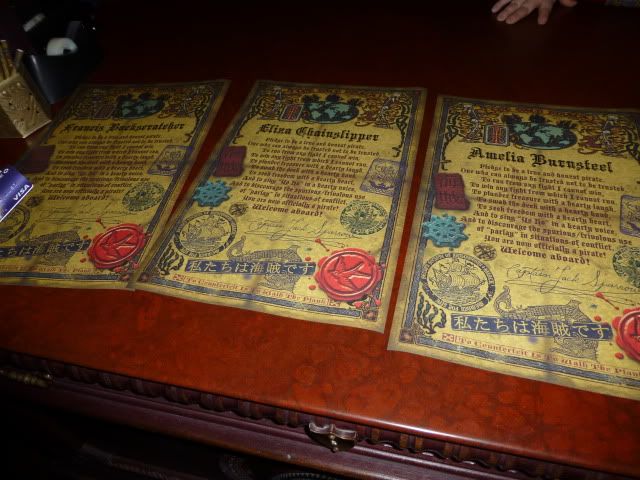 I've heard that people wait in line up to 2 hours to visit with the Dwarfs. Crazy. We hopped in line pre party to beat the rush and were about 8th in line. Luckily the meet up is right next to a playground so G ran off a little steam while we waited.
Next stop Jack Sparrow himself!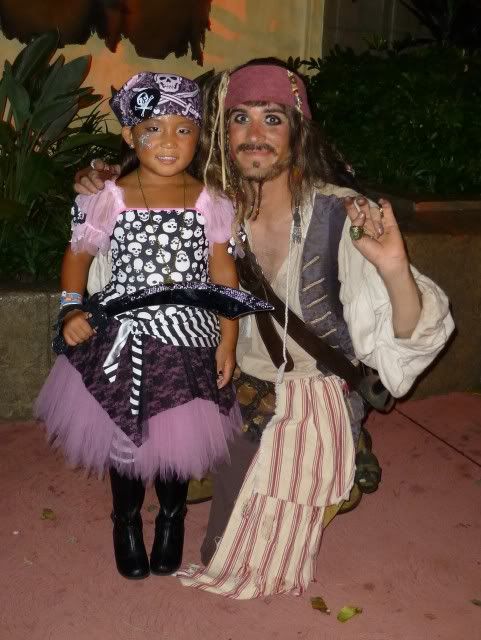 Bobby, who wasn't going to dress up for the party initially, really seemed to tap in to his inner pirate
The neat thing about the parties is that the princesses appear with their princes. First with Snowy and Prince. I confirmed, he has no other name.
Flynn and Rapunzel are nothing too special for us. They appear somewhat regularly at DL. Having said that he was a very funny Flynn even if he didn't have a tiara in his satchel like he does at DL.
Cindy and Charming who was, honestly, unbelievably charming and polite.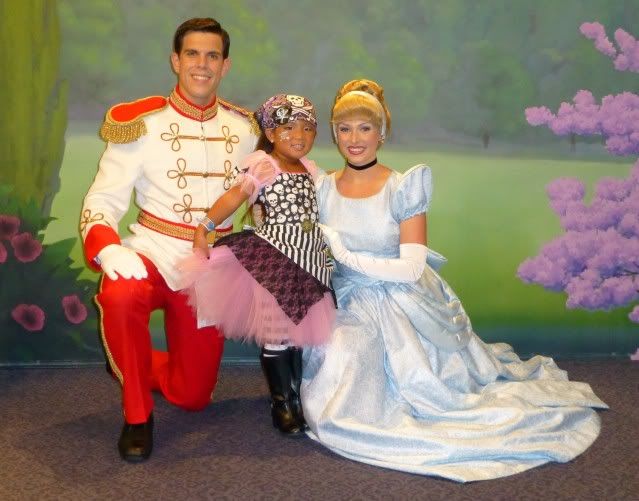 I scoped out a front of line spot for Maleficent which Bobby manned while I grabbed G and we hunted down a few baddies. Gaston was one that was near the top of our list.
I love this picture of us with Lotso (from Toy Story). The castle in the background looks awesome!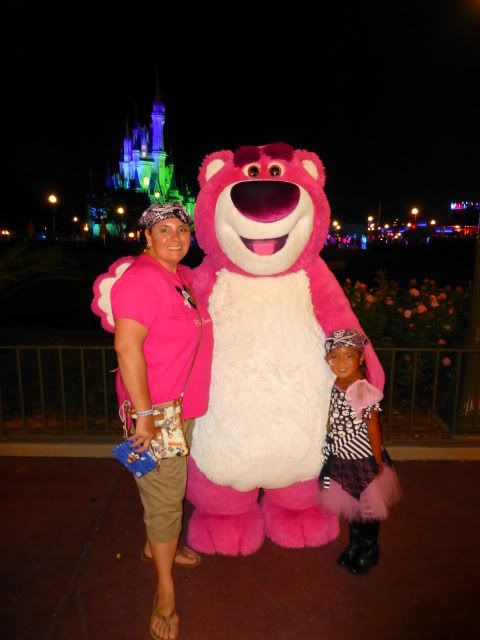 After the Villains show, we finally met Maleficent... she's kind of my holy grail for characters so it was pretty fun. BTW, little G walked right up to Maleficent, all by herself completely in the dark... no fear at all. Love it!
Quick stop with Frollo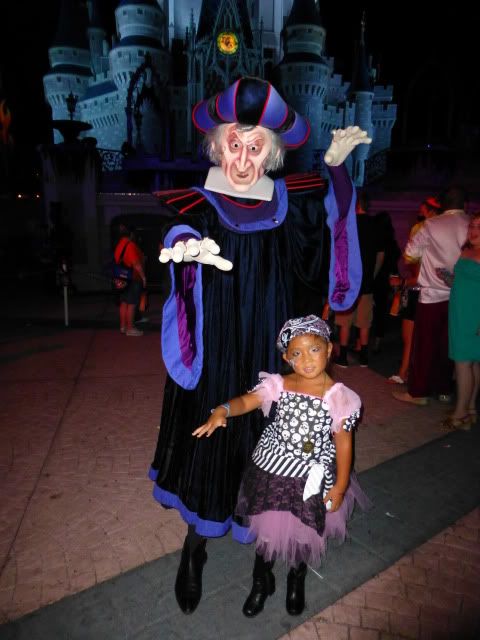 Finally with the Shadow Man from Princess and the Frog. There were tons of people waiting to see him and G ended up being called up as the last person. This never happens to us. We always seem to be the people who end up getting cut but I guess sometimes you get lucky :-)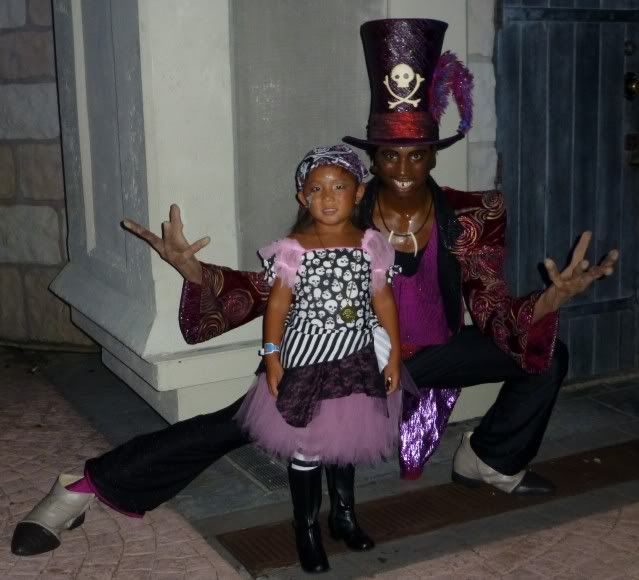 With Jane, Terk and Tarzan. Tarzan was really into his character. I mean really. into. his. character. Calm down a bit Tarzan ;-)
Last stop, Abu and Aladdin. I'm always impressed that G's able to keep it together as well as she does. She was super tired.
Really fun night. We didn't get to do everything I wanted to but overall it was success. Bobby and I agreed that if we had it to do over again, we would have gone to two of the Halloween parties so we could have done all we wanted. Maybe next time!