Father's Day
G loves her daddy to the core of her being. They have a wonderful relationship. After we met in China, G clung to Bobby and actually rejected me. With lots of work on all our parts G and I have formed a fantastic bond. But, in her eyes, I have a feeling there will never be anyone like Daddy.
I had something on Sunday night so we celebrated Father's Day on Saturday instead. It ended up being just the three of us (what I've begun to refer to as "the little family"). Casey came home from school later and Brett was out of town. So, we went to one of our current fav's, Le Rendez Vous. This place is so odd. Its located down a residential street in a rather sketchy area of town. Its been there for decades and, although never crowded, somehow manages to stay in business. I don't get it. But, the food is really good and we enjoy it. Our waiter took a pic of the three of us inside the restaurant but I looked AWFUL so here's one of just Bobby and G. They always look great!
G drew one of her famous stick figure creations. I think its so cute that she signed her full name (because otherwise Bobby wouldn't have known who it was from, right?). She did manage to get three of her four names in the right order which was impressive. For awhile there she'd always put her middle after her last. She never includes her chinese middle although she knows how to spell and write it. I'm sure the use of her many names will change over the years.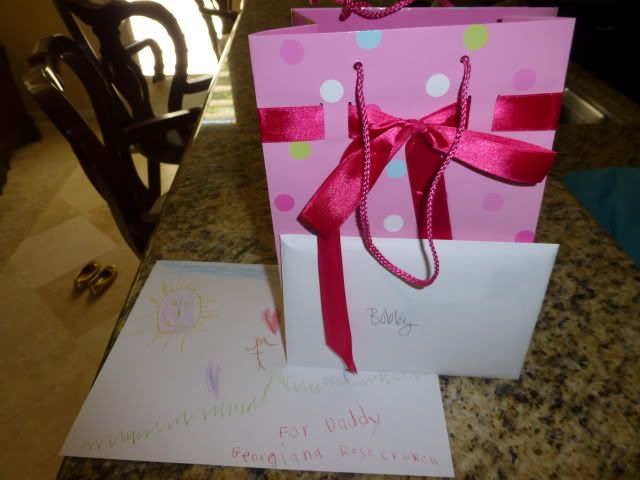 I thought this little tshirt was perfect for Miss G. The moms of the little boys in G's class have all told me that their sons have crushes on G. Apparently they argue somewhat about who is going to get to "marry" her and when they play she is the princess (big shocker there) and they bicker about who will be her prince. I'm actually not too thrilled by this game. I guess its normal preschool stuff but still. What 3-4 yr old needs to be thinking about marriage??? Anyway, with a bit of coaching, when asked who she will pick to marry she now explains that she already has a prince, "Prince Daddy". That should work for awhile :-)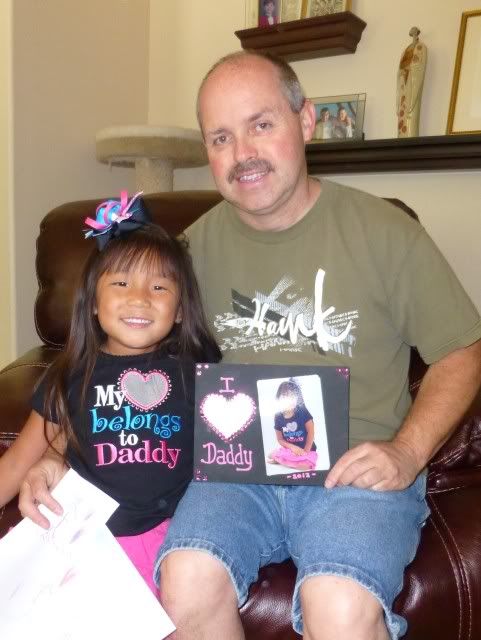 Happy Father's Day to a great Daddy!!!