Elmo's world!
I haven't posted in a few weeks. We've been super busy. Ijust feel like I have no time. Two saturdays ago Elmo came to the Inland Empire!!! G was thrilled. She loves her some elmo. We chose a package that included seats in the front row and a pre-show meet and greet with some of the characters. The meet and greet was just ok. They kind of rushed the kids up, parents could snap a couple pix and then off you went. It was unfortunate too, because there was plenty of time to let it be a more relaxing experience but, eh, G liked it. I don't think she realized she was being rushed.
Of course, we had an outfit planned for the event. G loved her elmo outfit and clippies. You can't tell from the pix but one was cookie monster and the other elmo. Both outfit and clippies purchased from an etsy seller. She kept touching her dress and saying "elmo, going to see elmo and big bird and, and, and cookie monster and osser the grouch." So, so cute!!!
The show was fun and it was really nice to be so close to the characters. Of course there's always something happening up on stage but during 75% of the show, the characters also came down to the floor and pretty much danced right in front of us and would shake G's hand or give high 5's.
At intermission the balloon guy came out with a GIANT bunch of elmo balloons. Seriously, he must have been holding about 200 of them. When G saw them, omg, the look on her face was priceless... mouth agape!! "What is that?" followed quickly by (in her most carefully worded voice) "May I have one, please?" So, how do you resist that??? I asked Bobby how much he thought they'd be. He guessed $6, I guessed $5... we're so naive. While we're discussing this and looking at G's cute little face with pleading eyes, the crowd around balloon man grew and grew. Deciding that if we were going to get in on the "opportunity" to purchase a five or six dollar balloon, we'd better get a move on, I hustled myself over there and joined the throngs of parents waiting to be ripped off in the name of making my little sweetheart happy. Those balloons were going fast but I managed to score one for the very low price of
$10
!!!! And, its a good thing I moved fast cuz balloon guy sold out just about a minute or so later. She really did love it though and its still floating in my family room now almost 2 weeks later so I guess it was a good investment :-)
Bobby and G waiting for the show to begin.
G was decked out all the way to her earrings! G loves to change earrings to match her outfit. She asks to do it each morning which I think is a total crack up.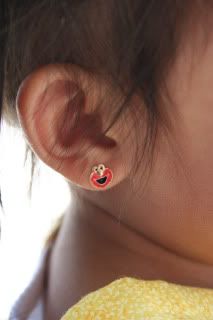 G with the characters. She was having fun but, alas, no smile.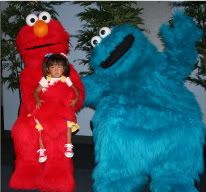 Mommy and her very best girl
Ok, G liked elmo and the music but, because she is my daughter, she was most excited by the cotton candy!!! Yum!
G with her $10 balloon