21 mos, seriously??
I can't believe that today G is 21 mos old. Where does the time go?? Our little girl continues to grow by leaps and bounds. She uses lots of simple 3 word sentences now "I'll get it" "Thank you momma" stuff like that. Her pronunciation is pretty good for some things and not so good for others. She always says "grink" for drink. We've tried practicing "duh, duh, duh, drink" but she always replies "duh, duh, duh, grink!!"
She's still a great eater with her favorite foods being grapes, scrambled eggs and lasagna. Honestly though, she eats most things and is constantly hungry. She generally has a ziplock bag filled with cereal, gold fish crackers and craisins. Georgie's been off the bottle completely for about a month or so. She didn't really miss it too much.
She continues to make progress on the potty training. She's been doing really great for a little over 3 weeks or so with very few accidents. She has her last 4 teeth coming in and has been teething like crazy. Can you say DROOL!!!?? Yuck!
She's still a fantastic sleeper. We have developed a nice bedtime routine that she loves: vitamins, bath, brush teeth, lotion and comb hair, story time (usually 3 board books of her choosing), songs (Hush Little Baby, I Love You So Much, etc), then sleep! She likes her routine a lot! She's in bed asleep by 8 pm every night and starts to wake up anywhere between 6:45 and 7:30 am. She also takes a nap from about 1-3 most days.
G's growing steadily. She wears mostly 18 mos or 18-24 mos sized clothing and a size 5.5 or 6 shoe. She still loves choo choos and has been dragging around a picture of Thomas the Train she got in a video for the last 2 days. She's started trying to sing along with me when I do the ABC song, she counts ahead of me to 5 and knows some letter sounds. We've been working on colors which she's getting pretty good at. She always knows green, pink and yellow but she's not quite as consistent on most other colors. She knows her right and left everything foot, hand, ear, eye, etc. She likes to say rhyming words: dog, frog, wog. Her favorite song is Do You Know the Muffin Man.
Georgie loves to help! She helps by taking the cats their food plates and bringing them to me to wash when they're done. She helps daddy take out the trash and really enjoys helping to shake the bag open to put a new one in. She likes to wipe things and pick up while we sing "clean up, clean up."
She still loves the Ni Hao Kai Lan cartoon (she watches an episode almost every day). She's not terribly interested in most toys but does like her books and puzzles, kicking a ball, going for walks to collect rocks, leaves and seed pods (which she stuffs into her pockets) and playing with her stuffies. Her favorite lovey is her stuffed frog which she drags around the house with her pretty much all the time. G loves to smell flowers, splash in her bath and search for bugs in the yard with daddy.
She's just awesome!!! She's happy, talkative, noisy as can be and in non-stop climbing, giggling, screaming, jumping motion!!!
Here are some of the many faces of Georgie
This was the first day we got her hair into a pony tail!! She loved it and kept walking around saying "pony, pony" over and over and over again.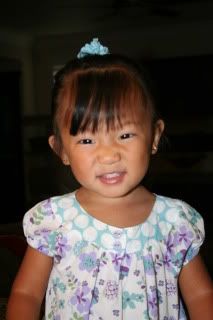 On a ride with Daddy at Skandia. She loves to wear her "gasses"
With her new dolly. She's stuffing a rock into her pocket so it doesn't get lost, too funny!
This is what G looks like when she laughs which is pretty much all the time... unless she's made. Then, its kind of the same face except, you know, angry :-)