Independence Day!!!!
This was our first July 4th with G! Everyone kept asking me if we were planning on taking her to see fireworks but we decided against it for two reasons. First, I think the loud noise would be frightening to her. Second, most fireworks shows start at 9pm, about an hour after G's normal bedtime. Pass.
Instead, we decided to do a July 4th activity and then come back to the house for swimming. All of this carefully orchestrated around G's nap schedule. Georgie --and Bobby and I of course-- is so much happier when she's had a good nap!!! Also, with the mid day temps hitting around 98 degrees, any non water-related activities need to happen in the morning or you'll melt.
In the morning we headed over to Claremont and wandered around a bit. G liked it. There were lots of people who'd brought their dogs along. Each sighting elicits a Georgie shriek "Doggie!!!!" They actually have quite a few activities for somewhat older kids but G was mostly interested in the toddler playground she eyed when we first got there. She kept saying "Pawk!!!" (park) "Wheee" (slide) until we went over there and let her check it out for awhile. Georgie loves the park more than anything in the world I think.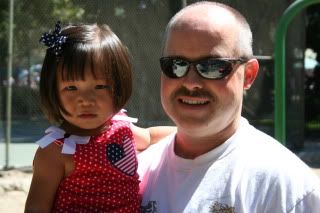 Then we came home, G had her much needed nap and then it was time to try out another one of her swimsuits. This one is so cute!!! Its from Gymboree and has matching sunglasses!!! OMG dressing a little girl is so much fun. This first one I call Georgie's "Diva Pose"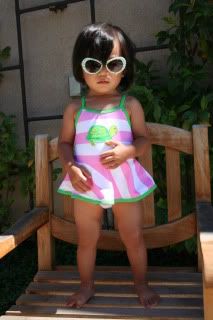 Georgie always has her tongue out when she's in the pool. Yes, she ends up drinking a lot of water!! Yuck!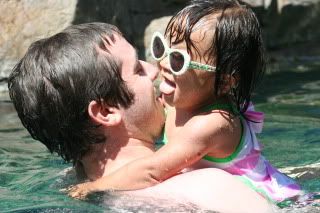 Bobby and G enjoying the waterfall: