Splish splash!!!
At the recommendation of Jen, a fellow blogger and friend found
HERE
, we decided to visit The Huntington Library in Pasadena this past weekend. Her little boy is just a few weeks older than Baby G so generally if a place appeals to him, its pretty safe G will like it too. It's been a really long time since I've been to the Huntington.
As far as museums to visit with kids go, it was pretty great! The galleries are in separate buildings: European in one, American artists in another, etc. Then, all around, the gardens. G did pretty well in the galleries between stroller, carrying her and letting her walk quite a bit. As long as we didn't expect her to stay in one spot too long, she did well. She enjoyed pointing out doggies, horses and babies she saw in the paintings and sculptures and even though she was a little more loud than the majority of the patrons, she didn't scream, screech or cry so we got tons of smiles and a lot of "Oh my god, she's soooo cute" type comments. I've always loved art. I took many art history classes in college and ever so briefly considered majoring in art history and doing MA curator program. Maybe in another life. Anyway...
The gardens were a little more G's style, of course. She loved smelling the flowers in the Shakespeare and Rose gardens. It was nice to just move at her pace which was really SLOW :-) There's also a beautiful and very tasteful chinese garden with a pond, many huge koi and ducks. One of the ducks hopped up onto the shore area and G spent a good bit of time trying to catch it. Bobby spent a good bit of time protecting the duck from being caught.
We saved the best for last! I'd been told about the Children's Garden and was glad. They have all these little fountains that the kids can splash in. Because we knew G was going to be getting wet, we brought her some swim clothes. Good thing too because G was SOAKED!!! But I don't think I've ever seen her so happy. She just splashed and splashed and splashed for well over an hour.
To prove what a perfect day we had, even the weather cooperated. It was cool and overcast all morning but a few minutes after G started splashing, the sun magically appeared!
Prancing near the Rose Garden:
Taking time to smell the flowers:
This is the face she would make every time she smelled the flowers. I couldn't tell if it tickled her nose or what but it was so funny!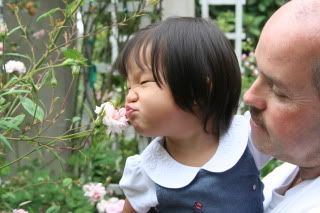 Near the pond in the Chinese Garden. I'm often struck by how truly beautiful she is. She has the sweetest, softest features.
This is the water area. G would have been happy to live in this area!
Splashy, splashy, splashy!
G loved these deeper pots. At first she just stuck her hands into them and held them there for a few minutes. She just loved being in the water.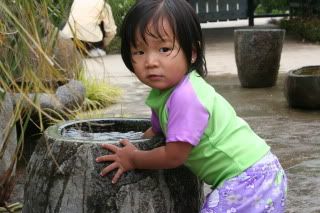 There were quite a few kids that would come up and play in the fountains with G. Some of them older like 5 or 6. G really did well with them. Not overly aggressive at all but not at all intimidated either. This is her playfully doing keep away with part of the fountain the kids were all fascinated with. I just love her mischievious smile!!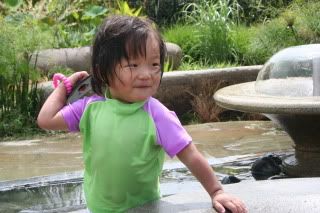 G checking out this long tunnel. I thought she might be afraid but no, she forged right ahead. Once she saw daddy at the other end she ran!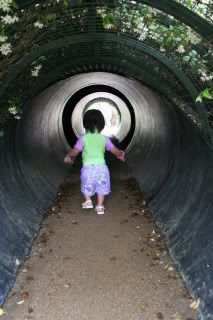 Overall, it was a fantastic day!!! I gave it a 9 out of 10 and Bobby gave it an 8. I think that's impressive for a day at the museum with an almost 17 mo old!