Its official, Casey is a graduate!!!
On Saturday, Casey graduated from high school! He was so happy and we were all so proud of him. He's really looking forward to going to college next year. He'll be attending the local UC (which is only 40 mins from our home and about 10 mins from my office) but he's going to live in the dorms. Casey is super excited about taking this next step in life. I think he's also pretty excited that he's going to have more independence from us. Can't say I blame him. I remember having the same thoughts at his age LET ME OUT OF HERE!!! He's considering becoming an attorney like mom, we'll see. He'd probably be great at it. He can be very convincing and quite tenacious. He'd probably get the best of his tired old mom! LOL!
Here are a few pix of my graduate. Check out that smile!!!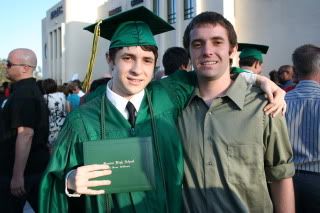 Casey and Grandma Christie