The Living Desert, etc.
We try to do something Georgie oriented each weekend. Its so fun to take her places and show her things. She particularly likes animals, all kinds. Its been kind of cold and rainy around here so Bobby suggested we try someplace in the desert where it would be warm and sunny!
Did a little searching and found a place out in Palm Desert called The Living Desert. Its like a wild animal park but just desert animals. One half is North American desert animals, the other is African Desert animals. I liked the giraffes the best but I think Georgie was most thrilled by the goats in the petting zoo and banging on the drums in the african village!
I also finally downloaded some of the pix from my camera and came across some of G in a few of her cute outfits. She wears the basics, jeans and onesies, all during the week the babysitter so I kind of like to dress her up a little cute on the weekends when we go out to dinner and stuff. Its funny, she definitely knows when she's "dressed up" because she gets really giggly and shows off a little. Really cute!!!
G petting the goats:
Banging the drum:
With daddy in the play area:
The giraffes were super cool!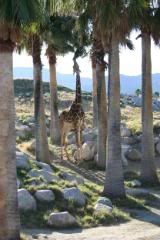 My valentine flowers from bobby. I love, love, love the pink lilies!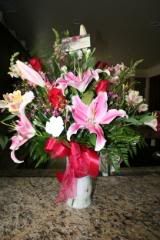 My beautiful little valentine girl!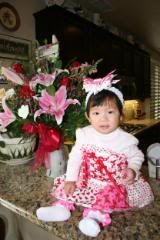 I love this outfit. Its a naartjie I picked up when they were having their winter sale (dress $9, tights $3, headband $1!!!). Georgiana wore it when we went out for our valentine dinner at Flemings. Lots of people were surprised we'd take her their but she did great!! We just order quickly and make sure she has plenty of snacks and she always does just fine. Isn't she adorable???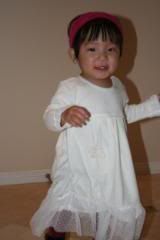 Thought I'd put this one in here too. These are my kitties now. They're about 10 mos old now. I love my kitties so much!!! They're so sweet.