The Debut of Miss Georgiana:
This past Saturday we celebrated Georgiana's first birthday. We invited friends, family and neighbors most of whom had not yet had an opportunity to meet her. Even though Georgie was feeling a little under the weather, she still managed to have a really nice day. She is such a little trooper.
Unfortunately, G crashed out before she could get to her presents and enjoy her own little cake so that had to wait until the next day. She was lucky to receive many nice gifts including toys and beautiful, super girly clothes.
This is G wearing her birthday hat. Bobby and I picked this up in Solvang last year and thought it would be fun to get a pic of her wearing it each year.
G with my sil's mom, Frances. She brought G the most beautiful Easter dress. The pink is actually ribbon twisted and sewn onto the dress. I'd been looking online for exactly this style of Easter dress and had been pretty disappointed and then, there it was! Very thoughtful.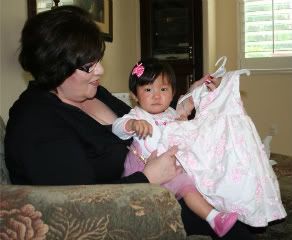 G with Bobby and Char:
The spread! I was going for simple so I made a no utensil rule, all finger foods. It worked out pretty well.
My first attempt at red eggs. At first I tried dipping them into the red dye but they turned brown and looked kind of icky. So, I watered down the dye a little and redipped them, then they looked orange. Oh well, not too bad. I'm going to have to keep working on this.
Casey, a little out of focus: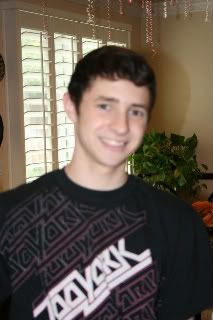 Daddy getting Georgie's neck. She loves that!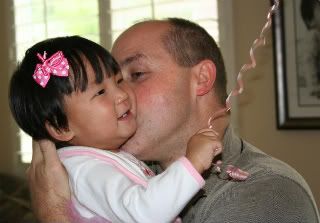 Lots of friends were there to welcome G and help her to celebrate!
Maria and Daniella
Terrence and Jen with the super cute Gavin! He's only about 3 weeks older than G, perfect playmate!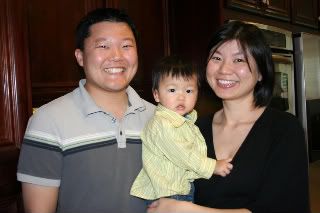 Faye and Patty:
Candy and her beau
Mylene and Johann with John John
Tressy and Georgie
Louie and Alicia with the ever so handsome Alexis. He's 3 weeks younger than G!
Matt and Sonia with their son Mason, such a sweetie!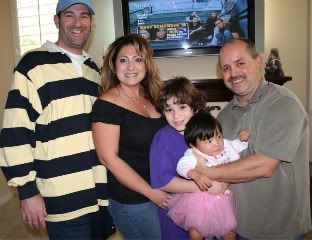 Andrea kindly representing the Henry family: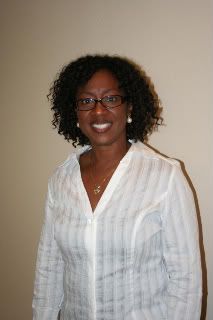 Chery and David with my mom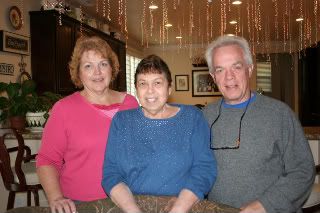 G loved this hat!! She would cry and point to it if we took it off her head.
By 4:30, Georgie was partied out. Poor baby.
The next day, Georgie enjoyed her gifts:
Melissa and Doug puzzle. I love, love, love M&D toys, they're awesome!!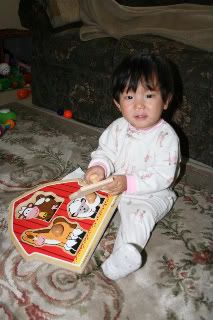 Kids classical music CD and pink clothes!
A beautiful "family" frame personalized with our name. Can't wait to get the family pic to go in it!
Every little girl adopted from China needs a ladybug dress!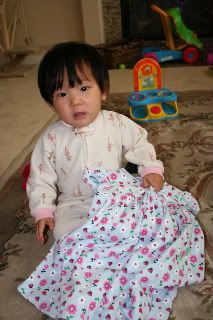 Super girly jammies. Check out that gift bag, love it!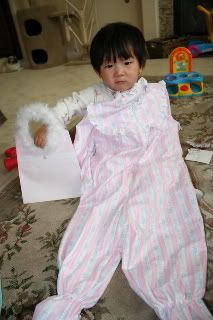 Embroidered capri set. I love this because it actually looks like something I might wear. So fun!
Toys, yeah!!!
Not sure if you can tell from the pic but this is a hippo towel and washcloth. Perfect for G, she loves her bath more than anything in the world. Great for snuggling her up with afterwards.
Georgiana loves her board books. She particularly loved this one that had fuzzy pages for her to touch. I find it somewhat unusual for a one year old but she will hold and look at her books for a long time, like 10-15 mins, while she turns the pages (usually backwards) and "reads" by saying "ubah, blah, ba-ba-ba" She likes to be read to also but often turns the pages back and forth so that you end up having to read the same page over and over. So funny!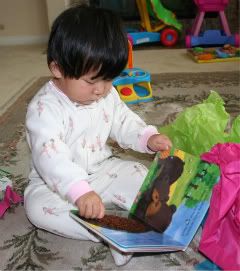 This is a fairy dress up outfit. Everyone who knows me knows I LOVE fairies! Can't wait to dress her up in this one and take pix.
I actually have a few pix of gifts G received before her party, I'll try to post pix in the next day or so.
After presents, Georgiana was finally able to enjoy her little cake. She saw her hat and insisted on wearing it some more. Bobby wanted her to dive in with her fingers but she didn't want to. She did enjoy eating the cake off the spoon though. Such a little lady, ahhhhhh.
After cake, G's party weekend was officially over. I can only imagine what the next year will bring, I can't wait!!! Happy Birthday Georgiana Rose, I love you more than I could ever imagine!