Chuck E Cheese and The Long Beach Aquarium:
Its so fun to be able to take Georgie places!!! As a quick little trip we took her to Chuck E Cheese so she could try some of the little rides. She really didn't know what to think at first. She liked the horsey ride and really enjoyed looking at the characters while they danced and sang. It was a nice quiet mid-week day so there was hardly anyone else but us there. Still, got a few cute photos.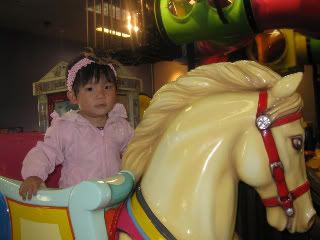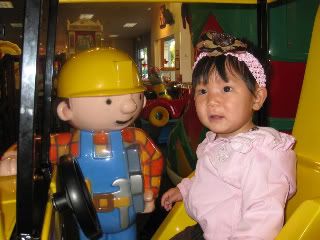 Then, on Saturday, we decided to take G to the Long Beach Aquarium. She loved seeing the many koi we saw while we were in China so I figured she's really enjoy seeing all the different kinds of fish. I dressed her in her denim overalls so she'd be able to lay on her tummy and pet the fish in the touch tanks. She LOVED it!!!! Every tank we'd come to she'd lay down and splash and splash and splash while she screamed and looked at the fish. She was so happy. The other tanks that just held fish you couldn't touch were not nearly as interesting to her. She'd look for a second then start trying to climb Bobby--I think she thought if she could just get higher she could get in with them!!! She was very impressed by the jelly fish and stood in front of the tank watching them for about 5 mins!! I have to say, the way they move so slowly and peacefully is very pleasant to me too. Its like underwater ballet. Very beautiful!!!!
Other things Georgiana found fun were chasing pigeons. She did it for a long time, I think she thought she was going to catch one. She moves pretty quickly now and actually came kind of close a few times!
Bobby and G in front of one of the many fishtanks:
Georgie looking ever so cute in her pink sunhat:
Georgie and mom in the aviary: