Shangri-La!
Sorry I haven't posted in a few days. We've been so busy from morning til evening that I've had no time at all.
Anyway, here's what's been going on: the flight to GZ went great. Georgiana liked looking out the window before take off, was calm during take off and fell asleep almost as soon as we got off the ground. Its a short flight and she woke up from her nap shortly after we landed. I'm dreaming of the flight home being as easy but figure its impossible.
We collected our growing bundle of luggage and off to the White Swan hotel we went. The last few days have been quite a bustle of activity.After being in Nanchang and the Gloria Hotel there, Guangzhou and the White Swan have been a nice change. The hotel is beautiful, clean and the a/c works like a champ! The rooms are averagely small. I'd heard people complain about the size of the rooms before but really, they're just normal hotel sized rooms. I've seen much smaller in Hong Kong. We get up each morning and eat the buffet breakfast which is, in reality, very nice. But, if you compare it with what we were fed in our hotel in Nanchang, its nothing short of a feast!!!
The most fun thing about the WS is probably that there are just so many adoptive families here. I would think if you were a chinese employee working at the WS you might think that every child in China was being adopted by foreigners. There are Chinese girls and boys from baby to probably about 10 years old. There are lots and lots of boys and older kids although the majority of children are babies and toddlers. Its fun to meet up with the other parents and talk to them about their experiences and perspectives. Everyone's story is so different.
One day a group of us went to the GZ pearl market which is quite different from the pearl market we went to in BJ. I was able to purchase a few very nice things for myself as well as for G when she's older. Shopping is nothing short of sport here in GZ. The pearl market was in a building that was about 6 stories high with probably 40-50 shops on each floor. They didn't all sell pearls obviously. Many of them sold jade, beads and jewelry made from other types of stones, and other things like that. It was a little overwhelming. Behind that building was a "jade market" again, hundreds and hundreds of shops set up many of which were an open air style.
Shamian Island, where the WS is located, really is somewhat like Disneyland. Shopping is the main activity and there are tons of little shops. Honestly, they mostly sell all the same things. The prices vary wildly and I did make a rookie mistake on day one and purchased a chop (its like a name stamp) for more yuan than I should have. Ah well, live and learn.
The first day after arrival, we met and completed the paperwork required for USCIS to let Georgiana into the US. She's ours in the eyes of all but she still has to have a visa to emigrate to the US. Government forms at their finest. Some forms require that dates be written in with dashes example: 01-07-2008. Some require that they use slashes example: 01/07/2008. And, guess what?? If they're done incorrectly, they have to be fixed. So for a little over an hour we fill out form after form after form with all the exact same info: G's chinese name, G's new name, our names and addresses. OK, done with that.
Yesterday morning, Monday, we all met bright and early to complete the physical exams. It's a very cursory exam completed in 3 stations: 1) weight, length, and temp --G weighs 18 lbs! 2) ears/nose/throat inspection 3) general physical for problems and disabilities --this one req'd the diaper to be off, G was less than thrilled. G appears to be VERY healthy and passed with flying colors!!!
Then we all loaded onto a bus and went to a local botanical garden. Beautiful place --sort of disneyland like with big animated looking sculptures of children and dragons. Our guide said its a popular place for weddings --I bet it is! G slept through the whole thing in the stroller. Next stop, Buddhist temple where a monk gave all the babies a buddhist blessing. He chanted and lit some incense, G was mesmerized! She loves music and singing and will usually dance if the radio is on or we sing her a song. But during the chanting she was very calm and stared intently at the monk.
Next we returned to the hotel. For lunch? Subway sandwiches. Yum! A turkey sandwich was never so welcomed. Did a little shopping then Bobby took G back to the WS playroom for some fun. I'd heard about the playroom before but I can tell you, its really nice. Its about 35-40 feet square, has nice soft carpeting and lots of Mattel toys for the kids to play with. G likes the ones that she can walk behind and that make noise. Its pleasant for her to have someplace that she can crawl around and have some fun without too much danger of injury. Sometimes there are lots of other kids there which she also enjoys. She doesn't interact with them but just watches and smiles.
After that, G was knocked out completely so we decided to do pizza in the room. Pizza Hut delivers to the hotel, again, just like home!
Today, Tuesday, some of the other families went to the GZ zoo. I'd heard less than great things about the zoo and we decided to skip it. Instead, we slept in a little, had a leisurely breakfast, played in the playroom some more then nap. We had to meet our group for the red couch photos today at noon but, sadly, G was not quite done napping and so not in the best mood for her photo. She screamed along with a few others. But, she looked great before the tears started flowing. We're going to try our own red couch photos again tomorrow when she might be in a better mood.
Tonight is our travel group's farewell dinner. Several families are leaving tomorrow right after the swearing in ceremony so this will be our last evening all together. Its been a lot of fun and quite an adventure in many ways but I'm really looking forward to being home. I miss the boys, my soft bed, and I'm tired of living out of a suitcase and never knowing where anything is. I'm ready to be home so we can start living as a family for real.
OK, now for what you're really interested in seeing...
Georgie looking cute in her Walmart stroller:
G loves her bath now. Sometimes she'll actually crawl into the bathroom and tap on the side of the tub!
G in the WS playroom:
Mommy and G in front of waterfall in WS lobby: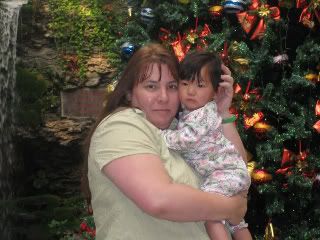 Georgie LOVES to look at the fish! The ones in the WS pond are some of the largest I've ever seen: