A Disney Thanksgiving
We decided to have our Thanksgiving celebration on the Saturday after the big day so that everyone would be available. This left the actual turkey day up for grabs and I thought... heck! maybe we should give those Disney passes a bit more of a work out and head there for the day :-) As an added bonus, I was able to make lunch reservations for the buffet at the Disneyland Hotel grand ballroom.
My only concern with hitting DL on Tday was that I'd read that it would be REALLY crowded and that sometimes it actually sells out that day. But, we figured no matter how crowded it was we could still have a good time.
Our day started at 5:45am!!! We were out the door at 6:30 and in the parking lot of DL by 7:15. We figured the lines just to get through the gate would be long. Uh, nope. We arrived and found no lines at all! We spent the balance of the morning either walking onto or waiting just a few minutes for all the rides that G likes. We even had time for G to do some more coloring at Jingle Jangle Jamboree. By that time we were ready for lunch so we hopped on the monorail to the DL Hotel. I'm pretty sure that its been at least 20 years since I'd ridden the monorail.
Lunch was fantastic!!! We pretty much ate our fill of lox, shrimp, and crab claws before moving on to traditional turkey and fixings. After that we had far too many desserts. Yum! In between "courses" we talked, G colored and we visited with the characters they had set up around the outside of the room. It was really nice and relaxing.
After finally making it back to the park we had plenty of time to drive the Autopia cars a couple times and take our required spin on the carousel and the rest of the rides in Fantasyland before finding a pretty good viewing spot for the parade. The moment the last parade character went by we headed straight for the tram. It had been a very long day and G, although still a happy camper, was toast.
Getting a bid MAD with the Hatter
Notice the clock?? 8am on the button.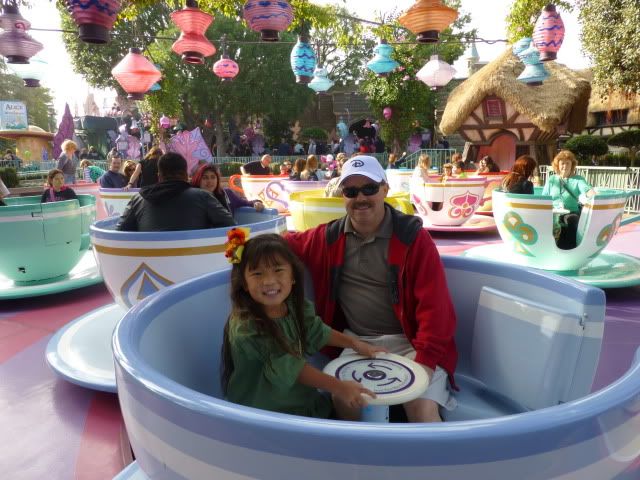 G's already seen Santa 4 times this year. I think she's just into it for the candy canes :-)
More reindeer masks were colored
I thought it was kind of cute that the goats in the petting zoo had on Christmas neckerchiefs
The pumpkin in Goofy's garden gets a lot of use by families this time of year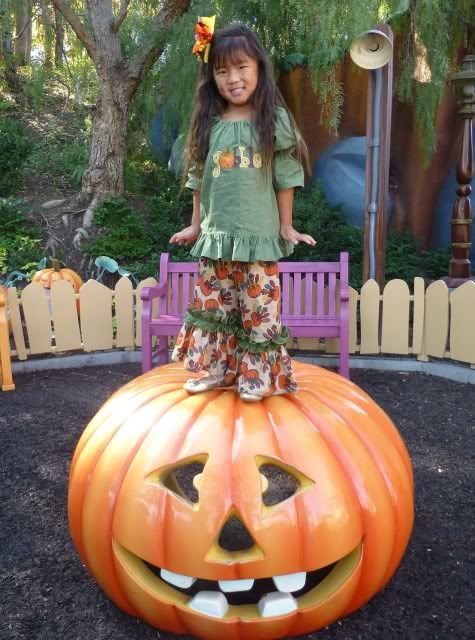 Finally we made it over to the DL Hotel.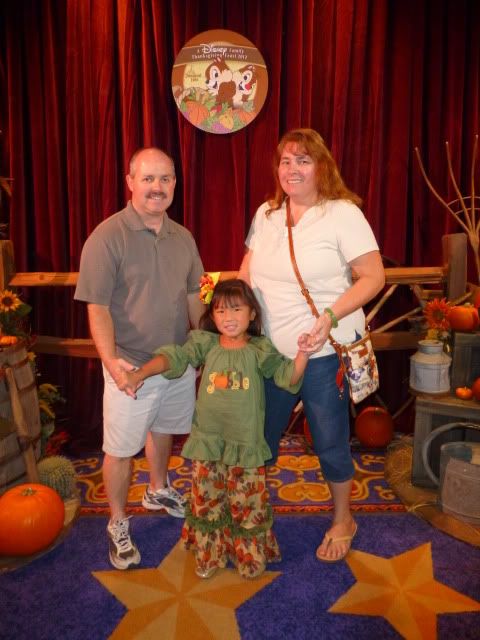 The bears from Brother Bear.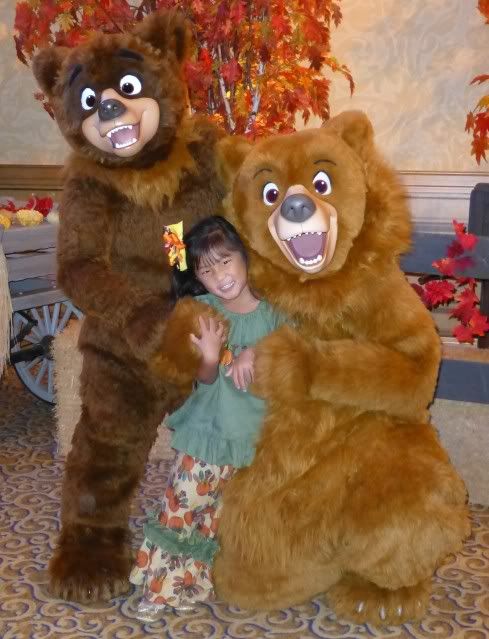 Western Chip and Dale
Georgie later told me that seeing Pocahantas was her "favorite part"
How cute is Minnie in her western costume? Gotta love those boots!
G perusing a portion of the dessert table. The kid has a sweet tooth the likes I don't think are often encountered. Understanding that she could have just a bite or two of each thing she chose many to try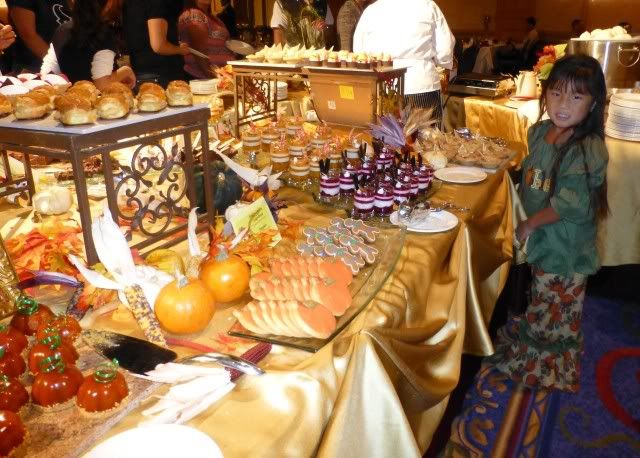 G loves her sweets!
All of us doing Pluto puppy paws
My favorite characters of the day were definitely Daisy and Donald. I just loved their costumes and with the background they set up it was ADORABLE!
G saw the sign and asked what "Tomorrowland" meant. I had a really difficult time explaining the concept.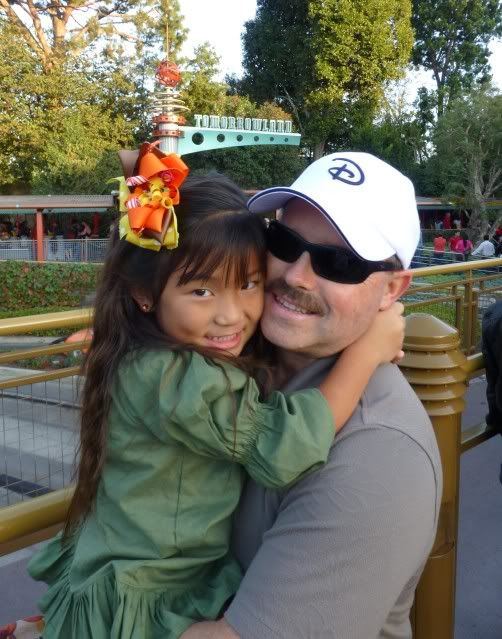 G's favorite ride these days is probably the Autopia cars. She loves them!! She tells me over and over again about what a good driver she is. She actually does a pretty good job. We always make sure to follow behind Daddy so we can bump him a bit. Every time we'd do it G would absolutely howl and scream with laughter. Funniest thing I've ever heard.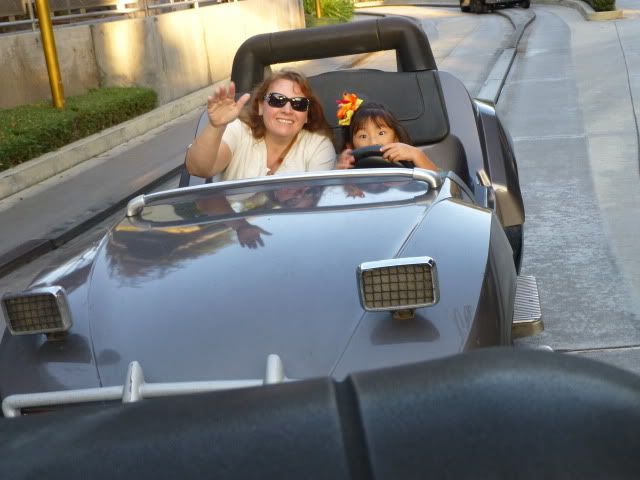 I'm in charge of the gas pedal, G steers. Obviously I'm not much of a rule follower.
By this point in the evening, G was getting a little tired and little crazy...
crazy girl...
sweet girl!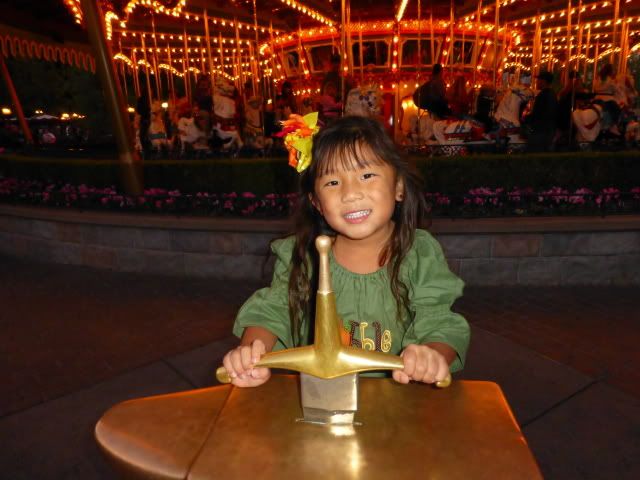 As we were walking to the end of main street to watch the parade, I decided to get a shot of G in front of the partly lit up castle. This requires shooting into the dark. I didn't look at the picture until after I got home and then found this crazy little face.
It was a very different way for us to spend Thanksgiving but overall a great time!