Six months ago today...
(or maybe yesterday its hard to tell with the time change) a frightened baby girl was placed in my arms. I had been working toward that day for about 3-1/2 yrs at that point. But, the dreaming and hoping for a little girl had been with me most of my adult life.
On 12/7/2008, we woke up, ate breakfast, and then began preparing for our "gotcha" moment which was to be that afternoon. We gathered things together, prep'd the crib in the hotel room and ogled over the little clothes that would soon be hers. A half hour before the babies were to arrive at our hotel, we went downstairs to the lobby to see if we could catch a glimpse of her coming through the door. Although our agency was receiving several referrals that day, only our little girl would be coming from that particular SWI.
Finally, a man and a woman holding a little girl walked through the door. She didn't look like our baby but I couldn't tell for sure. Our referral pix had been taken in July, almost 6 mos earlier, and I was prepared to not recognize her immediately. I moved a little closer and saw that this definitely was not our baby. That beautiful little girl was a little older. She would be joining someone else's family.
About that time, our guide arrived and said that our daughter would be coming a little later, they were going to another hotel first with 4-5 other children. I thought, "that's ok, I've waited this long, I can wait a little while longer." Soon other children began to arrive and all families were asked to go to the conference room. We waited a few minutes as some families began to receive their children. There was no logic or organization to it at all. Many children began to cry and scream. It was a mad house so I stepped outside and looked as another woman carrying a baby beautifully dressed in red silks walked up the grand circular stairway. Bobby said "I think that's her" but I knew it wasn't. Then, just behind was the last child to arrive that day. She had lots of straight black hair and was dressed in a brown, puffy, puppy dog outfit that was much more suited to a little boy than a little girl. Her skin was dark brown--much darker than it appeared in her referral pix-- and her cheeks were fiery red.
I took one look at her and said to Bobby "that's her." We followed her and her little entourage (the swi director and 2 women) into the conference room. Through our guide it was confirmed that, yes, we were the people chosen to be the parents of Zhang Nian Sheng. I wanted the hand off to be calm and as unstressful as possible. We'd had several discussions that day about how we were going to do things. Bobby and I looked at her a little and said "hi" and thought we would spend a few minutes to let her get a good look at us before touching her. But then, all of a sudden, the director said something in Chinese and then robustly grabbed her and placed her in my arms while saying "mama, baba." She still didn't cry. Her lip quivered a bit and she looked so, so sad and frightened. I held her and whispered in her ear "its OK little one, we'll take care of you always. Don't be scared, it will be OK."
We had some cheerios for her and a bottle of water which, if I recall correctly, she gulped down. After a few minutes, we took off her jacket. She was incredibly hot. The bright red cheeks were a combination of dry skin and flush due to being so bundled up. Her body was clean and her hair combed but it was obviously not washed in quite some time because it was plastered to her head and kind of crispy to the touch. We stayed in that room for about 20 mins or so, took pictures and tried to ask the swi staff some questions. Really though, its kind of blur.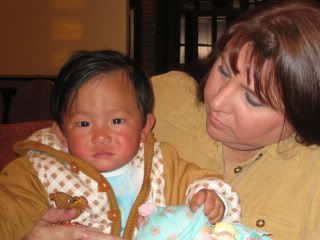 Fast forward to today. In the last 6 mos, our little girl's life has completely changed. She has a new name, Georgiana, a family who loves her and two cats that she loves sometimes a little too much. That scared little girl has grown physically and developmentally in ways that continue to surprise me on a daily basis. G's vocabulary is huge!! she probably uses well over 125-150 words and seems to understand just about everything we say. Granted, some of her words are understandable to only us LOL! She's even started learning some of her letter sounds from playing with the Leap Frog fridge phonics "A says a..." She loves going to the park, being pushed on the swing and going down the slide "weee!" G loves to eat, and dance, and laugh! She loves to swim in the pool, take baths, and play peek a boo and chase with daddy. G loves animals and babies and saying "hi" to everyone she sees. She loves to give hugs, blow kisses and give five. G's favorite toys are probably her shape box and glow worm. She loves to wear hats, bracelets and sometimes makes a pretty good effort at putting on socks and sandals. Her favorite song is now "Twinkle, Twinkle Little Star" and her favorite thing to say... is "happy!" which she squeals and then laughs and laughs.
Mostly though, she's just a joy; an unbelievable gift to our family every single day. She has her moments where she can be trying, of course, but her temperment for the most part is very even. She can be a bit stubborn but has never had a temper tantrum. She's smart and gentle and so beautiful.
She is the perfect match for our family and on a daily basis I am thankful for our good fortune in being matched with this beautiful little girl. I can't wait to see what the next six months will be like!