Big brother and barbie dolls!
Brett was home for a week for spring break. It went by way too fast. The whole time that Brett's home, G is pretty much glued to him. He's very good with her--gentle and always pays her a lot of attention. Its hard when he has to go back to school. Its definitely more quiet in the house, not really in a good way. I immediately start thinking about the next time he'll be home. It will double hard next year because Casey will be away at school also. I think its going to be a little lonely. Good thing we have Georgie here with us to keep us company or I think we'd be very sad.
Brett was playing frisbee with Bobby, see where G is?? Like I said, stuck like glue!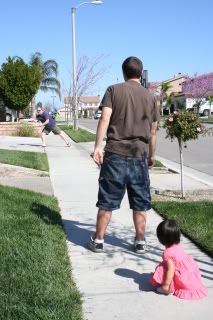 I love this pic of Brett reading to G, so sweet!
Before coming home from China, we stayed at the White Swan hotel in Guangzhou. I'd been looking forward to staying there since its kind of a tradition to do so. Plus, the hotel gives adopting families a "Going Home Barbie" as a gift. Well, just our luck, they were out of the barbies when we were there. But, I wanted that dang barbie so I followed up with the hotel and arranged for a cost to have it shipped to us. Just arrived the other day, yeah!!! I think it looks just like me, don't you???