Georgie Day: part 2
We have her!!!! OMG, I cannot believe this day has finally come. She is here and so perfect its hard to imagine life could get any better. Feel free to scroll to the bottom for the pix and read later, that's what I always do!
Our guide told us to meet at a conference room at 4 pm but we were so excited, we thought we'd go sit in the lobby at aroudn 3:30 to see if we could catch the babies coming in. We did see a few but none of them were Georgie. Just around 4pm, our guide, Mary, said we should all go upstairs. She said that probably Georgiana would arrive a little later as they had to meet another family with a child somewhere else. We went upstairs and watched some of the other families recieve their children. Just a few minutes later, Mary said Georgiana was there and on her way up the stairs. When they brought her into the room I knew it was her immediately. The only thing was her skin looked much darker than in the pix we'd recieved. We realized pretty quickly that she was flushed due to being dressed in such warm clothing. She had on a fairly thick velour footed sleeper, a quilted jacket and pants and brand new pumpkin shoes. She was HOT!!
I was proud of myself, I didn't cry. I was just so happy and in such disbelief that the moment had finally arrived. We took pictures and then we went to the other side of the room so we could get away from some of the commotion. Some of the babies were crying which seemed to upset G but she never really cried. We thanked the orphanage director and when Mary asked us if we had any questions, my mind had gone blank. I believe we will be seeing both he and the other SWI worker tomorrow so I hope we will have a chance for questions then. They also brought us an original copy of the whole paper containing her finding ad and a gift for Georgie of a large Chinese knot for good luck.
When we returned to our room we tried to keep things relatively calm. We were finally able to get her jacket off her although it was tough due to her death grip on the little doll we'd given her. Finally, she started to cool off. We fed her some snack crackers that we'd picked up at Walmart the day before. Mary said all the babies love them and she was sure right this time. After about an hour she was very tired and wanted to get into the crib. Once we left her alone, she crashed out for a few hours. We decided to wake her up because she'd eaten almost nothing and we were hoping to keep her up a littel later and have her sleep through the night.
Once we woke her up she seemed fairly content but still no smiles. Bobby had to go to the store to buy some rice cereal and snacks. Although Georgiana was clean with clipped nails and dressed in new clean clothing, her hair was quite dirty. Perhaps she'd been given a sponge bath due to the swi being cold? I decided to give her bath. She didn't like that one bit and, for the first time, started to cry. I made it a super quick bath and once I had her wrapped up in the towel she stopped crying immediately. I'm sure bath time will improve. It was nice to dress her one of the sleepers and little socks I'd bought for her. I rubbed lotion on her feet, hands and cheeks. She seemed to really enjoy it. We made her a bottle and she drank it right down. She also at lots and lots of cheerios! They were obviously a bit of a new flavor for her because she made a funny face at first but quickly decided they were the bomb!!! After that she was so happy and we were able to get smiles and then full belly laughs!!! She seems to go equally well to both of us although may prefer me slightly. She's already decided that Daddy is fun, fun, fun and he's really good at getting her to laugh. She's ticklish on her ribs and thighs and loves to hold things, like the brush, and whack at other things.
G has the most amazing small motor skills. She is wonderfully healthy, no rashes, no marks and seems right on track developmentally. She sits easily on her own and pulls herself to standing. I bet she's walking in no time at all. Her language skills also seem really good. She mimics us quite a bit ie mama, dada, baba and is quite a little talker. After having some hugs and singing some songs, she happily went into her crib and talked to herself loudly for about 10 mins, then she was out. It will be interesting to see how long she sleeps tonight. We have to be up around 6 tomorrow so we can leave the hotel by 8am. Apparantly we have a few stops to make to finalize the adoption in the province.
I truly feel like the luckiest person in the whole world!!!
OK, here are the pix:
One minute after meeting:
The moment I've been waiting for--I feel so bad because we were thrilled and she was terrified. Poor thing.
Back in the room we finally got her hot clothes off her and she started cooling down a bit. Still sad and scared but improving:
Its been a very tough day. Notice the one piece of hair sticking straight up off her head like Alfalfa!
After a nap, bath and some food, things start getting even better: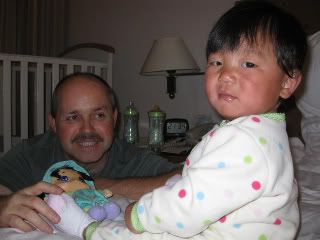 An hour or so later and G's already showing lots of personality! Boy, is she a silly one too!