Goodbye BJ, hello Nanchang!
We awoke bright and early for our last day in BJ. Ate our normal buffet breakfast and met our guide Cecilia at 8:30. Off to the airport, luckily had absolutely no problem checking our baggage which was most definitely at least 5 pounds over each. Whew. Then we took the 2 hr flight to Nanchang the capitol of Jiangxi province.
Nanchang appears to be a very poor province and much more rural than BJ. Its primarily and agricultural area growing rice and some fruits including watermelon and oranges. The smog is noticeably worse here, car exhaust much more pungent (I actually have to block my nose a little or it burns) and the traffic considerably more aggressive. Our new guide, Mary, was there to greet us and shuttled us about 1/2 hour to our new hotel Gloria Grand Hotel. This hotel is not nearly as nice as our BJ hotel. The room is smaller and fairly shabby. Its comparable to a run down Howard Johnson in the states. However, once again, it seems serviceable although the bed is a LOT harder. We requested another pad and they quickly added one but seriously, there's just about no give to the mattress at all.
After dropping our bags we met up with Mary and another couple in our travel group Penny and Brad from Alabama to head to the local Wal Mart to pick up some baby supplies. Penny and Brad are in process of their second adoption from China. Their first little girl is 5 yrs old. Like I said, the driving here is really aggressive. I've always heard that although it seems out of control, very few accidents occur. Well, on the way to WalMart, we saw a guy who'd been riding his motorcycle laying on the ground because he'd been hit by a car. So, not sure I'm convinced.
Wal Mart in Nanchang is quite a bit more crowded than the one at home. Its multi story so it has a special escalator that you can push your cart onto and it uses a magnet or something to hold it to the belt as you go down the floors. We picked up a fairly nice stroller (mostly for our future airport trips) for 369 yuan (about $50 US), diapers, wipes, water and all importantly Diet Coke!!! They sell lots of those cute puffy warm outfits you see the chinese babies wearing in their referral photos for about $10 each. We're a little unsure of G's correct clothing size so we decided to wait until Monday to do a return trip.
When we got back to the room, the hotel staff had put the crib and baby bath in our room! I've never been so excited to see a crappy Winnie the Pooh crib in my whole life. We have all the stuff, now we just need the baby but it still doesn't quite feel real to me.
For dinner, we thought we'd go to a local place for some more yummy food. Mary showed us a place a few mins walk down the street and actually took us in and helped us with the menu a bit. It was a little too early so we decided we'd return on our own about an hour later. The outing seemed doable, the menu had no English or pinyin but it did have pix of all the food we wanted to order except plain steamed rice. Mary taught us to say "bai mi fan" (spelling?). We arrived a little later, put 2 fingers in the air and they showed us to a private dining room. Out came the menu, I pointed to each item and showed 1 finger for each. Then, I said "bai mi fan" using my tones as instructed by Mary and showed 2 fingers for two bowls. Communication breakdown. We eventually worked it out but it took about 5 mins of us all pointing, giggle and looking confused. All the young servers thought we were hysterical. One by one they'd enter the room, look at us, and scamper off giggling. Truly funny experience.
Once again, the food was fantastic (I really need to think of another word to describe the food). We had two huge spicy meat and veggie entrees, rice, tea and watermelon for dessert served in a very nice, private, wood paneled room. Cost? 40 yuan, about $7 US!!
Tonight is our last being a family of 4, tomorrow we become a family of five!!! Ahhh, I can't believe it!!!
Thankfully, I've finally figured out a fairly easy way to post pix to the blog, just in time!
Crib in room: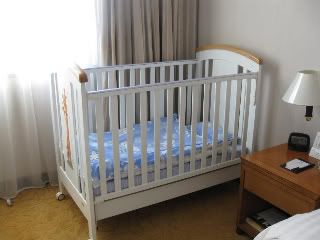 view from hotel window in Nanchang
escalator in walmart, nanchang: